eCommerce: Amazon Marketplace
Most Profitable Amazon Categories: Beauty and Kitchen Lead the Pack
Do you want to make money on Amazon but don't know what to sell? Start by figuring out which is the most profitable Amazon category.
Article by Lucia Laurer | November 08, 2023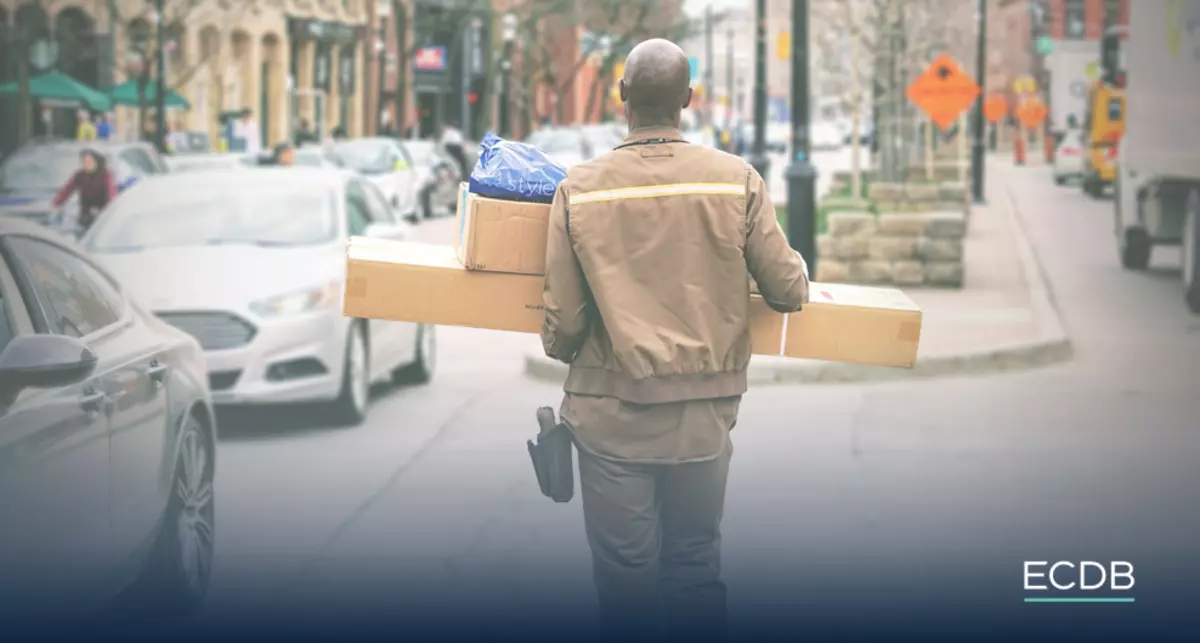 Today's eCommerce landscape is profoundly shaped by online marketplaces. The sales share that online marketplaces contribute to the total global eCommerce market is constantly rising. At the same time hybrid business models, like that of eCommerce giant Amazon, are registering an ever-growing relevance of their marketplace business.
According to company information, sales of third-party sellers accounted for a whopping 65% of Amazon's total gross merchandise volume in 2021. This corresponds to a 70% increase from 2011. The development is hardly surprising, as online marketplaces are a valuable low-barrier opportunity for small and medium businesses to bring their products to the customer.
Amazon Product Categories: Analyzing Profit Opportunities
Amazon's marketplaces offer a multitude of possibilities for sellers, yet success in terms of profits seems to depend to a significant extent from the product category. A Jungle Scout analysis shows that there are significant differences between product categories on Amazon in terms of profitability: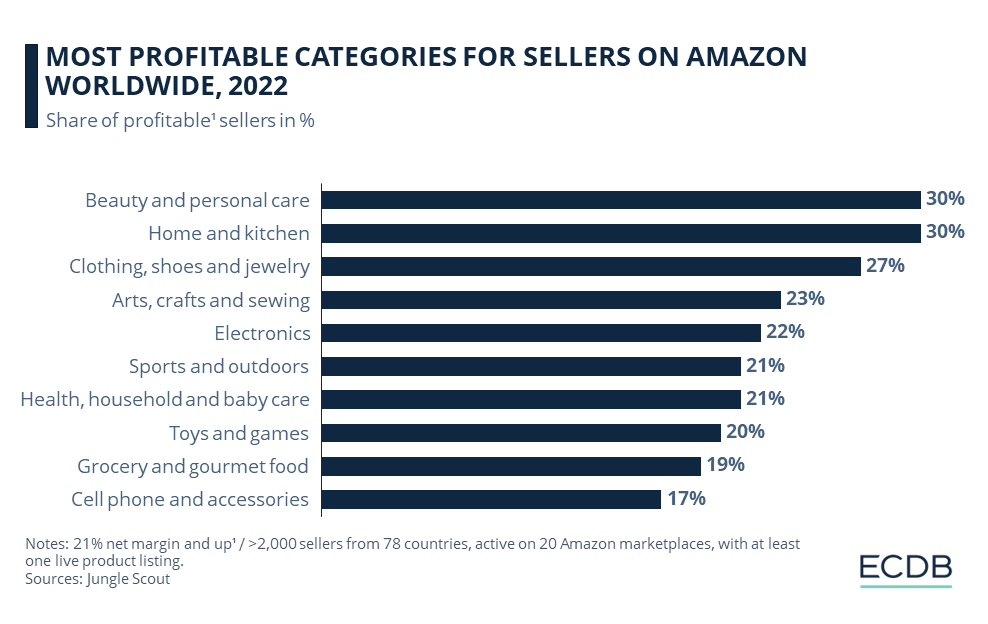 Almost two thirds of sellers in the beauty and personal care category have struck gold, tapping into the widespread desire for self-care and grooming essentials: 30% of Amazon sellers in the category beauty and personal care are highly profitable with a net margin of 21% or more, according to the source's definition. Notably, beauty and personal care is not only very profitable but also ranks as one of the most popular Amazon categories for sellers. With 26% of Amazon sellers offering products in the beauty and personal care category, it claims the second spot in popularity.
Sharing the podium with beauty and personal care, home and kitchen products are a highly profitable Amazon product category, with 30% of sellers in the category generating net margins of 21% or higher. Next to being comparably profitable, home and kitchen is also the most popular product category for Amazon sellers: 35% have products from the home and kitchen category on offer.
The Amazon categories clothing, shoes and jewelry, arts crafts and sewing as well as electronics have profitability shares higher than 20%. Clothing and electronics are again two comparably popular categories that are also comparably profitable. However, popularity and profitability are not necessarily always linked.
Amazon: Finding one's Perfect Niche
A highly popular and thus competitive product category often also has a large user base and consequently a high number of selling opportunities, e.g. the beauty and personal care or the home and kitchen category.
On the other hand, less competitive product categories such as electronics – only 16% of Amazon sellers are active in the electronics category – sometimes have a large clientele as well – 44% of Amazon shoppers buy from the electronics category. This means a high profit potential as well. Ultimately, running a profitable seller profile on Amazon ultimately depends on finding the perfect niche for one's products.
Most Profitable Amazon Categories: Key Takeaways
Amazon's marketplace business is growing rapidly. Sales from third-party sellers on Amazon accounted for 65% of the company's total gross merchandise volume in 2021, up from 70% in 2011.
Profitability varies by product category. Some of the most profitable product categories on Amazon include beauty and personal care, home and kitchen, and clothing.
Finding the right niche is important for success on Amazon. Sellers who can identify and exploit untapped opportunities in less competitive product categories can potentially achieve high profit margins.