Facebook most popular social commerce platform
47% of German (potential) social commerce users buy via Facebook, most other platforms still small
---
Social media has become an integral part of consumers' lifestyle and daily routines. According to the Statista Global Consumer Survey, 8% of Germans, for example, do not use social media on a regular basis while 69% of social media users interact with social media platforms on a daily basis. These impressive usage numbers make social media an ideal marketing touchpoint for retailers. And we are already past the point where social platforms are a mere advertising medium – more and more consumers shop directly on social media. According to a recent YouGov study, almost one in four Germans (24%) shopped via social networks in 2022, with the biggest social shopper group being young women. But young, tech-savvy men are also a promising target group: The study found out that more than half of the potential social media shoppers – those who have not bought anything from a social platform yet but can imagine doing so – are young men who are interested in new technologies. But what about the platform side? Which social media platforms are the most popular among consumers in Germany when it comes to social commerce?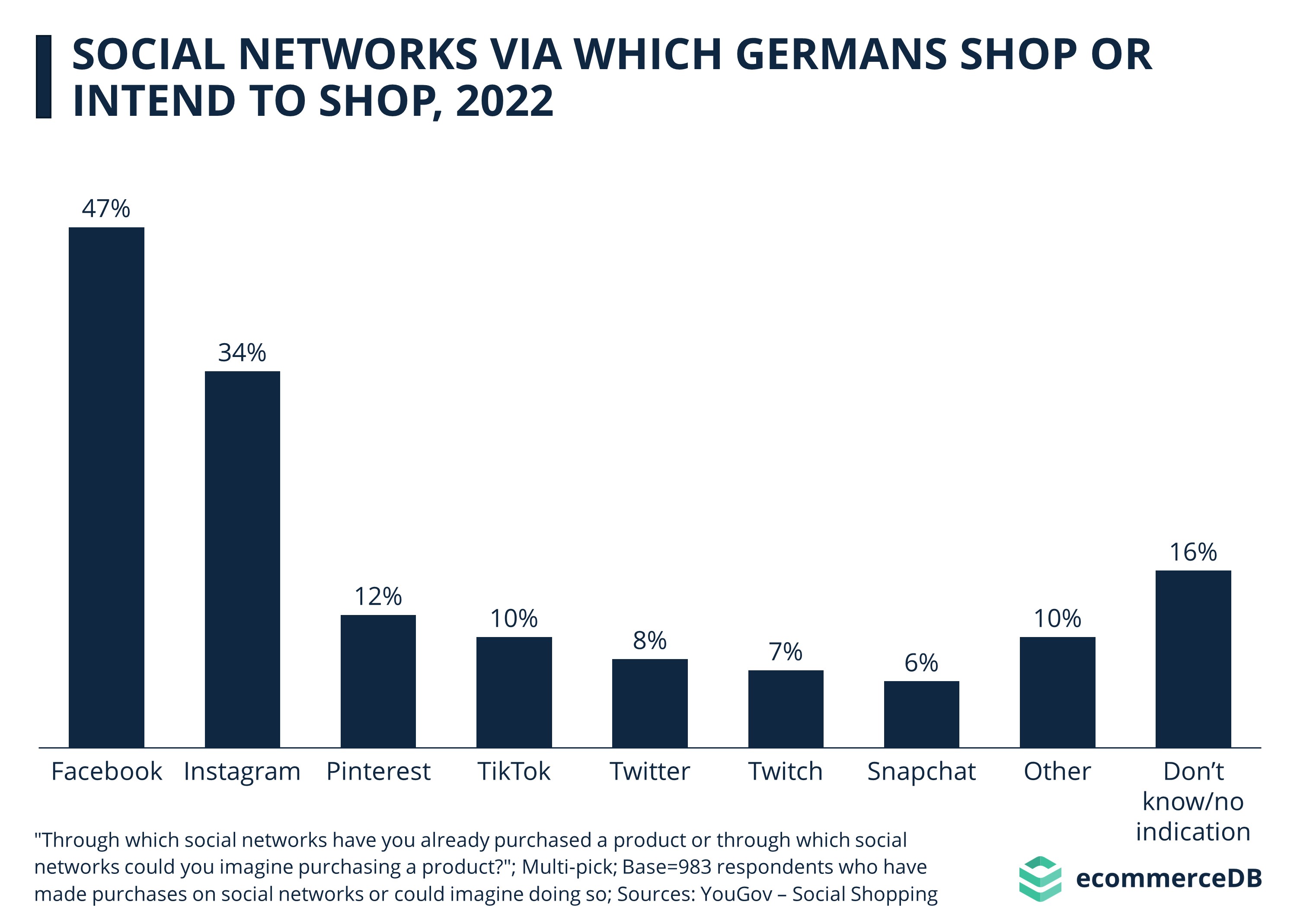 The two Meta platforms Facebook and Instagram are by far the most popular shopping platforms among German social commerce users. 47% and 34% of respondents who have already made purchases on a social media platform or can imagine doing so, (would) shop via Facebook or Instagram, respectively. Other platforms like Pinterest, TikTok, Twitter, Twitch or Snapchat are far off in terms of current or potential social shopping rates. Only low two-digit or single-digit percentages of current or potential German social media shoppers turn to those platforms. However, many of the smaller platforms have recently been counting on strengthening their social commerce business. Snapchat, for example, has recently improved and introduced new augmented reality features with which Snapchat users can try on products and their feedback is directly reported back to the brands. New 3D models and other features now give more opportunities for vendors to present their products on Snapchat. TikTok, for example, is cooperating with Shopify to blur the lines between TikTok entertainment users and Shopify store customers. As social commerce as a general trend is getting ever more important, thus, percentages in terms of social commerce usage are likely to rise for the currently smaller platforms as well.
Visit our news area for additional content around the topic of eCommerce.
March 2023