Retail Media Advertising
Retail Media Advertising: Amazon, eBay, and Zalando Lead in Europe
Advertising in online retail is a fast-growing trend: Expected to reach a global income of US$128 billion by 2023, a jump from US$111 billion in 2022, the sector shows strong growth. This analysis looks at Europe's online retail advertising scene, focusing on its three biggest networks.
Article by Nitika Lobo | November 27, 2023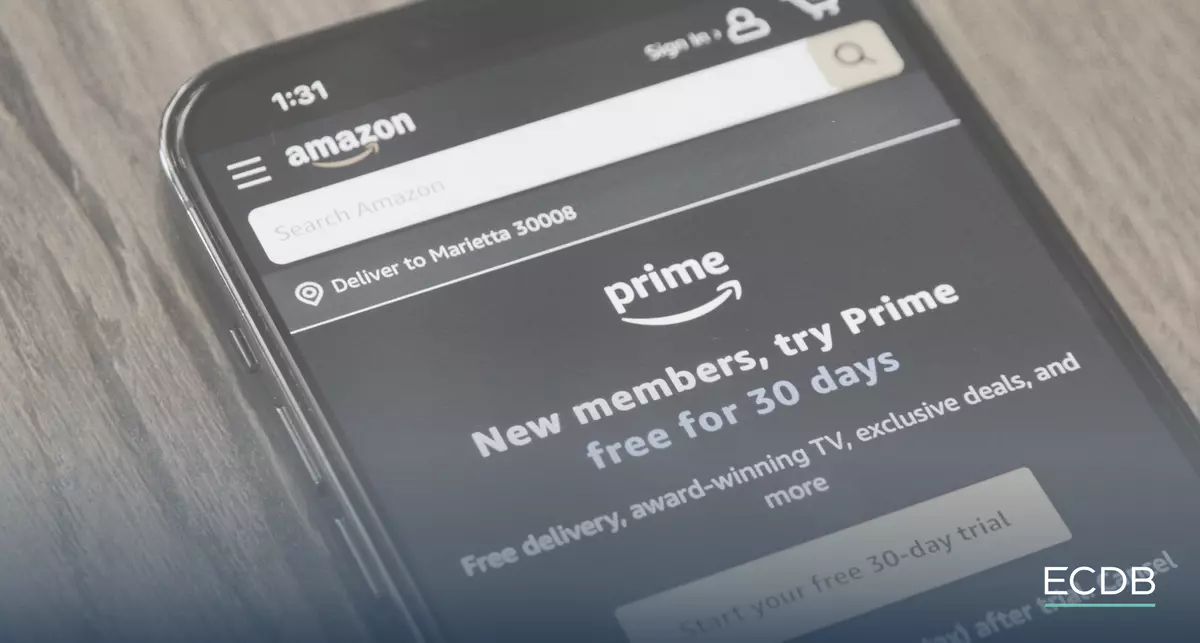 ---
Retail Media Advertising: Key Insights
Retail Media Advertising Defined: Retail media advertising involves eCommerce platforms providing ad spaces on their websites and apps. Brands use this to target customers at critical buying moments, benefiting from the retailer's extensive data.

Amazon's Unmatched Growth: In the European digital retail media market, Amazon led with a revenue of US$3.4 billion in 2022, capturing 54% of the market. From 2019-2022, Amazon saw a remarkable 163% growth in ad revenues, showcasing their dominant position.

Competitive Landscape: While Amazon exhibits consistent growth, competitors like eBay and Zalando have experienced fluctuating revenue patterns. Nonetheless, all three companies highlight the significant potential of digital retail media advertising in the eCommerce sector.
---
Retail media advertising is a type of sponsored ad marketing. Through it, retail platforms offer spaces within their eCommerce infrastructure, such as websites and apps, for third-party brands to advertise. Brands leverage the data-rich environment of these retailers to precisely target customers right at the peak of their buying decisions, such as at checkout or while selecting a product.
This form of advertising has proven to be a powerful tool, attracting more investment from brands. In fact, according to a FOMA survey, digital retail media is predicted to be the most sought-after digital advertising trend in Germany for 2023. Marketers especially opt for advertising slots on leading eCommerce platforms, generating substantial revenues for these site owners.
Amazon's Dominance in Digital Retail Media Revenues in Europe
In 2022, Amazon secured a significant chunk of the digital retail media market in Europe with revenues of US$3.4 billion, accounting for 54% of the total market. This places Amazon at the forefront, leaving other players far behind in revenue terms.
Not just in absolute values, Amazon's growth in digital media ad revenue has been impressive and consistent over recent years. From 2019 to 2022, Amazon experienced an unparalleled 163% growth in ad revenues. Specifically, in 2020 and 2021, the company enjoyed YoY growth rates exceeding 50%, which represents a 2021 figure of over US$3 billion. Although 2022 saw a slight slowdown with a 13% increase and revenues of US$3.4 billion, it's clear that Amazon's growth trajectory has largely been on the rise.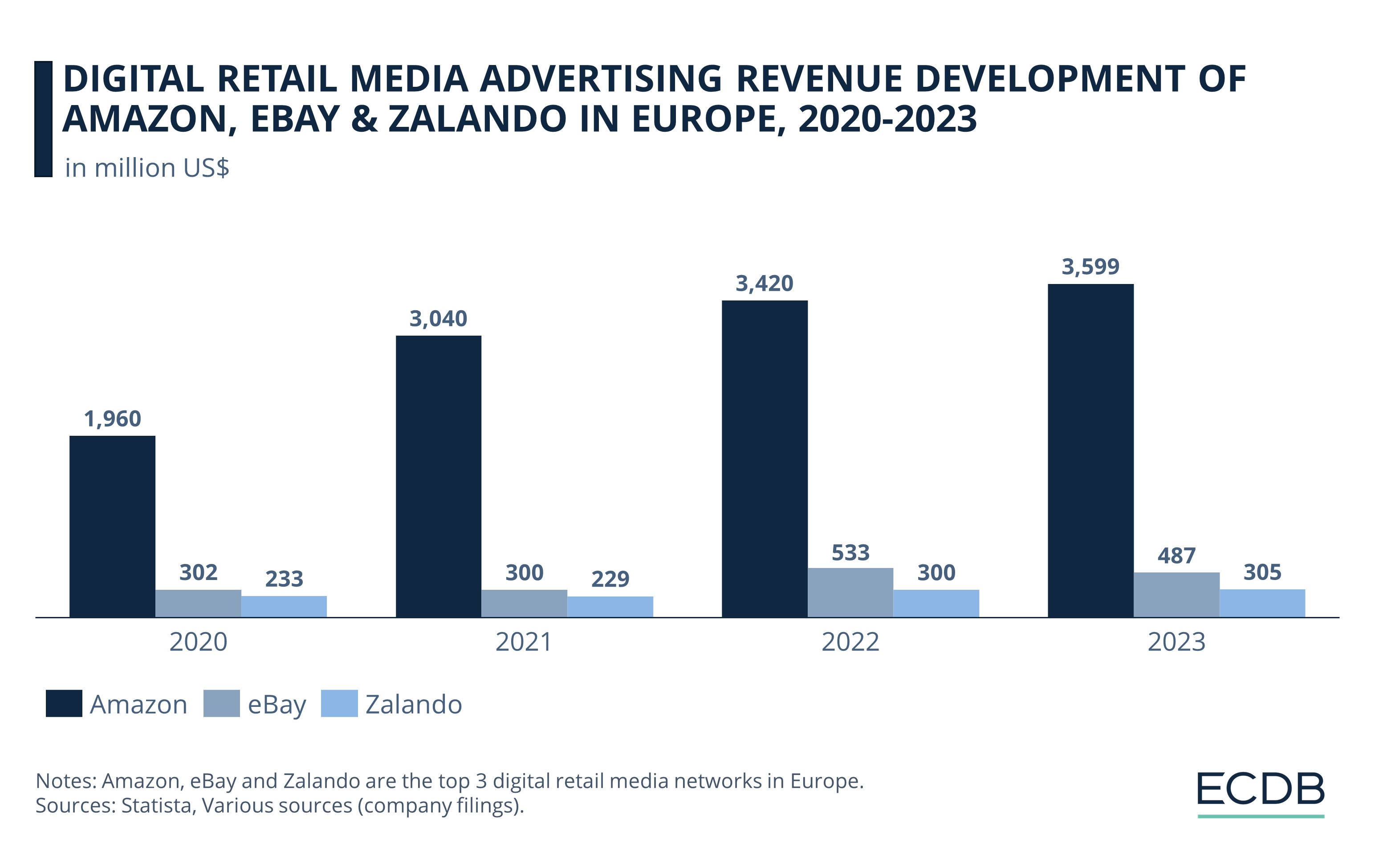 Comparing Amazon's Growth to Competitors eBay and Zalando
In contrast to Amazon's consistent growth, eBay and Zalando experienced more volatile revenue patterns. Over the span from 2019 to 2022, the two companies' revenue trajectories were as follows:
eBay experienced a 23% decline in retail media ad revenue from revenues of US$393 million in 2019 to US$302 million in 2020, and a further 1% decline to US$300 million in 2021. However, the subsequent year brought a significant rebound with a 77% YoY growth to over US$530 million in 2022. This surge contributed to an overall growth of 36% over the three-year period from 2019 to 2022.

Zalando saw its highest growth in 2020, with a 79% increase in digital retail media ad revenue from a lower 2019 figure of US$130 million to a substantial US$233 million in 2020. However, 2021 was a bit more challenging with a slight revenue decline to US$229 million, but 2022 ended on a positive note with 31% growth and revenues of US$300 million.
All three major players – Amazon, eBay, and Zalando – demonstrate the potential and profitability of digital retail media advertising for eCommerce platforms. But in terms of total revenue, Amazon remains unparalleled, setting a high benchmark for competitors.