eCommerce: Apple 2023
How Apple Smartphones Impact eCommerce
Discover how Apple's smartphones and landmark events are reshaping the landscape of eCommerce.
Article by Cihan Uzunoglu | September 12, 2023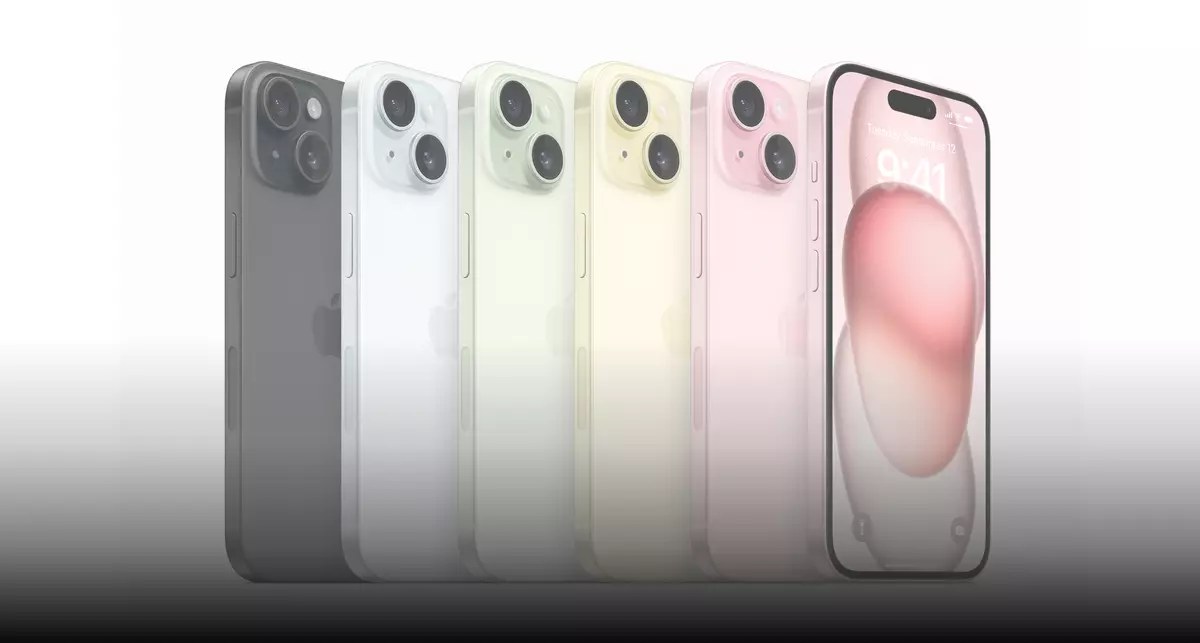 The tech giant Apple's "Wonderlust" event today is set to unveil a range of products, including the much-anticipated iPhone 15, new Apple Watches, and other key updates. Hosted in Cupertino, California, the event is predicted to reshape consumer choices and redefine benchmarks for eCommerce retailers. Here are some quick facts:
The iPhone 15 will feature a USB-C port, a significant shift aimed at aligning with industry standards and likely speeding up charging times. This change is expected to have a widespread impact on the accessories market, encouraging universal charging solutions.

High-end models like the iPhone 15 Pro and Pro Max will introduce premium features, potentially impacting consumer spending and spawning an ecosystem of complementary goods.

New color schemes are also on the horizon, likely to influence broader design trends in electronics.

Moreover, the Apple Watch Series 9 will debut enhanced processing, and AirPods Pro will adopt a USB-C charging case, highlighting a trend towards standardized charging across the company product range.
As exciting as these developments are, let's now take a look at the company's position in the wider smartphone market. This will give us a better understanding of the context and how Apple fits into it.
Apple's Smartphone Market Share Rises as Samsung's Decline
Over the past decade, Samsung - the vendor with the most smartphone shipments worldwide - has seen its share of global smartphone shipments decline across the board, peaking at 31.3% in 2013 and falling to the low 20s in recent years.
Meanwhile, Apple - standing at number 2 - has experienced fluctuations but overall has shown a trend of gradual increase, especially noticeable from 2019 to 2022.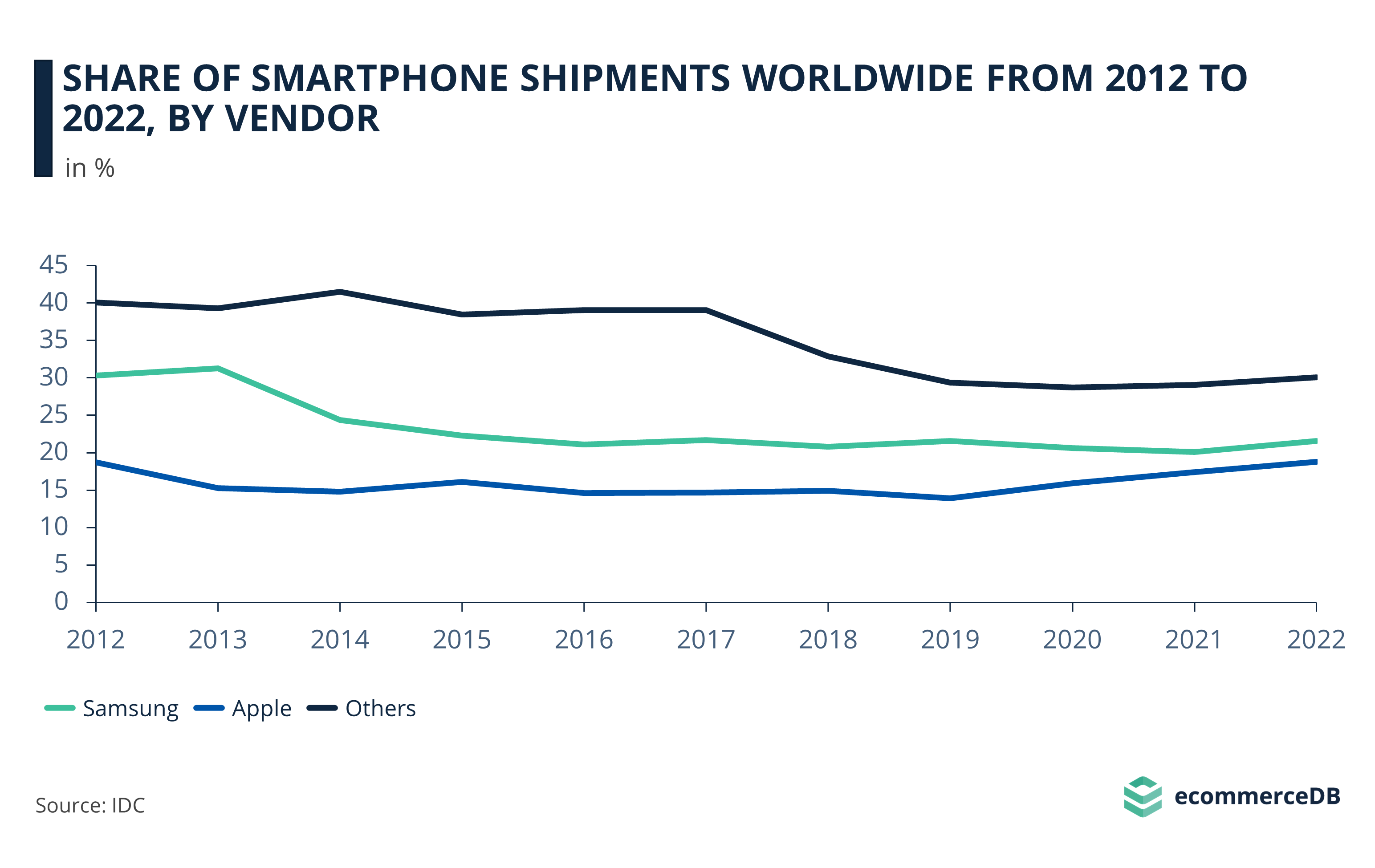 The "other players" in the smartphone market initially had a considerable share, with percentages in the high 30s and low 40s earlier in the decade. However, their collective share has gradually declined, with a more noticeable drop from 2018 onwards, suggesting a trend toward market consolidation around major brands like Samsung and Apple.
For Apple, the gradual increase in market share aligns with its product release cycles and improvements, although various factors could be influencing these shifts.
In a competitive landscape that includes more than just Apple, it's essential to track evolving trends like software enhancements and accessory ecosystems. Equally important is scrutinizing how the company's annual product releases align with its historical shipment numbers.
New Release = More Sales?
While the data discussed in this and the previous section is sourced from offline metrics, it offers valuable insights into Apple's role as an eCommerce player, a point that will be further elaborated on later in the article. Analyzing offline commerce is essential for a comprehensive understanding of the eCommerce landscape, as it fills the gap in discussions often focused solely on online activities.
With that broader context in mind, let's turn to Apple's upcoming upgrades.
In addition to hardware, software upgrades like iOS 17 and watchOS 10 are expected to roll out, which usually leads to a spike in online searches and eCommerce activity around Apple products.
To delve deeper into Apple's market performance, we'll next turn our focus to the company's smartphone shipment data from 2020 to 2022. This data illuminates the relationship between Apple's annual product releases and their subsequent Q4 sales, a correlation that should be interpreted carefully rather than as causative proof. Apple typically releases its flagship iPhone models in the September to October window, setting the stage for robust Q4 sales.
For example, in Q4 2020, Apple saw a robust peak of 90.1 million units shipped. This increase correlated with the October and November 2020 releases of the iPhone 12 and iPhone 12 Mini. While the release may have stimulated consumer interest, other factors such as 5G adoption could also have played a role.
Shipments for Q4 2021 were 84.1 million units, showing a decrease despite the September 2021 launch of the iPhone 13 series. Although the new models likely influenced sales, the dip could be attributed to other variables like supply chain constraints or waning market excitement.
In Q4 2022, shipments decreased again to 72.3 million units. This decline occurred even with the September and October 2022 release of the iPhone 14 series. This correlation could suggest changing consumer expectations or market saturation, but it does not confirm these as causative factors.
While new iPhone releases often drive a spike in Apple's Q4 shipments, it's important to consider overall market dynamics and consumer behaviors. The market is maturing, and other variables, such as supply chain issues and changing consumer sentiment, are increasingly impacting the company's sales. Therefore, it's essential to avoid drawing conclusions based solely on quarterly shipment data, as it represents just one element in a complex landscape.
Good News for the Whole Consumer Electronics Market
Apple's September event is a pivotal moment that not only influences the iPhone market but also sets the tone for yearly eCommerce trends in Electronics & Accessories. Retailers and analysts are keen to see how these launches will affect consumer behavior and retail strategy.
According to our data, online channels contributed 11.3% to Apple's net sales in 2014 and have seen fluctuations, reaching 14.3% by 2022. This data adds nuance to our understanding of Apple's impact on retail, supplementing offline metrics like quarterly shipments and in-store sales.
Offline data points are essential for a comprehensive view of Apple's retail strategy. They play a significant role in both online and brick-and-mortar sales. As Apple unveils new products, it's vital to analyze these offerings across all sales channels for a complete understanding of the market dynamics they are likely to shape.
How Apple Smartphones Impact eCommerce: Key Takeaways
Apple's "Wonderlust" Innovations: iPhone 15 adopts USB-C; new high-end features and color schemes are introduced; Apple Watch Series 9 and AirPods Pro emphasize standardized charging.
Marketposition: Over the past decade, Apple has witnessed a gradual increase in its smartphone market share, especially noticeable from 2019 to 2022. In contrast, Samsung, the global leader in smartphone shipments, has seen a decline. Market trends indicate a consolidation around major brands like Apple and Samsung, with Apple's product release cycles possibly influencing its growth. However, interpreting this data requires a nuanced approach considering various influencing factors.
Offline and Online Retail Dynamics: Apple's product releases, including the iPhone series, generally influence Q4 shipment figures, but other variables like market maturity, supply chain issues, and changing consumer sentiment play substantial roles. While online sales for Apple have fluctuated over the years, reaching 14.3% by 2022, it's crucial to evaluate Apple's impact across both online and offline retail channels to understand the broader market dynamics shaped by their innovations.
---
Sources: IDC, The Verge, Statista, ecommerceDB