E-Commerce Market Germany 2023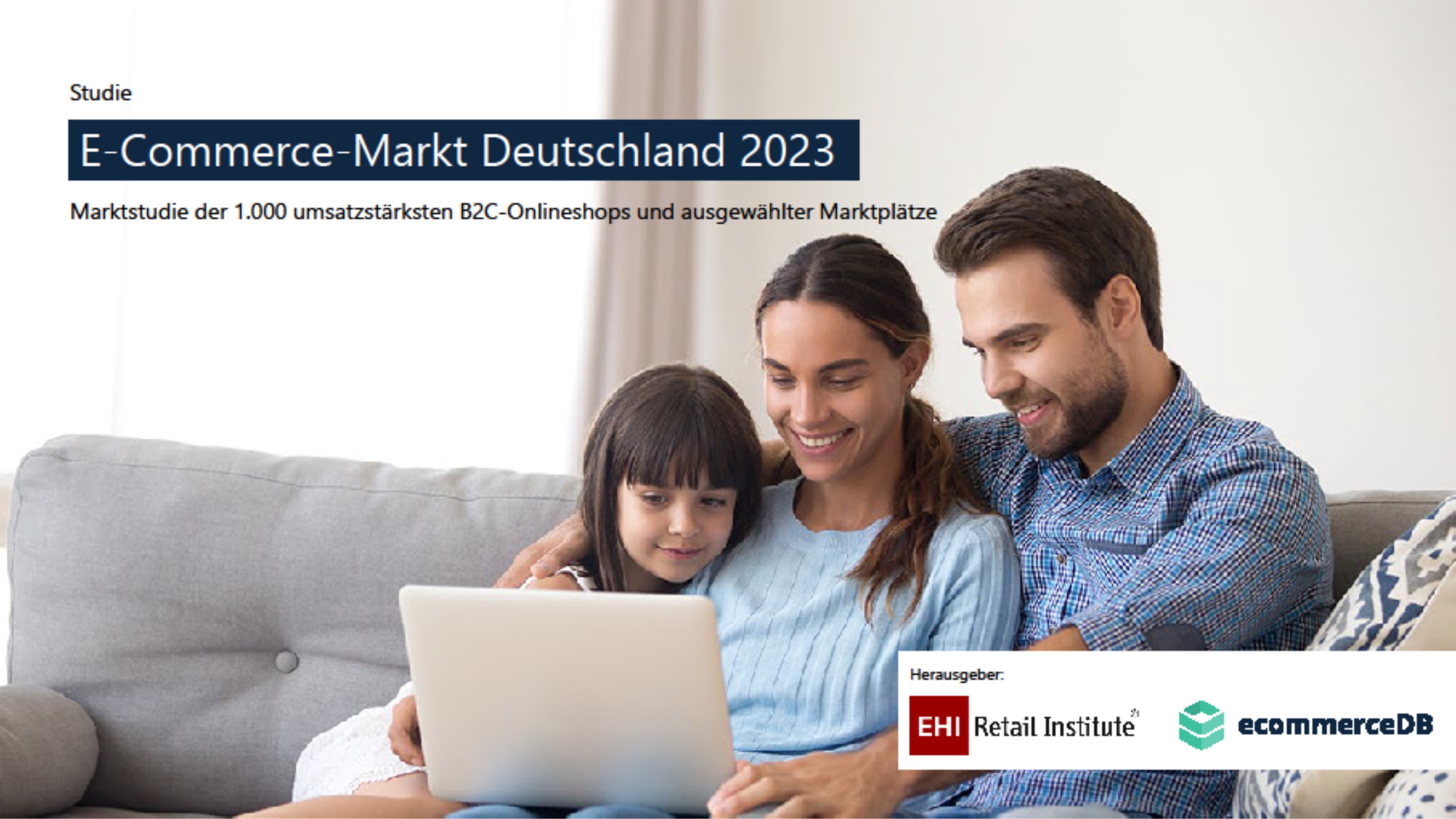 For the past 15 years, the study has been one of the benchmark studies for the German eCommerce market. Together with the EHI Retail Institute, we have been investigating the German market since 2009 and can thus rely on absolute data expertise and a wealth of experience. The aim of the study is to analyze the top 1,000 B2C online stores and the top 10 B2C marketplaces and to generate comprehensive rankings.

Note: The report is only available in German.
Study Details
E-Commerce Market Germany 2023
Pages:

70

Filetype:

pdf & xls

Published:

September 27, 2023
Table of Contents
Comprehensive Study - The in-depth study with all analysis and results
Written study with the most important results and recommendations on more than 60 pages.
Comprehensive analysis on sales, gross merchandise volume and key indicators.
Easily accessible and highly professional analysis of the German eCommerce market.
Detailed Excel List - The comprehensive Excel list with information's on all stores & marketplaces
Exportable and sortable Excel file with a total of more than 1000 rows and 110 columns.
Sales, gross merchandise volumes and comprehensive information on all online stores and marketplaces.
Easy processing of available datasets possible.
Description
The study examines the German B2C eCommerce market from the supply perspective, with a detailed analysis of the 1,000 biggest online stores and hybrid marketplaces based on their 2022 revenue in Germany as well as of the top 10 marketplaces based on their 2022 gross merchandise volume (GMV) in Germany. Services and usage rights (e.g., cell phone contracts) as well as stores which only sell digital goods (e.g., Google Play) are not considered.

The ranking is based on a detailed analysis of more than 1,000 German online stores, hybrid marketplaces, and "pure" marketplaces, which were first surveyed online about their revenues, among other things. This data set was expanded by a wide range of secondary data from professional databases (e.g., ECDB, EHI, Bundesanzeiger, Statista). Based on all the data obtained, eCommerce revenue drivers were identified, and the extent of their influence was quantified by performing a regression analysis. Missing revenue data could thus be approximated then.

In addition to the comprehensive revenue information on which the rankings were based, the reader of this study can also expect a variety of other data points and information that make the study a unique analysis tool. Hereby we provide an incomparable overview of the German eCommerce market!
Table of content
Overall, the study offers an overview of the following aspects:
• Ranking (Online Stores by Net Sales/Marketplaces by GMV)
• Operating Company of the Online Store or Marketplace and Total Revenue
• Legal Form of Operating Companies
• E-Commerce Net Sales via third-party marketplaces
• Primary and Secondary Product Segments
• Available and Active Distribution & Sales Channels
• Store Launch & DNA
• Up to Date Traffic Information's
• Shop System & E-Mail Marketing Provider
• E-mail Marketing
• Available Shipping options & Payment methods
• Address & Contact Information
• Q-Commerce Germany Insights

All these data points and information enable us, together with the EHI Retail Institute, to offer you an unrivaled overall picture of the German eCommerce market and provide comprehensive analyses for each business case.
Do you still have open questions?
Then get in touch with us!