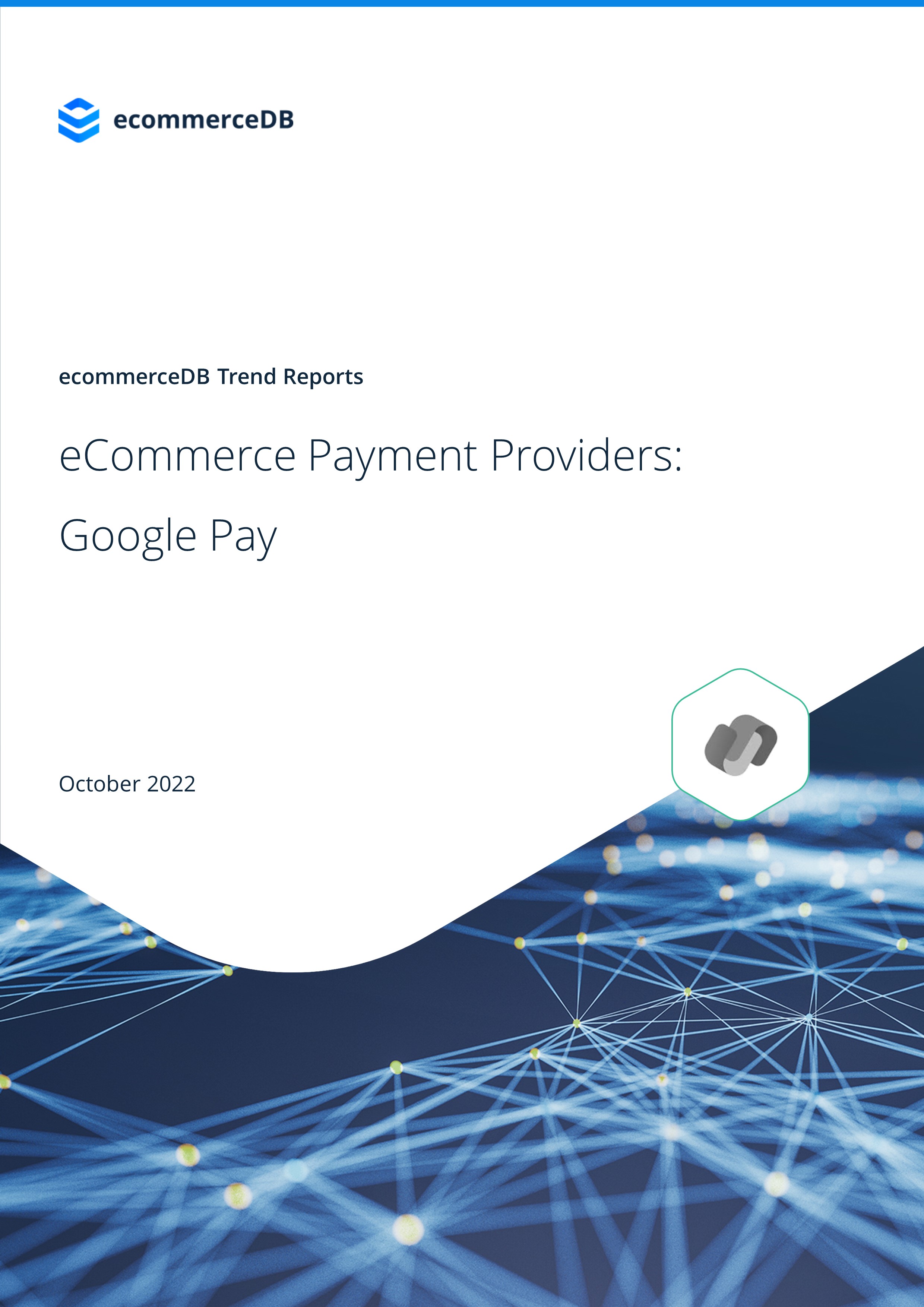 The surge of online shopping throughout the last decade has also brought about changes in the way we pay. As more people buy online every year, online payment providers have assumed greater significance. Based on the analysis of 15,250 online stores throughout 40 countries, this report puts a spotlight on Google Pay. In addition to giving an overview of the global online payment market and presenting key facts about Google Pay, the 34-page report answers three key questions: How common are eWallet and Google Pay payments among different countries, who are Google Pay's direct competitors, and what are the characteristics of online stores that offer Google Pay payments?
Study Details
eCommerce Payment Provider: Google Pay
Pages:

34

Filetype:

.pdf

Published:

2022
What's Included?:
Google Pay and eWallet market availability
Google Pay's competitive environment
Store characteristics of the average store accepting Google Pay payments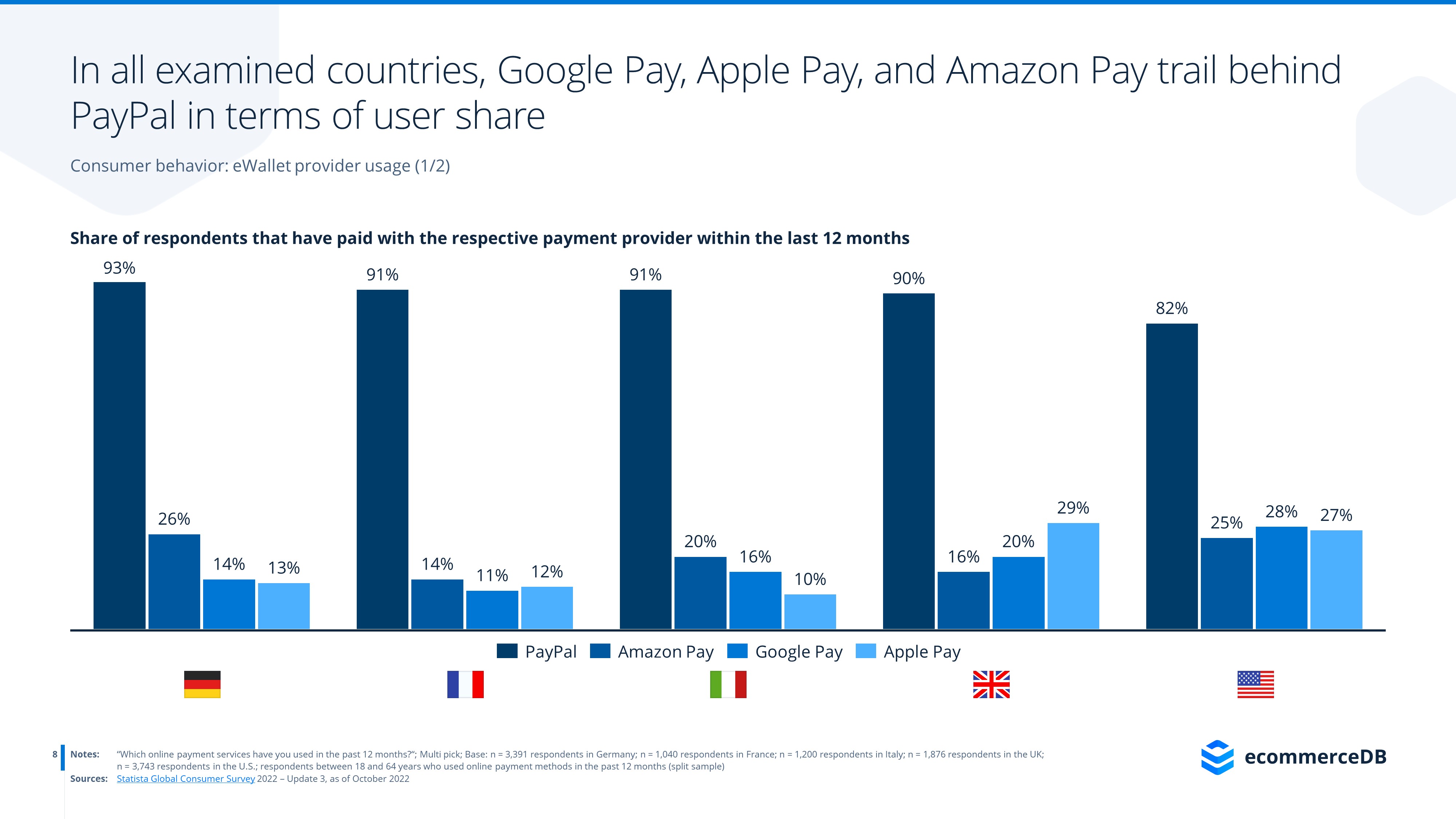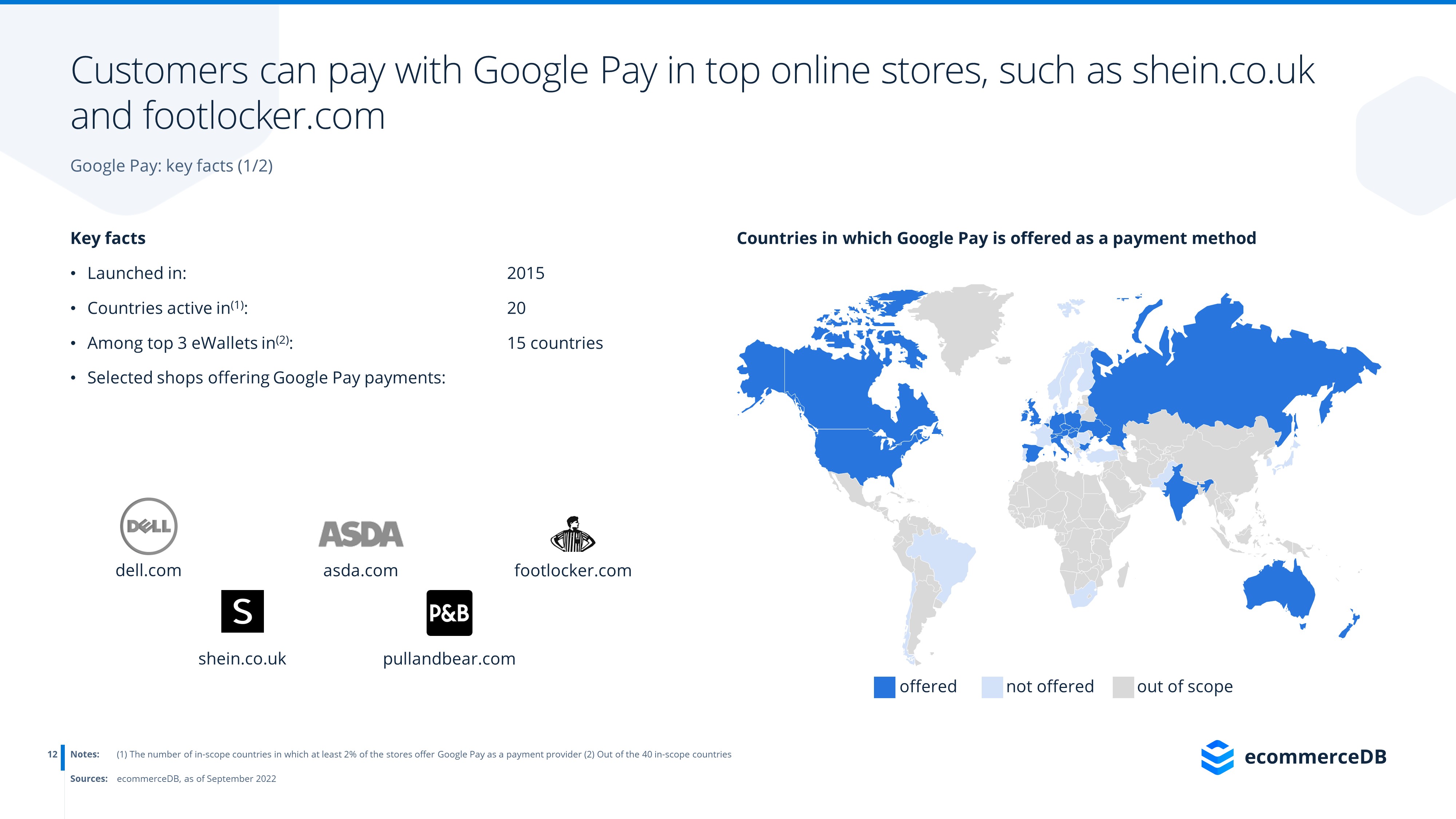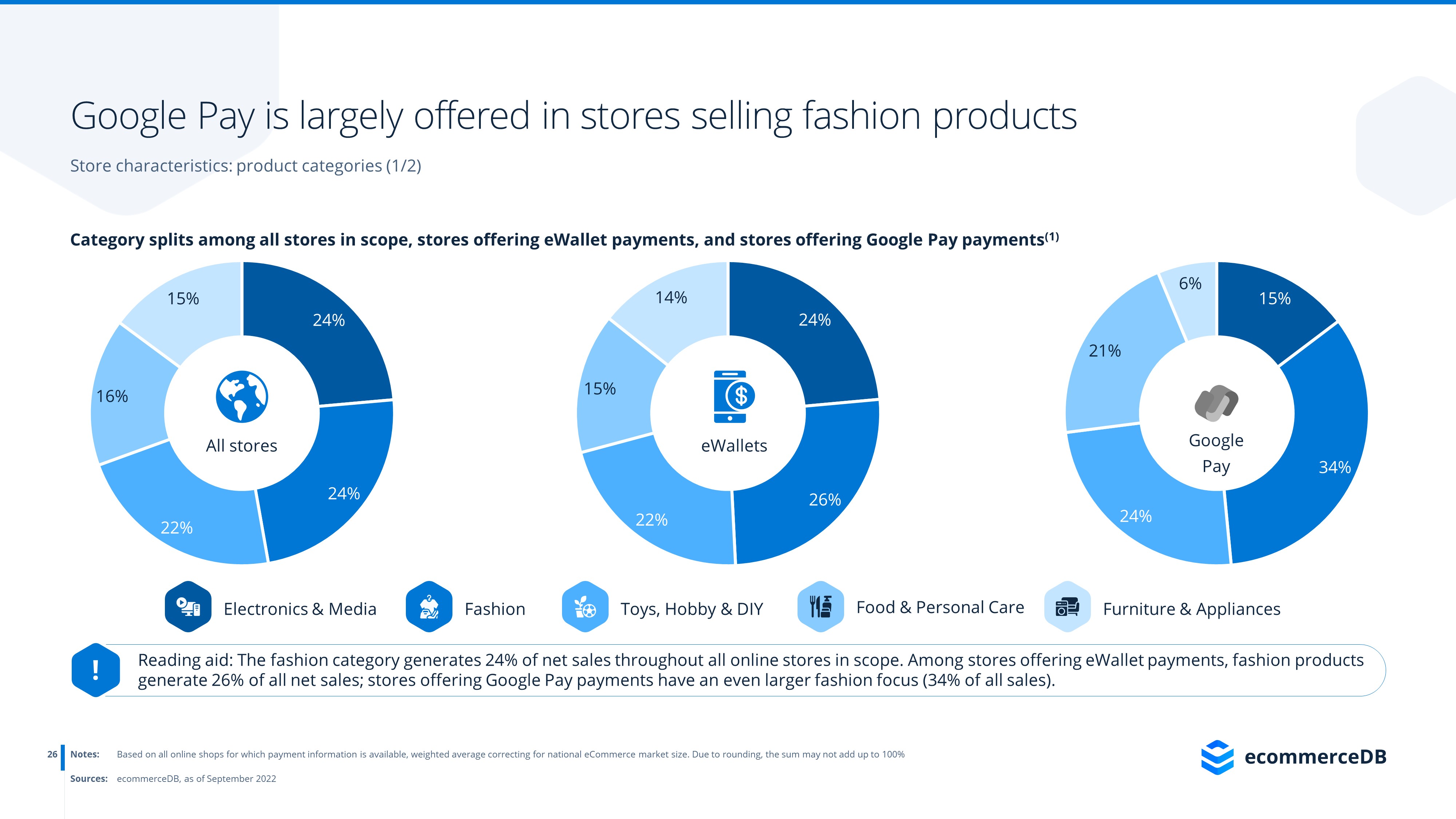 Table of Content
01. Relevance & overview
Overview
Consumer behavior
Methodology
02. Google Pay: portrait
Key facts
Fees
User development in selected countries
03. Google Pay: an in-depth analysis
Google Pay and eWallet market availability
Competitive environment
Online store characteristics
04. Appendix
With an average yearly revenue growth of 11.2%, the global eCommerce market is projected to continue growing and lead to an increasing volume of online payments. Online shoppers can choose from a variety of options to pay their online bills. Whereas credit and debit cards were once standard, recent years have given rise to a wealth of new payment possibilities, such as eWallets and invoice/installment (i.e., buy now, pay later) providers. On the highly competitive market, eWallets occupy second place for payment options in global eCommerce, with 74% of all online stores offering at least one eWallet payment provider on their website.

This report takes a closer look at Google Pay – one of the leading eWallet providers. Our in-depth analysis not only provides detailed insights about the popularity of specific payment providers by country, but it also takes a deeper look into the nature of online stores that accept Google Pay payments. Is the average store accepting Google Pay payments small or large? Are Google Pay payments more popular among fashion stores than stores selling furniture products? And how many stores that accept Google Pay payments also allow customers to pay with PayPal?

If you are looking to learn more about Google Pay, this report will not only supply you with detailed information about the global online payment market but will also deliver tangible information about the characteristics of online stores offering Google Pay payments.
E-Commerce Reports
Expert research in condensed form
We create ecommerceDB reports on key topics, presenting important and insightful analyses about the status quo and trends in eCommerce.
Our ecommerceDB Country Reports provide in-depth analyses of national eCommerce markets and display significant data regarding consumers, market developments, and the competitive landscape.
Any more questions?
Get in touch with us quickly and easily. We are happy to help!