The Luxury eCommerce Market: Players & Category Insights 2023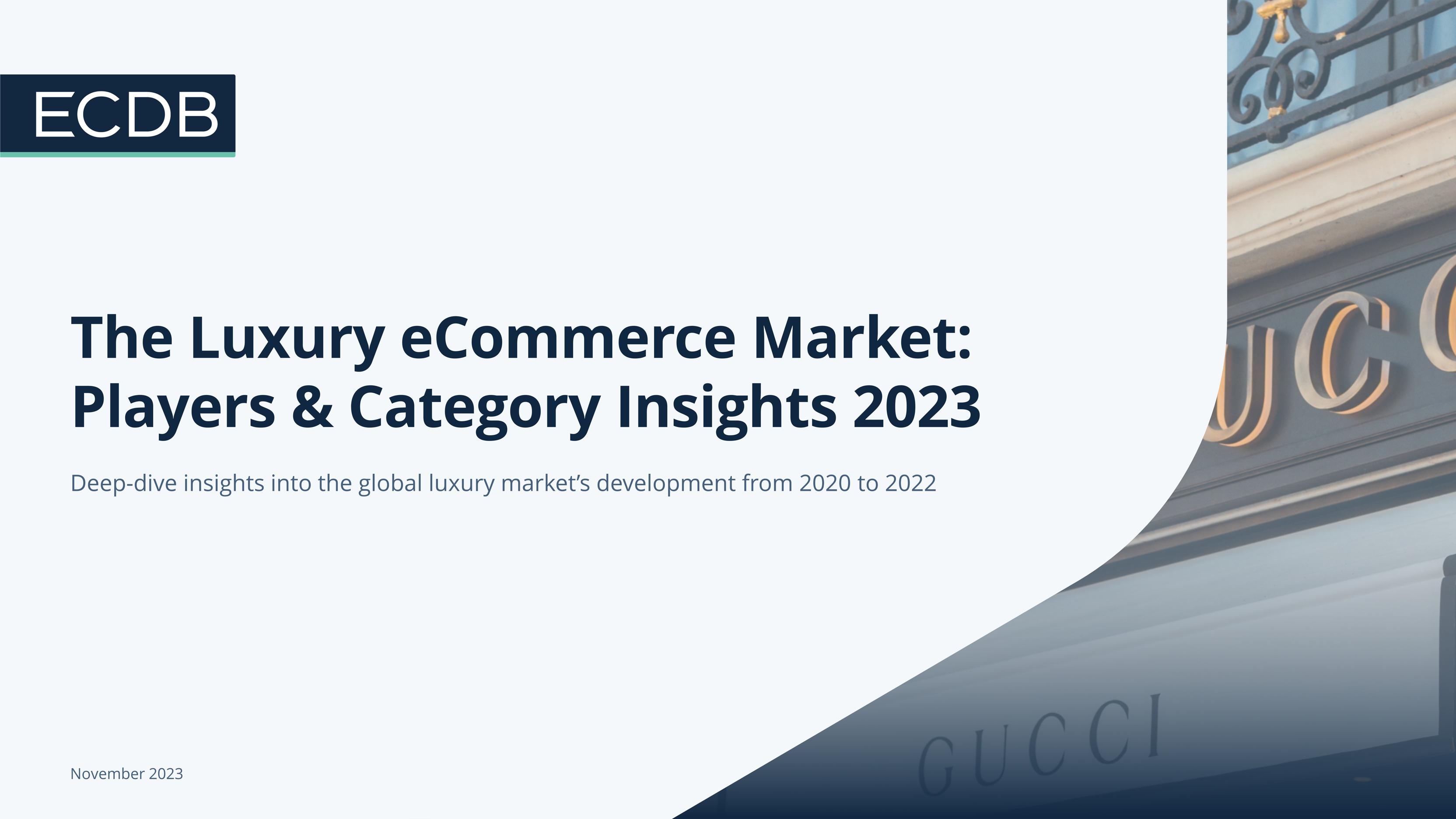 The $57 billion personal luxury goods online market is home to many of the world's most successful and recognizable brands. ECDB provides one of the most comprehensive studies of the global luxury market. With years of experience and state-of-the-art technology, we can provide a holistic picture of the global luxury market through the 100 leading luxury companies and 250 leading luxury brands.
Study Details
The Luxury eCommerce Market: Players & Category Insights 2023
Pages:

63

Filetype:

pdf & xls

Published:

October 27, 2023
What's included?
In addition to an exclusive list of leading luxury players and their respective KPIs, the data points are analyzed and put into context in a 63-page PDF report. Overall, the study offers an overview of the following aspects:
Exclusive Excel File with 250 Leading Luxury Brands
A detailed list of 250 Luxury Brands, incl. 2020 - 2022 Total Net Sales
Information Regarding Each Brand's Online/Offline Share and D2C/B2B Share per Year
Brand Characteristics: Main Category, Brand Positioning, and Brand Exclusivity
Market Overview - based on 100 leading luxury companies
Luxury eCommerce Market Size
Market Development: Online and D2C Shifts
Market Development by World Region
Player Analysis - Based on Leading Luxury Brands
Online and Offline Sales by Brand Characteristic
D2C and B2B Sales by Brand Characteristic
Market Concentration Over the Years
Luxury Sales and Top Players by Category
All these data points and information enable us to offer you an unrivaled overall picture of the global luxury market and provide comprehensive analyses for each business case.
Description
The global market for personal luxury goods, valued at an impressive US$341 billion, underscores the world's enduring fascination with exclusivity and prestige. Home to some of the world's most iconic and sought-after brands, this market transcends mere monetary value - it represents the pinnacle of design, quality and brand stature. While broader consumer sectors made early leaps into the digital realm, luxury maintained its traditional commitment to the brick-and-mortar experience.

However, the advent of COVID-19 and subsequent health mandates in many parts of the world required many luxury companies to pivot their business strategy and increase their investment in the digital channel. Despite the vastness of the luxury market, there are many information gaps because most luxury companies, especially privately held ones, are reluctant to share detailed financial data.

In particular, two limitations prevent us from gaining detailed insights into the global online luxury market: First, brand-level information is scarce. Even if companies are forced to publish their annual figures, they are generally not required to report brand-level data. Second, only a minority of companies publish detailed information into their online sales share. With this report, we aim to paint a holistic picture of the global luxury online market that focuses on these two aspects. Through market and brand-level insights, we assess the balance between online and offline sales, D2C versus B2B distribution, and regional sales trends. We also examine the defining characteristics of luxury companies and brands - from their quality and exclusivity to their strategic market positioning. This research is designed to provide stakeholders with actionable insights tailored to the ever-changing luxury arena.
Table of content
Introduction
• Preface
• Executive Summary

1. The Global Online Luxury Market
• Market Development
• Global Luxury Sales by World Region
• Luxury Sales by Country of Origin

2. Luxury eCommerce Sales Channels
• D2C Sales Development
• Luxury Marketplace Profiles

3. Luxury Categories in eCommerce
• Sales by Product Category
• Category Profiles
• Online Share by Product Category
• D2C Share by Product Category

4. Leading Luxury eCommerce Brands
• Market Concentration
• Online Sales Shares by Year
• Top Five Brands by Product Category

5. Luxury Brand Positioning & Exclusivity in eCommerce
• Sales by Brand Exclusivity
• Sales by Brand Positioning Tier
• Online Share by Brand Positioning
• D2C Share by Brand Positioning

Appendix
• Methodology
• Our Model
• Definitions

Do you still have open questions?
Then get in touch with us!