eCommerce Returns
eCommerce Returns Process – The Power of Convenience
A recent study by DPD has revealed the reasons why European consumers decide not to shop online, focusing on the drawbacks associated with the returns process. Of these, unclear policies, high return effort and return fees are examined in France, Germany, Spain, Italy, the UK and the European average. Explore the results of this study with us below.
Article by Lucia Laurer | October 10, 2023
The world of eCommerce is constantly evolving to meet the ever-changing demands of consumers. In this landscape, convenience is paramount. The ability to browse and shop from the comfort of one's home, anytime, anywhere, has revolutionized the way we make purchases. Yet, beneath this convenience lie several crucial aspects that can significantly influence the success of online retailers – one of them being the returns process.
Complicated Returns Processes as a Reason to not Shop Online
A recent survey conducted by German logistics company DPD in collaboration with Geopost provides valuable insights into the main aspects of returns in eCommerce, shedding light on what deters potential customers from making online purchases.
The European average gives us a first idea of overall customer priorities, and a closer look at country-specific customer data reveals that people across countries share very similar concerns about product returns in eCommerce. The findings clearly underline the universal importance of convenient return processes in achieving eCommerce success: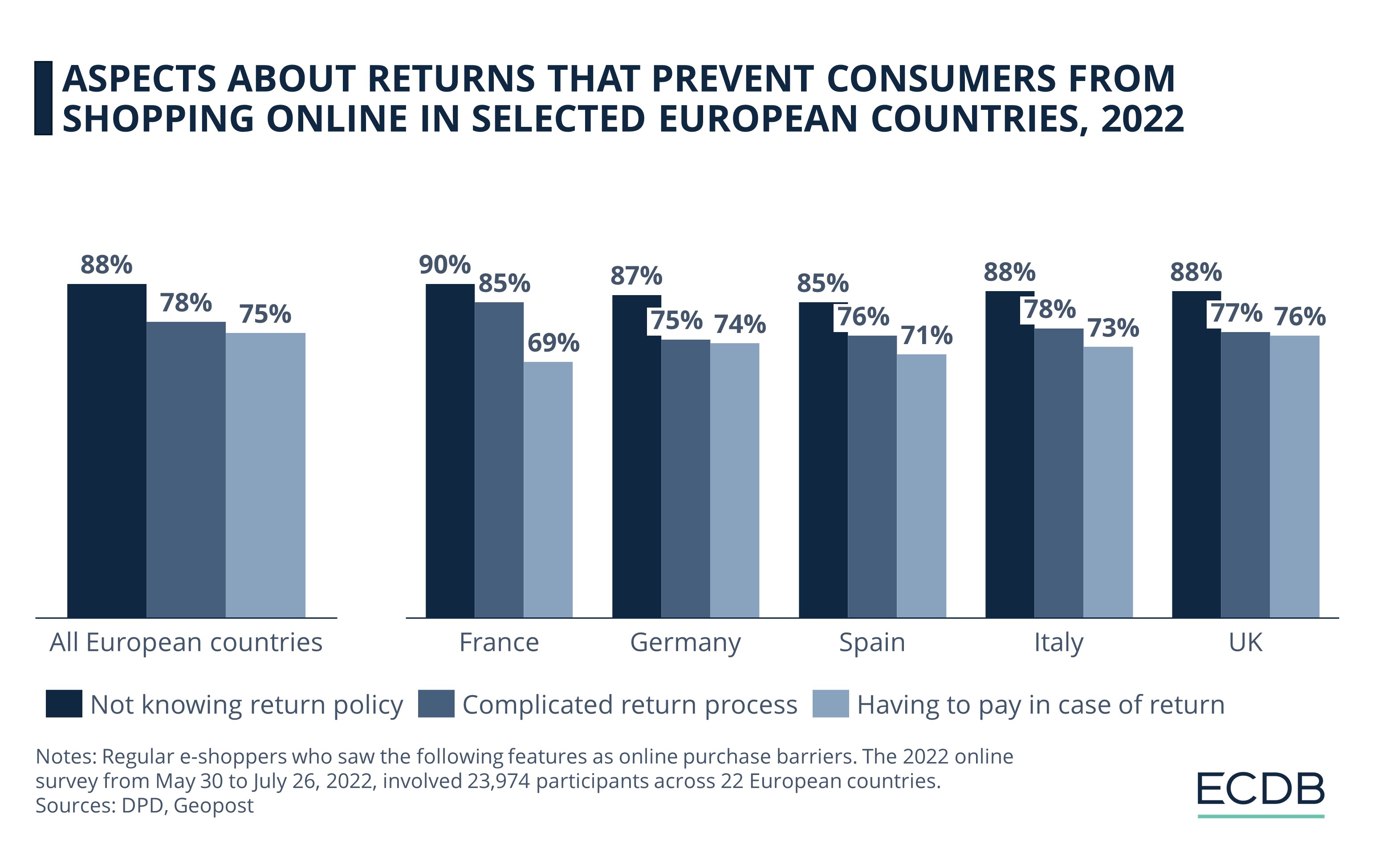 Lack of Information on Return Policy Is the Greatest Barrier
The importance of clear return policy information at the beginning of the shopping journey was highlighted by survey respondents. With an average of 88% of respondents across European countries citing this as a reason for not shopping online, it is the most frequently cited factor.The share is especially high in France (90%), while Spain (85%) and Germany (87%) are slightly below the European average.
Complicated Return Processes are an Obstacle for 78% of European Consumers
The second most mentioned aspect in the survey was return complexity. On average across Europe, 78% of respondents found complicated return procedures to be a significant deterrent. It is also the factor that shows the greatest variation between countries: France and Germany are ten percentage points apart, while Spain, Italy, and the UK are around the European average.
Return Costs: Online Shopping Barrier for 75% of European Users
The fact that returns often require an additional cost is another crucial factor. Across Europe, approximately 75% of respondents indicated that having to pay for returns was a substantial deterrent. However, by scrutinizing individual countries, differences emerge. UK shoppers are the most price-conscious, at a percentage of 76%, while French consumers are a little more tolerant of additional fees: Only 69% name them as the main barrier preventing them from shopping online.
Online Shoppers Expect a Convenient Process
In general, customer satisfaction is a key driver of success in eCommerce. A customer-centric approach that prioritizes convenience and transparency in return processes can transform deterrence into loyalty and growth, fostering eCommerce success across diverse European markets. In fact, this is not only an additional benefit; it is what consumers expect. According to an E-commerce Nation survey, the share of online shoppers willing to pay for returns is below 30% across Europe, with some countries like Belgium or the Netherlands reaching less than 25%.