Flink and Gorillas Are the Most Used Quick Commerce Providers in Germany
Article by Cihan Uzunoglu | May 08, 2023
eCommerceDB and Statista recently conducted a survey in Germany to gain valuable insights into consumer shopping preferences and behaviors related to quick commerce. The results of the survey provide critical information for businesses seeking to understand consumer perceptions and usage patterns in this rapidly evolving market. The following analysis will examine the survey data and draw meaningful conclusions about consumer preferences regarding quick commerce providers.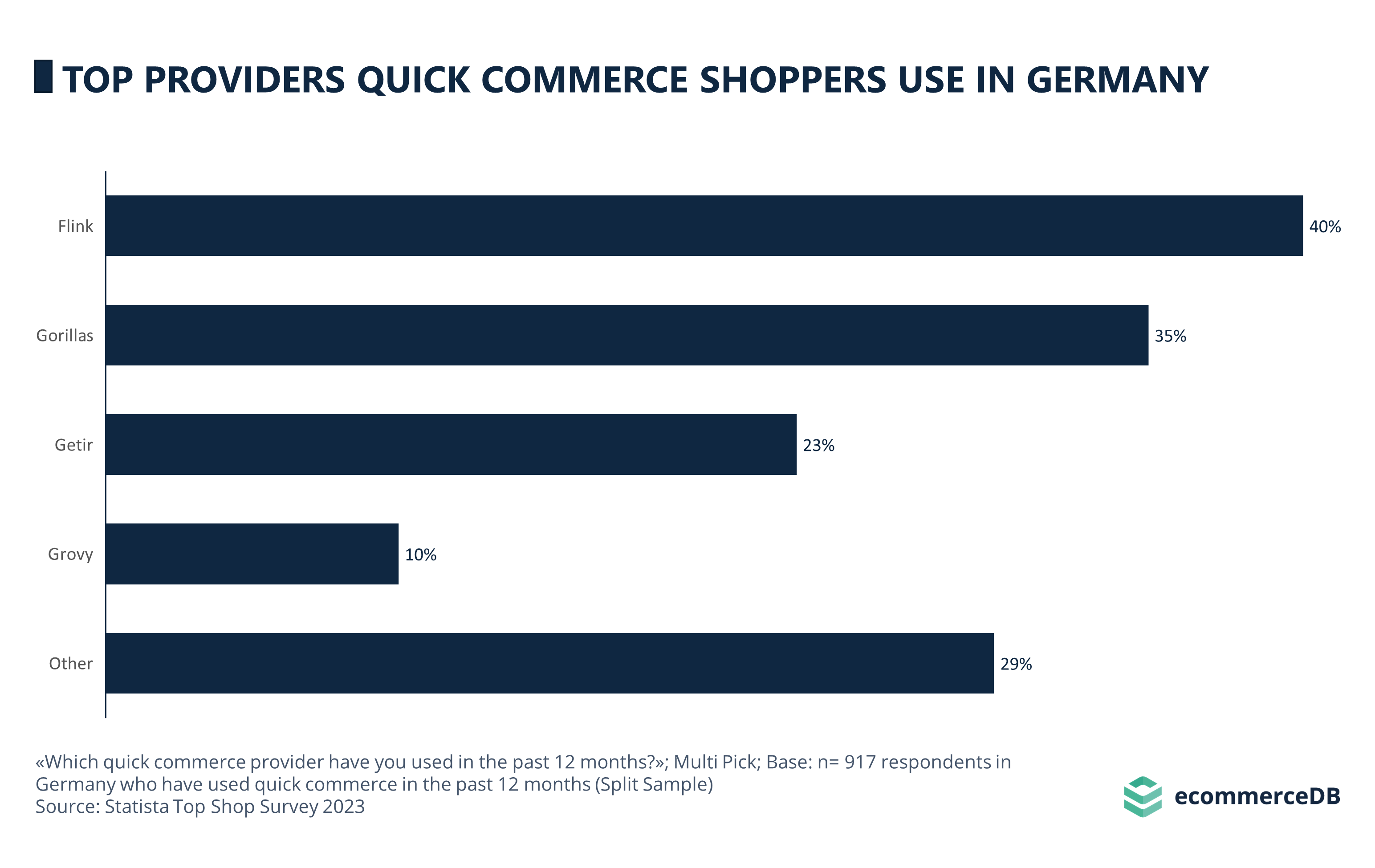 As previously covered on our platform, two German companies were listed among the most well-funded quick commerce start-ups globally. According to the survey results, these two companies - Flink and Gorillas, are the most used providers among quick commerce users* in Germany, with usage rates of 40% and 35%, respectively. They are followed by the Turkish start-up Getir with 23% and Frankfurt-based Grovy with 10%, while nearly one third of users stated that they use "other" providers. For a thorough examination of the topic, we will now have a look at the most used quick commerce providers in Germany, through the lens of demographics and living conditions of shoppers.
It is well known that gender plays a crucial role in shaping preferences of consumers and quick commerce users are not an exception to this. When it comes to quick commerce provider preference by gender, Flink, Gorillas, and Grovy seem to have a balanced usage distribution between male and female users in Germany. In addition to this, the data shows that Getir is more popular among male users, while female users are more likely to favor "other" providers.
Another factor that is essential to factor in for a clearer picture in this context is age. In comparison to other age groups, findings reveal that quick commerce shoppers younger than 25 are more likely to buy through Flink, Getir, and Grovy, while Gorillas seems to be the most popular in the 35-44 age group. Additionally, as we move from the "<25" age group to "55-74", share of shoppers using "other" providers increases from just under one quarter to almost three quarters, indicating that the likelihood of choosing "other" providers is directly proportional to age.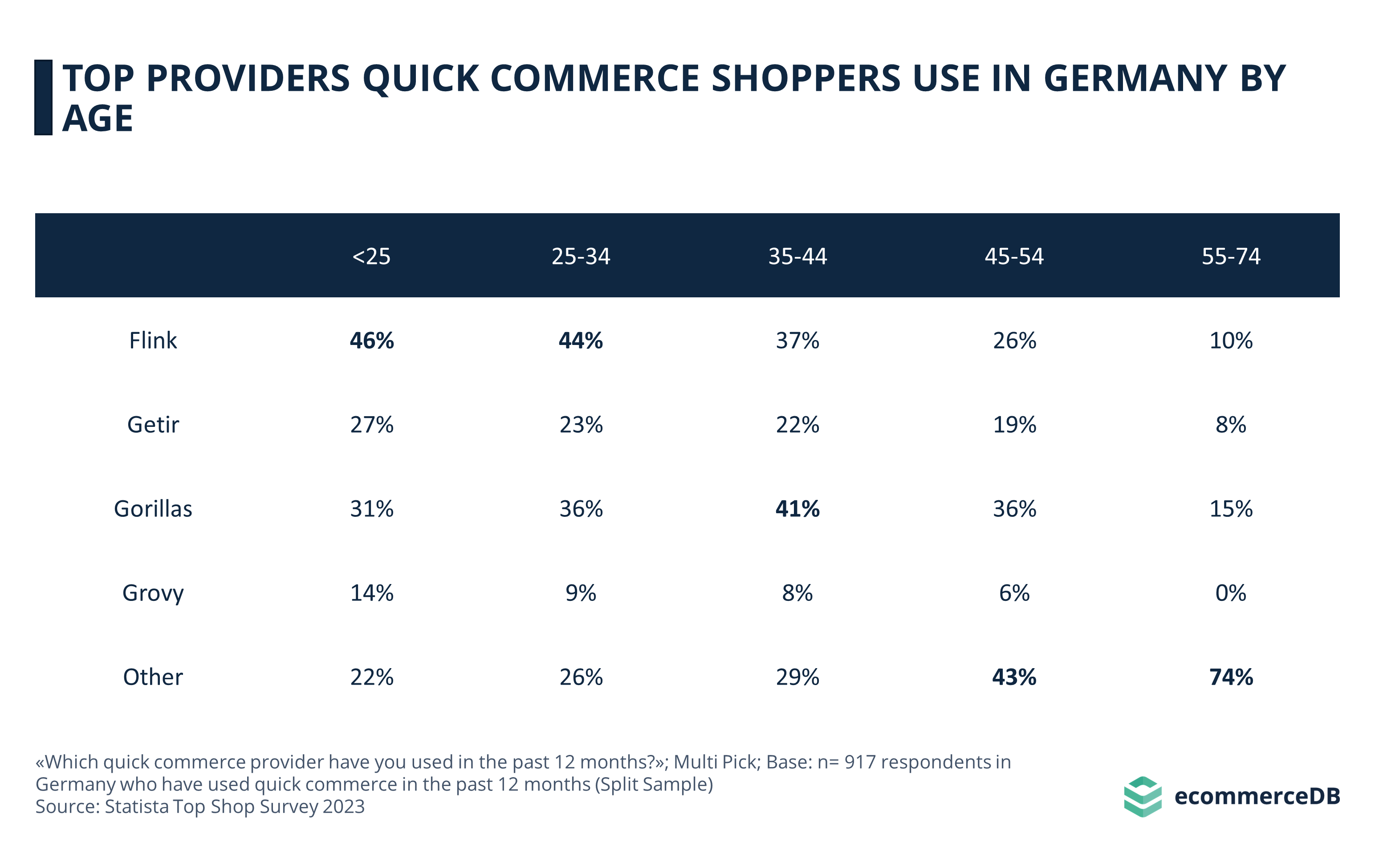 To truly understand the impact and potential of quick commerce providers, it is essential to look at the role of households in this market. As the central unit of consumption, households play a critical role in shaping the demand for quick commerce providers. Survey findings point out that, in terms of annual disposable net household income, quick commerce users with an income of less than €20,000 prefer to shop with "other" quick commerce providers. Furthermore, Flink appears to be strong among households with an income of less than €15,000 and more than €30,000, while those with an income between €20,000 and €50,000 prefer to use Gorillas.
Another aspect of households in this regard is the size of the household, which is just as influential on provider preferences of quick commerce shoppers in Germany. Compared to other households, 2-person households are the most likely to use "other" providers, while all providers named in the survey appear to be the strongest in households with 3 persons – with the exception of Grovy being slightly more popular in households with 4 persons and more.
By its very nature, quick commerce is intrinsically tied to urban areas of different sizes. So, it is not surprising that different providers come to the forefront when we talk about areas with different populations. Looking at the data, we see that "other" providers are particularly strong in cities with less than 100,000 inhabitants. The absence of big players in these smaller areas can be linked to local competition, lack of infrastructure, or limited market size. In cities with more than 100,000 inhabitants, however, Flink is the most used provider. Further analysis of the findings indicate that Gorillas has the highest penetration in cities with between 20,000 and 1,000,000 inhabitants, in comparison to other city sizes.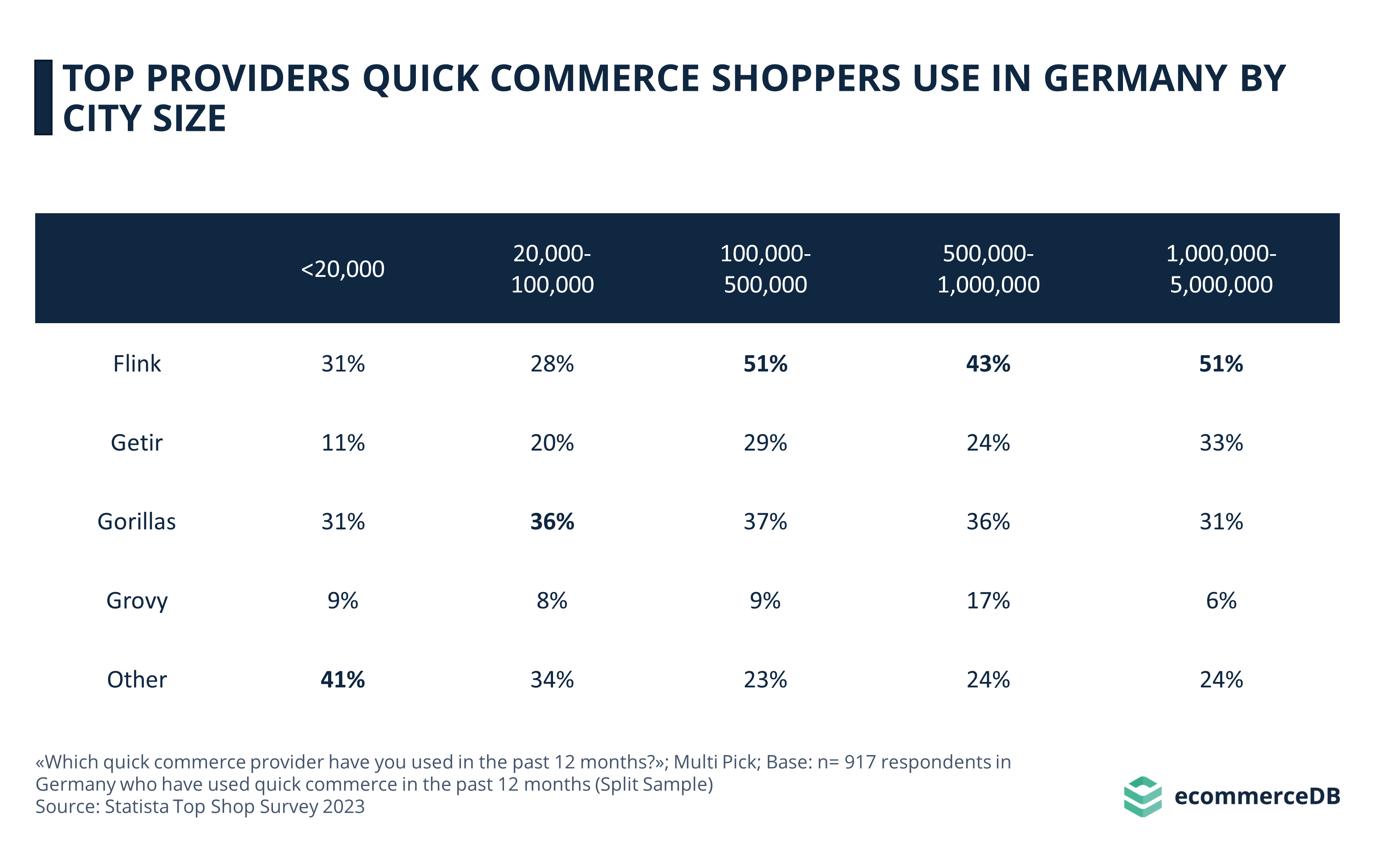 In conclusion, the survey results show that Flink and Gorillas are the most popular quick commerce providers in Germany, followed by Getir and Grovy. The results also highlight differences in usage based on gender and age of quick commerce users, as well household income, household size, and the size of the cities they live in. Keeping these findings in mind, it would be prudent to stay informed and remain vigilant about the implications of the rapid pace of quick commerce. It is a trend that is very much relevant and most likely to persist in the close future.
---
*: Online shoppers in Germany who have used quick commerce in the past 12 months.