Gen Z in China: Preferences and Impact on the eCommerce Market
Article by Cihan Uzunoglu | July 10, 2023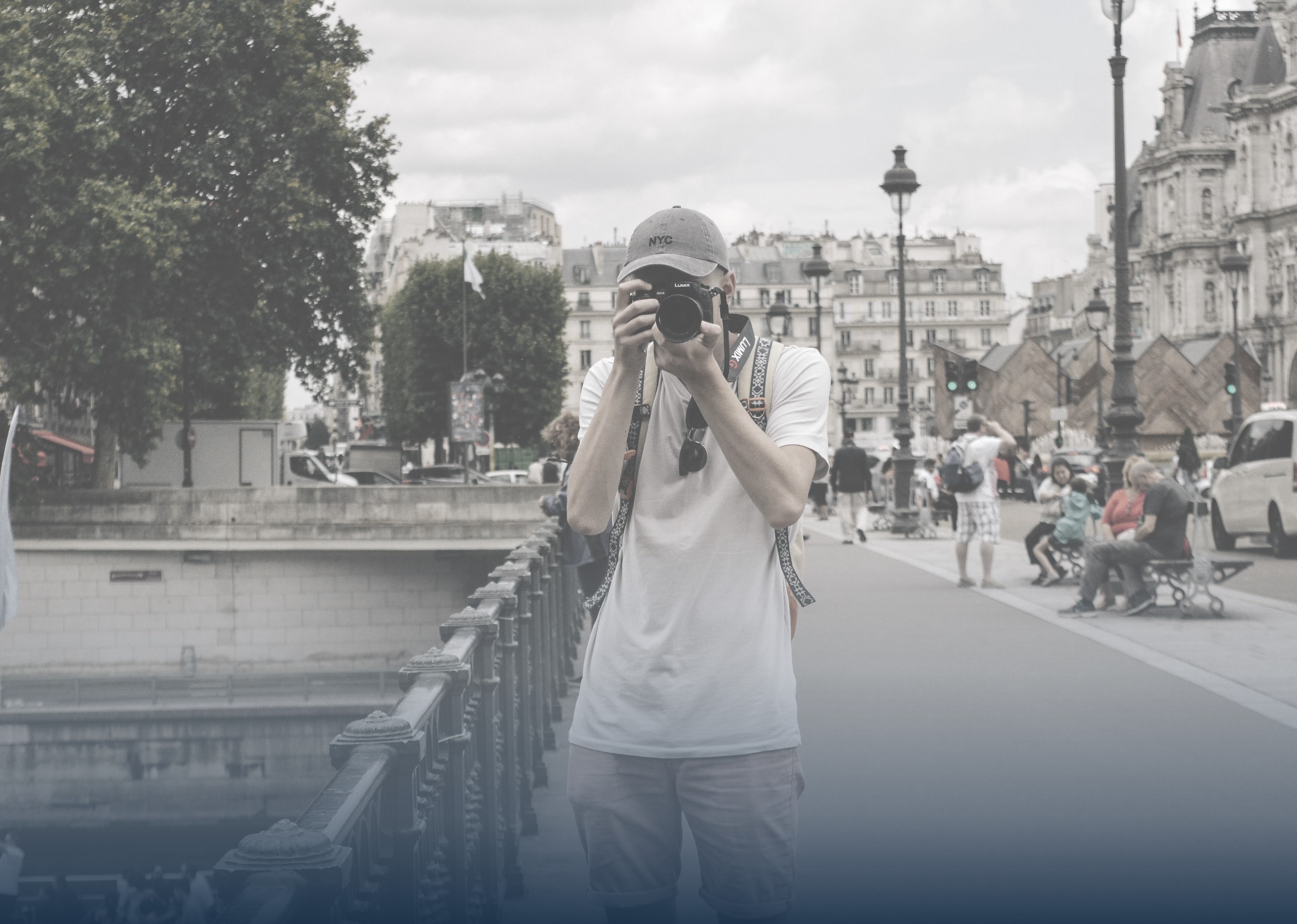 In an increasingly digital age, the habits and behaviors of internet users continue to have a profound impact on the evolution of the eCommerce landscape worldwide. This transformation is particularly noticeable in China, the largest market for eCommerce with a predicted revenue of US$1.487 trillion by 2023.
The country's Generation Z - individuals born between 1997 and 2012 - is emerging as a significant driving force in shaping the digital landscape. The rise of this digitally native generation, with its distinctive purchasing habits, preferences, and technological prowess, is transforming China's eCommerce industry and setting the stage for exciting new developments.
Between 2018 and 2022, China's Generation Z active internet users witnessed an impressive 60% increase, rising from 213 million to 342 million, as reported in a study from QuestMobile. This tremendous increase underscores the growing relevance of Gen Z in the internet sphere and their consequent influence on eCommerce trends. Another survey by QuestMobile shows that, as of June 2022, a little less than one fifth (18.5%) of Gen Z consumers in China were willing to spend money online. While more than half (54%) showed moderate willingness towards online shopping, just above a quarter (27.5%) had low enthusiasm in shopping online.
Delving into the nuanced world of China's Generation Z, this article will analyze Gen Z's preferred shopping methods and applications to gain insights into their unique shopping habits and how these are shifting the dynamics of eCommerce in the country. Furthermore, we will also explore how this age group's tech-savvy nature and propensity for online engagement are fueling the development and success of live commerce in China.
Half Of China's Gen Z Shops Online, While One Third Prefers Hybrid Shopping
Not too long ago, shopping was primarily an in-person experience, characterized by the tangibility of products and in-store interactions. However, the advent of the internet transformed the shopping landscape, introducing online shopping which emphasized convenience and global reach. Amidst this digital evolution, a hybrid shopping approach emerged, combining online research with in-store purchases. This method offered consumers the comfort of online browsing and the reliability of in-person buying. Today, the shopping paradigm has significantly evolved, shaped by different generational preferences.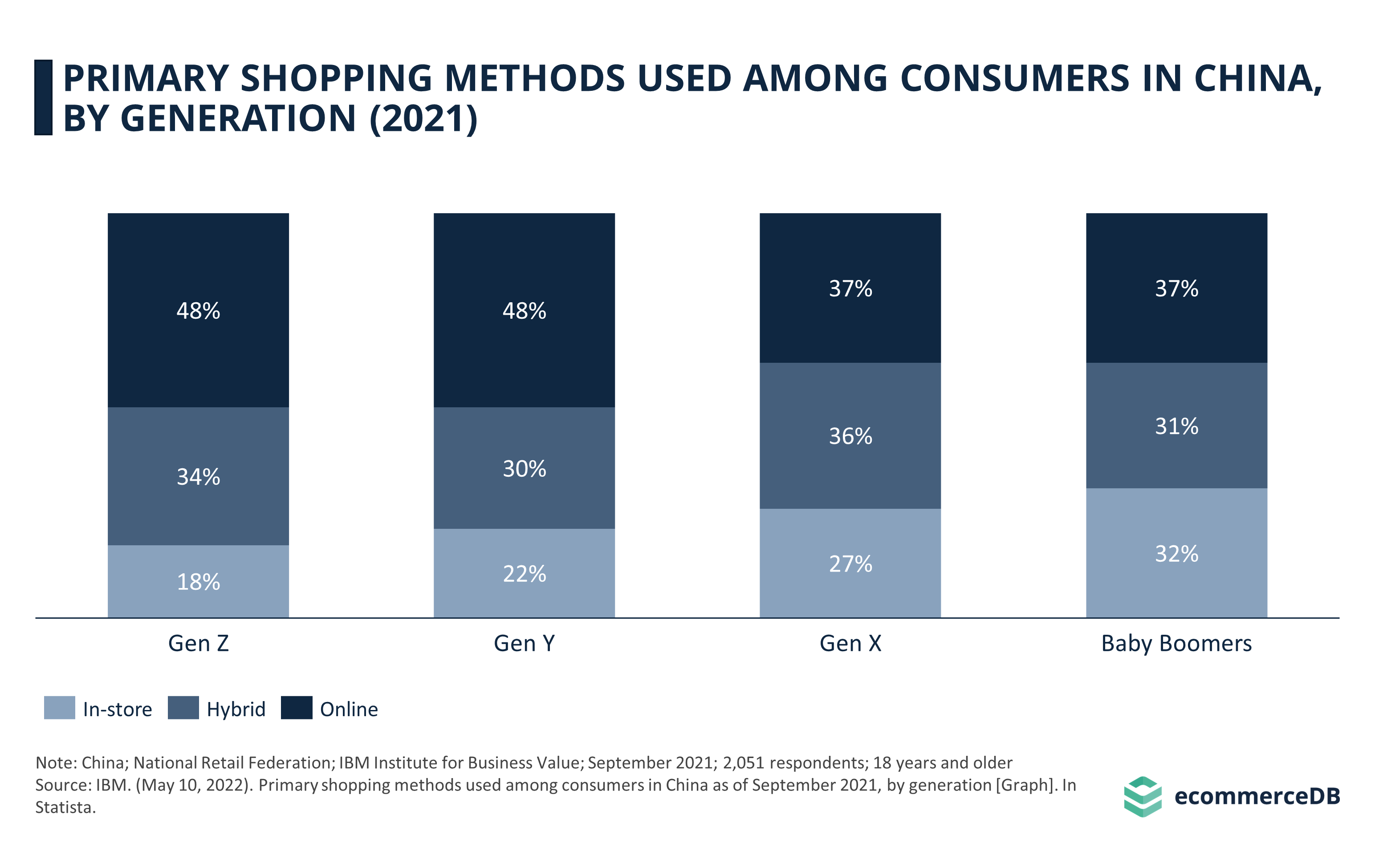 Findings of a survey published by IBM (Institute for Business Value) presents an insightful snapshot of the primary shopping methods utilized by different generations in China. Looking at the methods of in-store, hybrid, and online shopping, Gen Z – along with Gen Y (millennials), referring to individuals born between 1981 and 1996 – consumers show the most considerable leaning towards online shopping, with 48% of them preferring this method. This is unsurprising given that Gen Z has grown up in the digital era and tends to be most comfortable with technology. Their comfort with and trust in online platforms, as well as the convenience of shopping from anywhere, appears to contribute to their high online shopping preference.
Despite having the lowest percentage (18%) for in-store shopping among all generations, Gen Z's use of hybrid shopping, a blend of online and in-store shopping, stands at 34%. This preference for hybrid shopping among Gen Z is second only to Gen X (people born between 1965 and 1980) who are at 36%. This demonstrates that despite their high preference for online shopping, China's Gen Z has not abandoned physical stores altogether, indicating the importance of a multichannel approach for businesses aiming to cater to this demographic.
Gen Z's Share of Newly Added eCommerce Users in China Doubles from 2017 to 2021
A study by Fastdata paints a vivid picture of China's eCommerce transformation over the past five years. In this evolving digital landscape, Generation Z's share in the newly added eCommerce users witnessed a substantial growth, testifying to their increasing digital influence and potential to reshape the online shopping domain.
In 2017, Gen Z accounted for a little less than one-third, or precisely 31.9%, of the new eCommerce users in China. However, as the years progressed, so did their share in the expanding online shopper base. By 2019, the representation of this digital-savvy generation rose steadily to 42.6%, demonstrating their increasing engagement with online shopping platforms. The growth did not stagnate there; instead, it propelled to an astounding 56.3% by 2021, indicating Gen Z's rapidly growing penchant for digital commerce.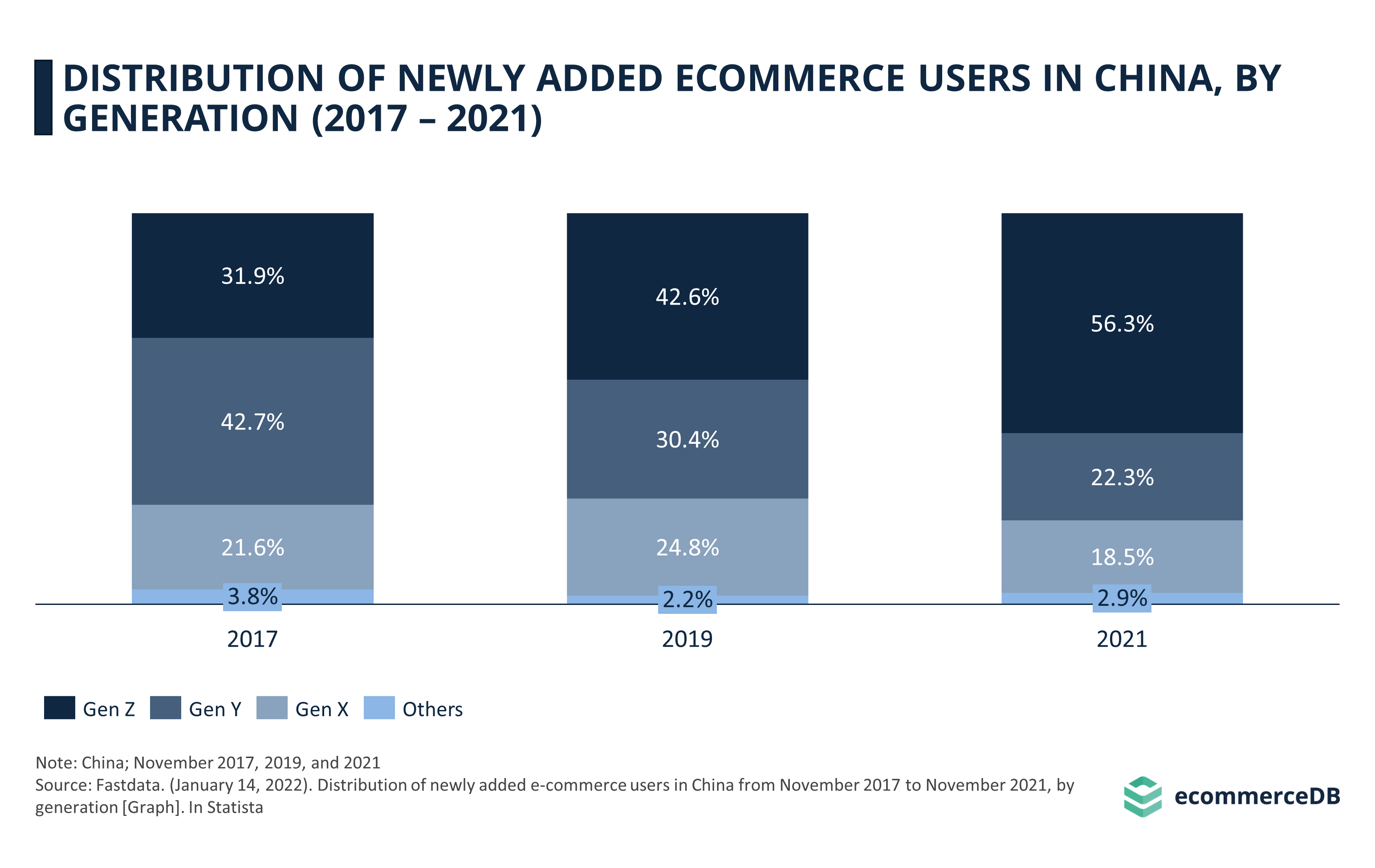 But this rise in Gen Z's eCommerce participation has not occurred in isolation, as it has come at the expense of the other generations' representation within the eCommerce user base. For instance, Gen Y, which accounted for a hefty 42.7% of new eCommerce users in 2017, experienced a marked downturn in their share. By 2019, their presence had dwindled to 30.4%, further plummeting to 22.3% in 2021. Gen X also exhibited a decline in their share of new eCommerce users, albeit less pronounced than their Gen Y counterparts. From 21.6% in 2017, Gen X's representation experienced a modest rise to 24.8% in 2019 before dropping to 18.5% in 2021.
These figures show that Gen Z is rising as a prominent eCommerce consumer group in China, while Gen Y and Gen X are declining. Younger generations' increasing online shopping activity indicates their digital fluency and businesses/marketers should adapt strategies to engage with this evolving consumer landscape.
Gen Z Makes Up One Third of Live Commerce Users in China, Leading All Generations
Live commerce, a modern eCommerce trend, brings the age-old concept of live product presentations into the digital and social media age, effectively reinventing teleshopping for the 21st century. With China at the forefront of this trend, understanding the behaviors of different consumer generations in the country is crucial. A study from Fastdata delineates an generation-based preference in the use of traditional eCommerce platforms versus live commerce platforms. Generation Z exhibits a significant leaning towards live commerce, outpacing other generations.
Representing 33.9% of live commerce users, Gen Z, often seen as digital natives, takes the lead in embracing this burgeoning trend. Interestingly, this attraction sharply contrasts with their participation in traditional eCommerce, where they constitute a lesser 18.8% of the user base. This disparity likely mirrors Gen Z's attraction towards real-time, interactive experiences and the genuine connect offered by live commerce.
While still engaging with both platforms, other generations do not exhibit the same level of enthusiasm for live commerce as Gen Z. Generation Y, or millennials, dominate traditional eCommerce with a 38% user base and hold a substantial 31.2% of live commerce users. Meanwhile, Generation X demonstrates moderate engagement, making up 26.8% of traditional eCommerce users and 23.4% of live commerce users. The "Others" category, which refers to baby boomers (people born between 1946 and 1964), shows the least engagement across both platforms.
4 Out of 5 Gen Z Active Users in China Prefer the Mobile Taobao Shopping App
Finally, we will have a look at the top online shopping apps preferred by China's Gen Z. Commerce platforms have been gaining considerable traction in China, with varying degrees of market penetration. In this context, the data from QuestMobile provides a valuable insight into the penetration rates of online shopping apps among Gen Z active users in China.
According to the findings, Mobile Taobao leads the pack, boasting an impressive penetration rate of 79%. This indicates that nearly four out of five Gen Z active users in China use the platform for online shopping, underscoring Mobile Taobao's dominance in the eCommerce space. In the second spot is JD.com with a penetration rate of 41%. While this figure is significantly lower than Mobile Taobao's, it still indicates that more than two in five active Gen Z users are leveraging the JD.com app for their online shopping needs.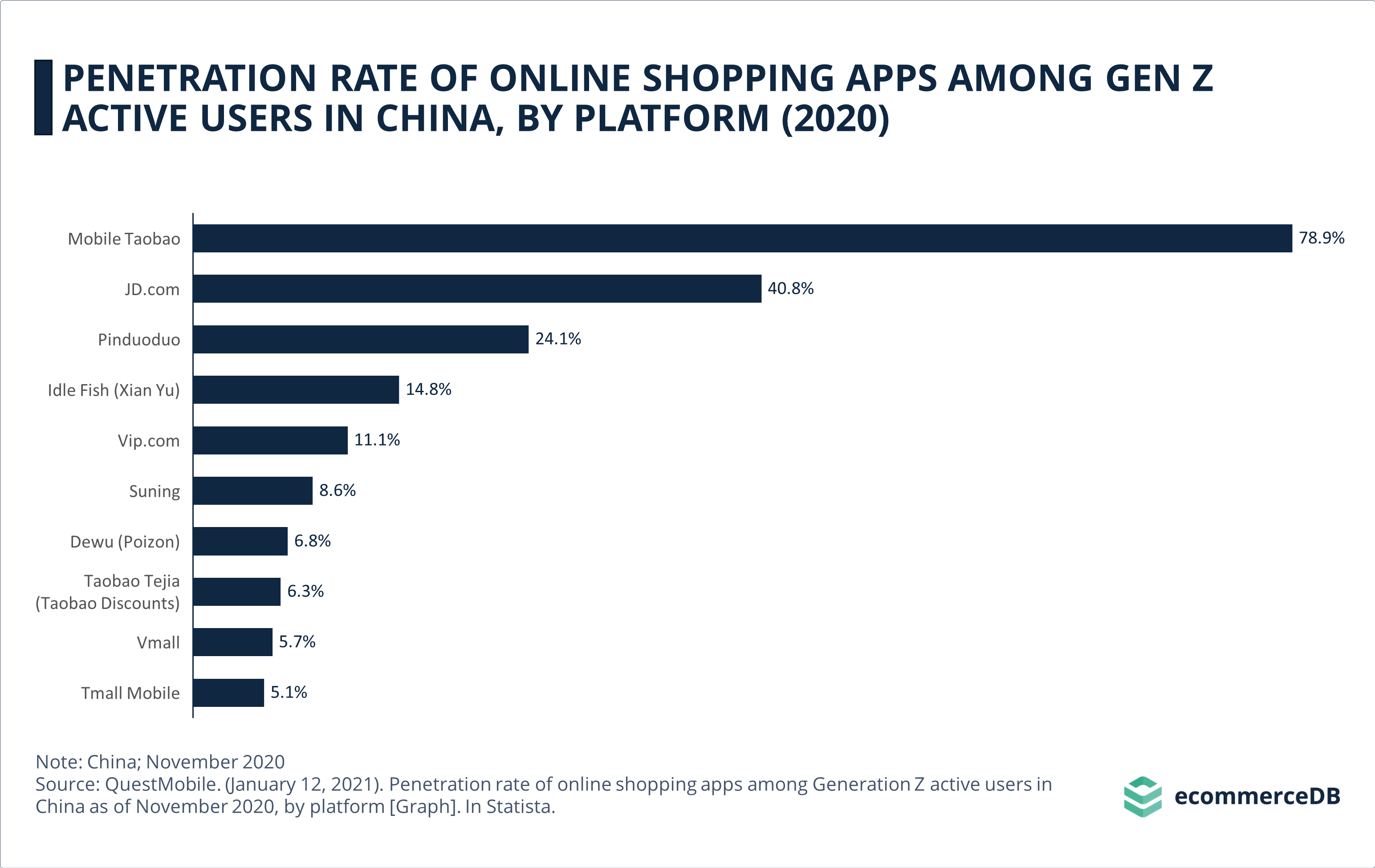 Further down the list, Pinduoduo secures a penetration rate of 24%, making it another significant player in the Chinese online shopping landscape. Meanwhile, Idle Fish (Xian Yu) reaches a penetration rate of 15%, reflecting its popularity as a second-hand goods platform. Other platforms like Vip.com and Suning have lower, but still significant, penetration rates of 11% and 9% respectively, demonstrating their steady presence in the market, even if they're not as dominant as the leaders. Dewu (Poizon), a platform popular for sneakers and streetwear, clocks in a 7% penetration rate. Taobao Tejia (Taobao Discounts), and Vmall, each achieve a 6% rate, suggesting their foothold in the market, especially in niche and discounted product segments. Lastly, Tmall Mobile trails behind with a penetration rate of 5%.
A Generation That Accounts for More Than Half of Newly Added eCommerce Users
The influence of Gen Z on China's rapidly evolving eCommerce landscape is indisputable. Their distinctive digital habits and preferences are not only reshaping the industry but also ushering in a new era of hybrid shopping methods that blend online research with in-store purchases. This generation's increasing dominance in the new user base, in contrast with a decline for other generations, underscores the tectonic shift in the demographic dynamics of digital commerce.
Furthermore, Gen Z's strong inclination towards live commerce, a trend combining eCommerce with live streaming, is significantly influencing consumer interactions. It exhibits the generation's penchant for interactive, real-time experiences that traditional eCommerce platforms cannot fully cater to. As for online shopping apps, Mobile Taobao emerges as a clear favorite among Gen Z users, although JD.com, Pinduoduo, and Idle Fish also see substantial engagement, revealing a varied landscape where different platforms meet distinct user needs.
---
Sources: QuestMobile, IBM, Fastdata, Statista