eCommerce: Digital Payment Methods
PayPal, eWallets & Digital Payments: Apple and Google Pay Gain Momentum
From unheard of concepts 20 years ago to today's new norm, contactless payment has evolved. With PayPal, eWallets, and Digital Payments leading the way, even Apple and Google Pay are gaining momentum.
September 28, 2023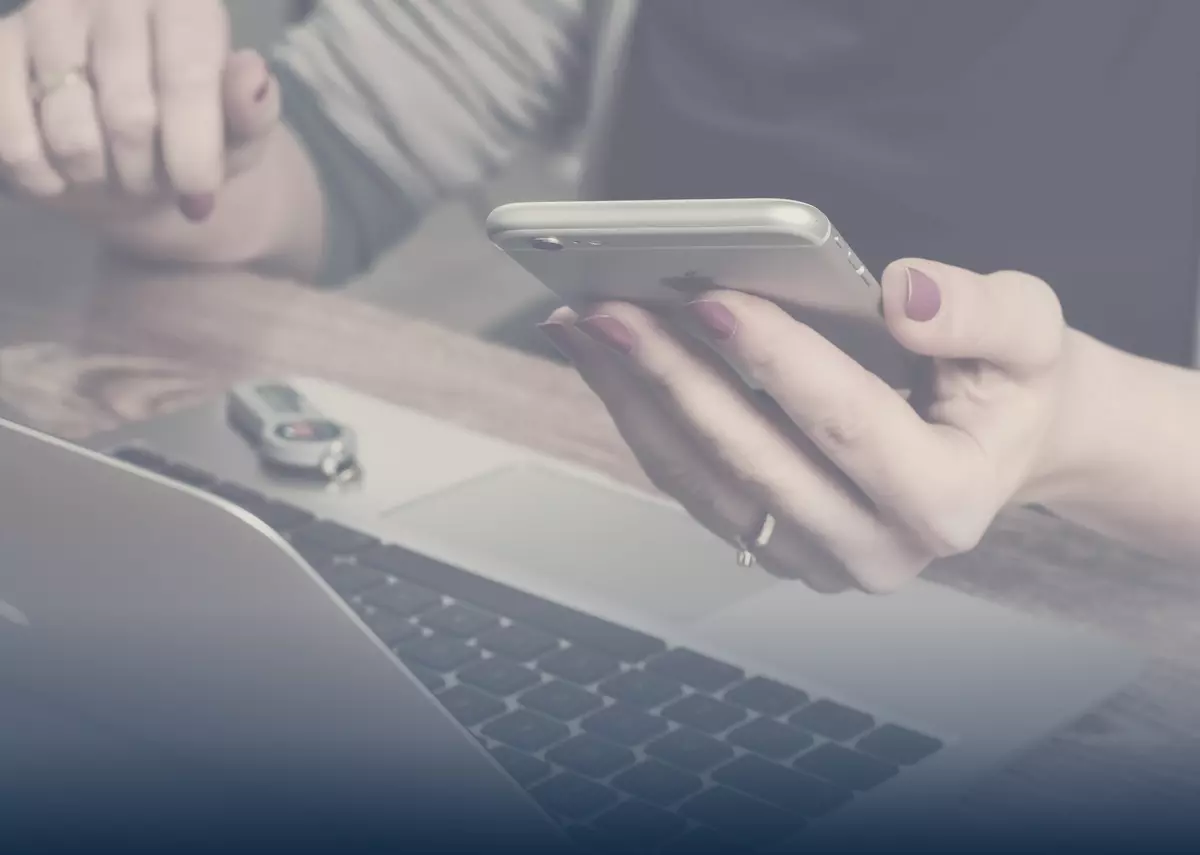 Contactless payment – where paying for a purchase with your mobile phone or watch would have been unheard of 20 years ago, we have now arrived at a time when such everyday conveniences have become the new norm.
These are transformative times, and the dynamic payments landscape is a testament to the relentless technological advancements our world continues to introduce. One of the fastest growing transaction methods of the current decade is eWallets, or digital wallets, which includes mobile wallets.
In order to provide a comprehensive overview of the online wallet space, this article first offers a concise definition. We then examine the prevalence of eWallets in selected countries and the shifting market shares of different eWallet providers. Finally, a look at payment provider usage across generations in the U.S. rounds out the analysis.
Before getting into the data, however, a definition is in order.
What Is an eWallet? A Brief Introduction
While the terms eWallet, digital wallet, and mobile wallet are often used interchangeably, there are a few definitional distinctions worth noting. The relationship between these terms is best understood as a spectrum of subcategorizations rather than isolated, non-overlapping definitions.
Digital Wallets store a customer's purchase information in the cloud and access it during a payment request. In addition to bank accounts, a digital wallet can also store rewards such as loyalty cards, airline tickets, licenses and gift cards, or reservations. These wallets are considered very secure due to their protective measures, which include encryption, tokenization, or biometric indicators.

eWallets are a subcategory of digital wallets, and while they overlap in their general function of handling personal user information, eWallets can also store funds. Therefore, this payment mode is very useful for unbanked countries, as it provides a platform to deposit money independent of a bank account.

Mobile Wallets are only eligible for use on connected devices such as phones, tablets, or watches. In general, mobile wallets have the same functionality as the other two types, but they are more specific due to their limited accessibility. The previous two categories can theoretically be accessed through both a web browser and an app, whereas a mobile wallet is tied to a specific device or hardware.
What Are Popular Examples of eWallets?
PayPal is both an eWallet and a digital wallet because you can store funds directly on the platform, but you can also access a bank account through the app, pay with a QR code, use BNPL, or connect to a crypto account. PayPal also offers person-to-person transfers, invoicing, money requests, and merchant services such as returns.

Apple Pay works as a digital wallet, eWallet, and mobile wallet. Users can make contactless payments offline and online. Apple Pay also lets you send and receive money between customers, i.e. C2C.

Google Pay also fits into all three categories, as it is both a mobile wallet for any mobile device, as well as being accessible via a web browser. Its overall functionality is similar to that of Apple Pay.

Amazon Pay can be defined as both a digital wallet and an eWallet. Its focus is on making online purchases quickly and seamlessly using stored personal credentials or funds.
Using the data on these types of digital transaction platforms that we just introduced, their relevance in selected countries helps to provide a more detailed overview.
PayPal Is the Most Widely Used Platform
The field of payment services is relatively new and has only been gaining popularity in the last few years, which is why there is a constant stream of new providers and changes in the market share of the incumbents.
PayPal's Experience Contribute to Its Prominent Position
As PayPal is the oldest and most established platform, it is to be expected that PayPal is also the most used platform in different countries.
A key takeaway from our year-over-year comparison is as follows: Across all countries observed, PayPal has lost percentage points in favor of other platforms that have accumulated a larger share of customers. Even though consumers were able to choose more than one platform, PayPal seems to be losing market share.
The five countries included in our analysis are Germany, France, Italy, the UK, and the U.S. PayPal has lost between 1 percentage point (U.S.) and 8 percentage points (UK) this year. However, it is still the most widely used provider in all countries observed, ranging from 81% in the U.S. to 90% in Germany.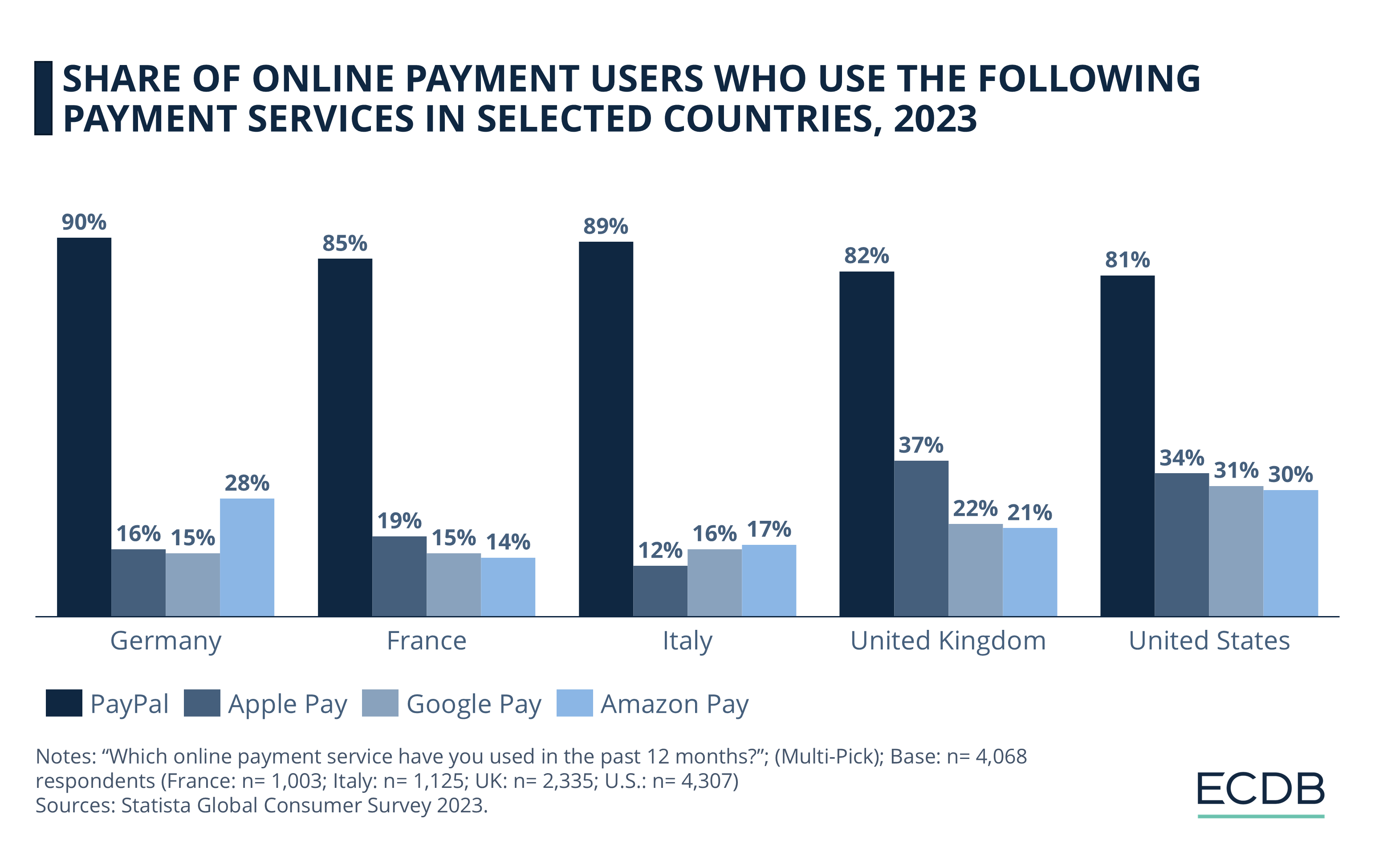 The other three providers have overall increased their market share in the observed countries.
Apple Pay Grows in France, the UK, and U.S., While Amazon Pay Is More Popular in Germany and Italy
In Germany, Amazon Pay leads with a 28% share, followed by Apple Pay (16%) and Google Pay (15%), all growing by 1-3 percentage points year-over-year.
France sees Apple Pay rising to 19%, a growth from 12% in 2022, with Google Pay at 15% and Amazon Pay holding steady.
In Italy, Amazon Pay holds 17%, down 3 percentage points since 2022, followed by Google Pay (16%) and Apple Pay (12%, up by 2 percentage points).
The UK predominantly uses Apple Pay at 37%, with an 8-percentage point annual growth. Google Pay follows at 22% and Amazon Pay at 21%, a 5-percentage point increase year-on-year.
U.S. usage is balanced across services, with Apple leading the way at 34%, followed closely by Google Pay (31%) and Amazon Pay (30%). The growth since 2022 is notable for each, especially Amazon Pay with a 5-percentage point spike.
Interested in how different generations are using these services? The subsequent section offers insights into this aspect, based on data from Statista Consumer Insights in the United States.
Which U.S. Generation Favors Which Carriers?
While PayPal remains the most popular payment service across all generations in the U.S., there are some age differences, as shown in the table below.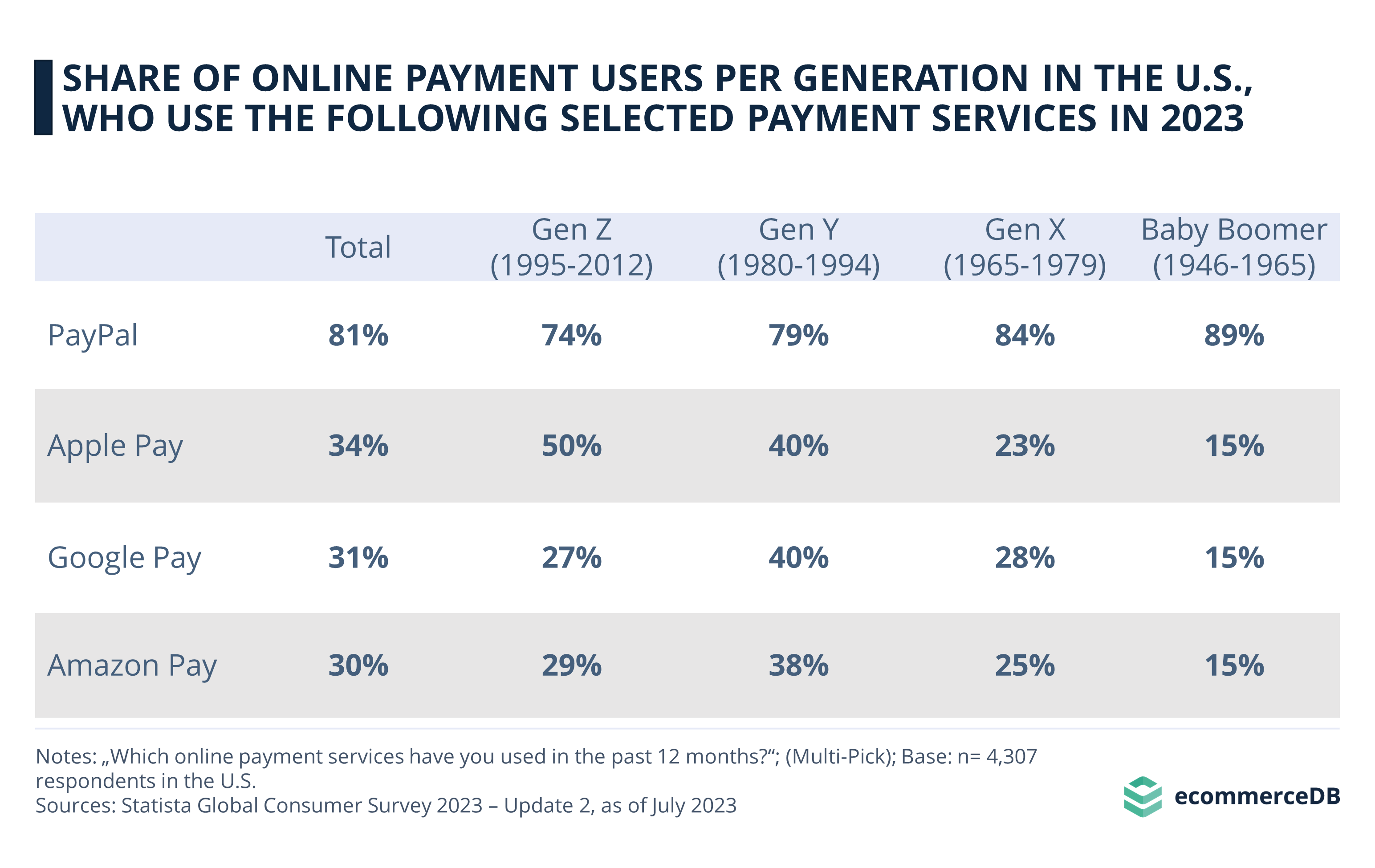 Older Age Cohorts Mostly Rely on PayPal, While...
The data indicates that PayPal usage is positively correlated with age, meaning that as consumers get older, they are more likely to shop using this service. 89% of baby boomers use PayPal, and the share gets progressively smaller for younger users. In particular, Gen Z is the least likely to have used PayPal in the past year, at 74%.
... Younger Users Also Like Using Apple Pay.
Apple Pay shows the opposite trend: Gen Z is the most inclined to use this provider, as half of them say they shop for products using Apple Pay. Millennials follow at 40%, but Gen Xers and baby boomers are less likely to use the service at 23% and 15%, respectively. As a result, Apple Pay shows a negative correlation across age cohorts.
Google Pay and Amazon Pay Peak Among Millennials
The data for Google Pay and Amazon Pay is less linear. For both, millennials are the ones with the highest usage rates, with 40% of them using Google Pay and 38% using Amazon Pay. Gen Xers have a higher preference for Google Pay (28%), and Gen Z are the second-most likely to use Amazon Pay (29%). Baby boomers are as unlikely to use either Google Pay or Amazon Pay as they are to use Apple Pay, with a 15% share for each platform.
Now that we know which provider generations in the U.S. prefer to use to send money, receive money, and manage their bitcoin cash, we can turn to the key takeaways.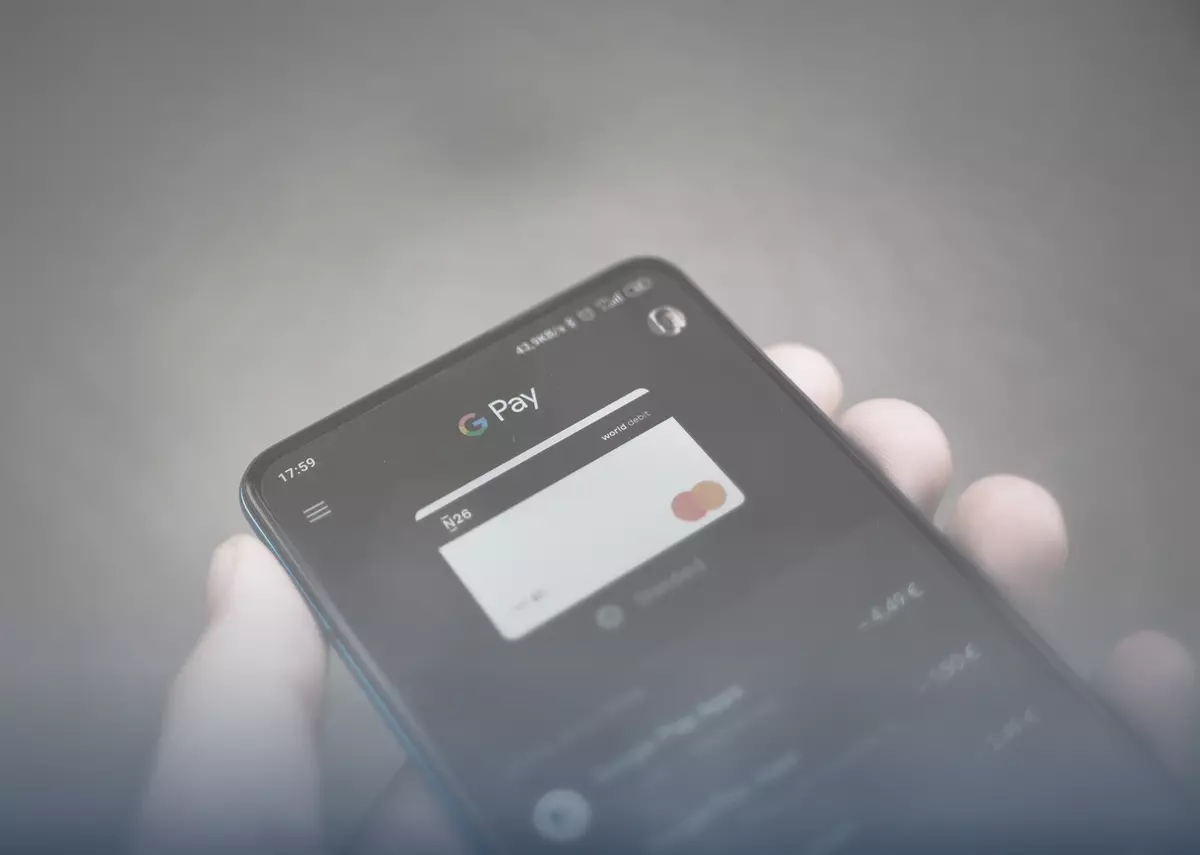 eWallet Use Across Countries - Key Takeaways
This article examined the development of contactless payment since 2022. We dissected the differences between eWallets, digital wallets, and mobile wallets, while showing how prominent platforms like PayPal, Apple Pay, and Google Pay performed in various markets and across generational demographics.
Definitions and Distinctions: While terms like eWallet, digital wallet, and mobile wallet are sometimes used interchangeably, they have specific differences. Digital wallets primarily store purchase information in the cloud, eWallets can also store funds, making them useful for unbanked regions, and mobile wallets are specific to a connected medium, limiting access to connected gadgets such as smartphones.
Market Analysis of Leading Providers: Although PayPal remains a dominant force in contactless payment platforms, its relevance is diminishing as competitors rise. In countries like Germany, the U.S., UK, Italy, and France, PayPal's market share has decreased, while Apple Pay, Google Pay, and Amazon Pay have seen various degrees of growth, reshaping the payment provider landscape.
Generational Provider Preferences: In the U.S., there's a clear correlation between shoppers' age and payment platform preference. Older demographics like baby boomers lean heavily towards PayPal, while younger cohorts like Gen Z show an added preference for Apple Pay. Meanwhile, platforms like Google Pay and Amazon Pay present more mixed patterns across generations.
---
Sources: Ebanx – TechTarget
FAQ: Everything You Need to Know About PayPal Transactions
What Is a PayPal eWallet?
PayPal is an online payments system. It allows users to securely link bank accounts, credit cards, or debit cards for online payments and transfers without sharing banking details. Users can store funds, make person-to-person transfers, send invoices, and request money. With PayPal, you can make safe online purchases, pay with QR codes, and connect to cryptocurrency accounts. The term eWallet highlights its function as a digital money and payment method storage, similar to a traditional wallet.
How Do I Set Up PayPal in a Mobile Wallet?
1. Download and install the PayPal app.
2. Launch your preferred payment app.
3. Click on your Profile image.
4. Navigate to 'Wallets'.
5. Select 'Add to your wallet' or a similar option.
6. Choose 'PayPal' from the list.
7. To manage your PayPal settings, tap on the PayPal logo located at the top right corner.
How Do I Use Money in a PayPal Wallet?
Once you add funds to your PayPal account, you can use it for a range of transactions. Whether you're sending or receiving money, or accessing other platform services, simply log in to the PayPal app or website using your email and password. The balance in your account will be available for interactions with merchants at ecommerce checkout or C2C transfers.