eCommerce in China: Social Commerce
Community Group Buying in China: A Social Commerce Phenomenon
Social commerce adapts to local needs in China. We explore how community group buying leveraged increasing digital penetration and consumer spending to take hold in the Chinese eCommerce landscape.
Article by Nashra Fatima | October 16, 2023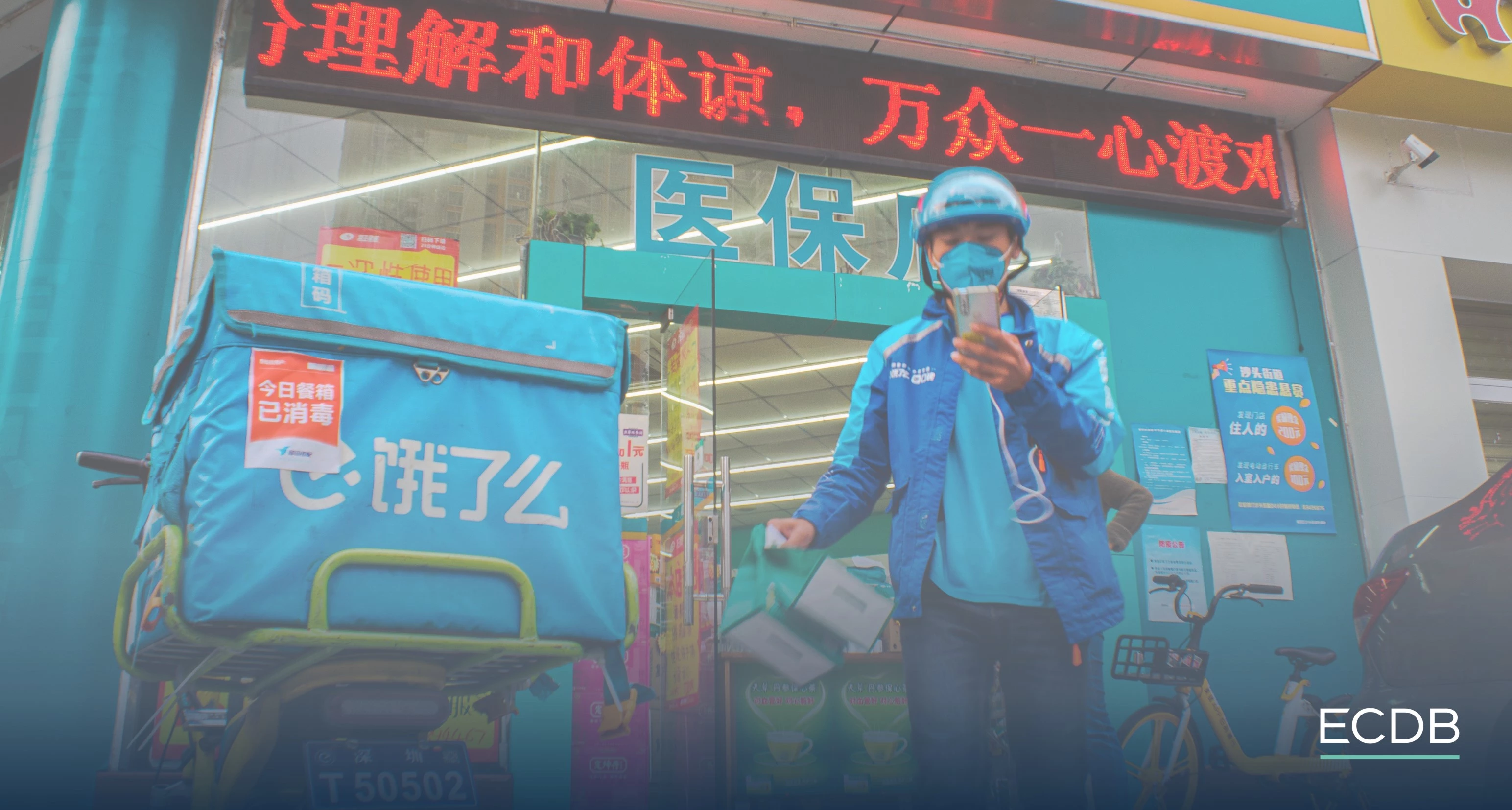 The eCommerce market in China is dynamic. A rising middle class, increased consumer spending and digital maturity – all drive new trends in the industry. Within this context, community group buying took off as a unique eCommerce practice, attracting communities of consumers towards online shopping.
As of 2023, China hosts the largest digital population in the world, with 1.05 billion internet users, according to Statista. Of the total population, 73.2% are on social media. This makes the country a sizable playing field for social commerce, a trend gaining popularity across the globe. 90% of Chinese online shoppers have already indulged in buying through social media, making it the second-largest market of consumers, just behind Thailand and Columbia.
Community group buying is a quintessential social commerce practice. The model integrates eCommerce with the offline community experience, bringing people to shop together online.
Are you curious why consumers in China engage in group buying? Let's find out.
Social Shopping: The Mechanics of Community Group Buying
Community group buying leverages the social aspect of shopping but reworks it into a digital ecosystem.
As the name suggests, it involves people teaming up to purchase items. With increased order volume, a group becomes eligible to get discounts and deals.
To place a group order, people must self-organize themselves into a team, online or offline. Users can go to a social platform and view the items they wish to buy. Typically, merchants offer two price points for each item: one for individual purchase and another discounted rate for team purchases.
What Makes Group Buying Unique: Community Leaders

Community leaders act as the linchpin of the group buying model in China. Generally, they are grocery store owners or housewives. A social platform recruits them to act as the point of contact between their local community and wholesalers. Subsequently, they are responsible for collecting and initiating orders from the neighborhood households.

Once the aggregated order is processed, sellers ship the goods to a designated collection point. The community leaders pick and unpack the bulk order and alert the members to pick up their purchase. They typically earn a commission of 10-12% on the GMV or sales.

But the role of community leaders goes beyond order placement and delivery. They also provide customer service, promote deals, and actively acquire new customers. The social aspect boosts the customer conversion rate as people in the community already know and trust them.
Customers can join an existing team on an app of their choice or a WeChat mini program. Alternatively, they can form their own team, proactively inviting friends and family to join. As soon as users have built a team, they can unlock discounts and initiate their orders. The merchant confirms and processes the order, typically shipping it within 48 hours.
Popular items bought on group buying platforms include groceries and fresh food like meat, eggs, and dairy, non-food daily necessities like paper towels, and agricultural goods.
The Rise of Community Group Buying
Although the model of group buying was launched in China in 2014, it was not until 2019 that it experienced accelerated growth. The pandemic further boosted its spectacular rise in 2020.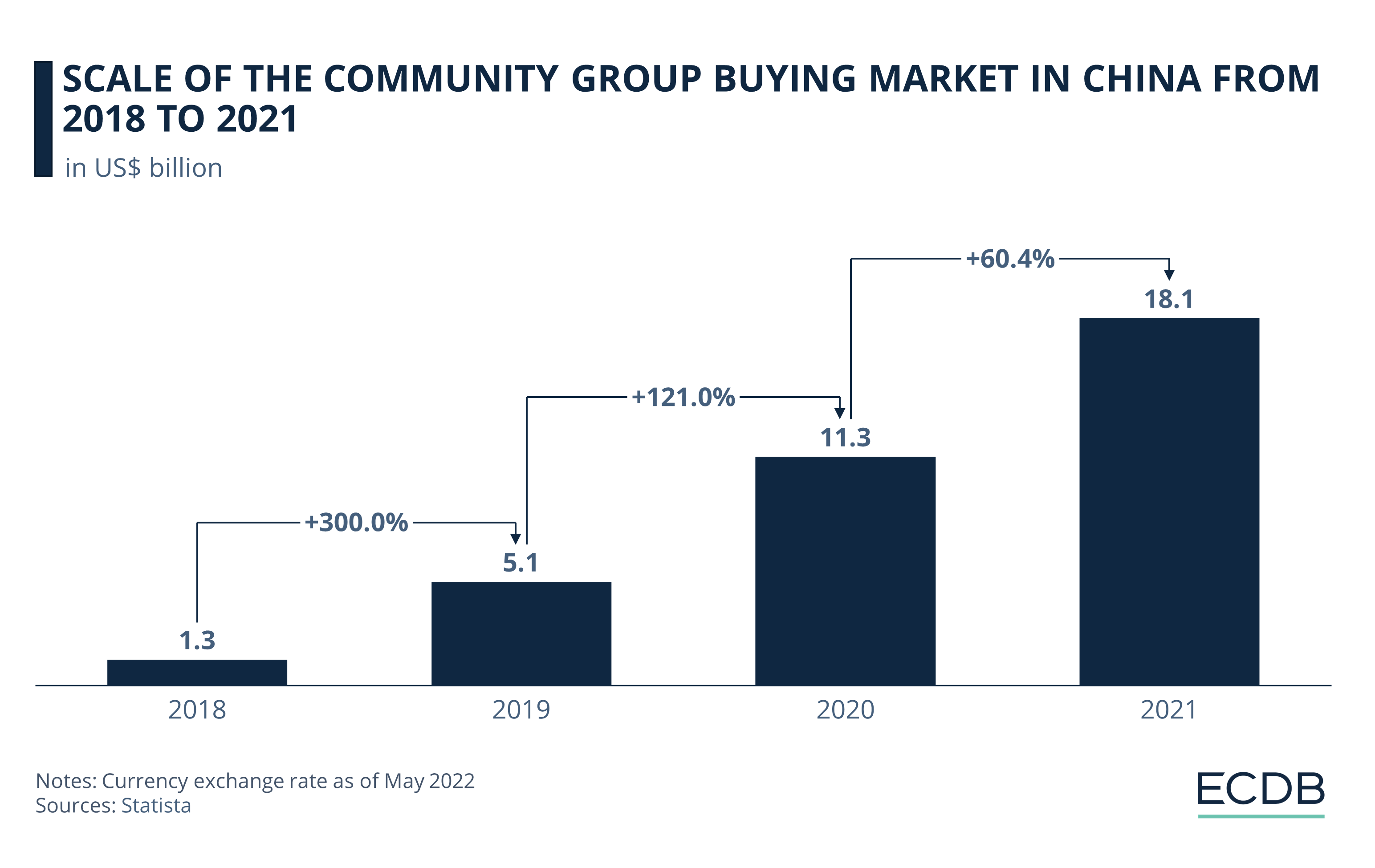 According to Statista, in 2019, the scale of the community group buying market stood at US$5.1 billion, up 300% from the previous year. In 2020, the market share increased by 121%, reaching US$11.3 billion. In the following year, its market size grew to an unprecedented US$18.1 billion.
From 2020 and onwards, tech eCommerce heavyweights like Alibaba, Meituan and Pinduoduo also hopped on the bandwagon of group buying, eager to tap into the large but under-served consumer market in third and lower tier cities of China.
Often referred to as sinking markets, third and lower tier regions include smaller cities and rural areas in China. In comparison to larger urbanized areas, these regions have a smaller population size, limited economy, and less developed infrastructure. However, they have good growth potential, particularly as digitalization strengthens.
During the pandemic, strict lockdowns were imposed across the country. As offline avenues of superstores and traditional fresh (wet) markets were shut, Chinese consumers turned towards online shopping with a new vigor, driving the FMCG (Fast-Moving Consumer Goods) eCommerce sector. FMCG includes products such as food, beverages, home supplies, and toiletries.
Within this larger context, group buying—a safe but socially-engaged form of eCommerce—began to reshape how customers purchased everyday products online.
Community Group Buying: The Target Demographic
Group buying primarily targets Chinese customers residing outside of big cities.
Per a report on China's community group buying market by Fung Business Intelligence, 70% of community group buying users lived in third or lower tier cities (smaller cities and rural regions), as of 2020.
In comparison, only 16% of users hailed from first-tier (large and developed urban hubs like Beijing and Shanghai) and new first-tier (emerging places like Wuhan and Nanjing) cities.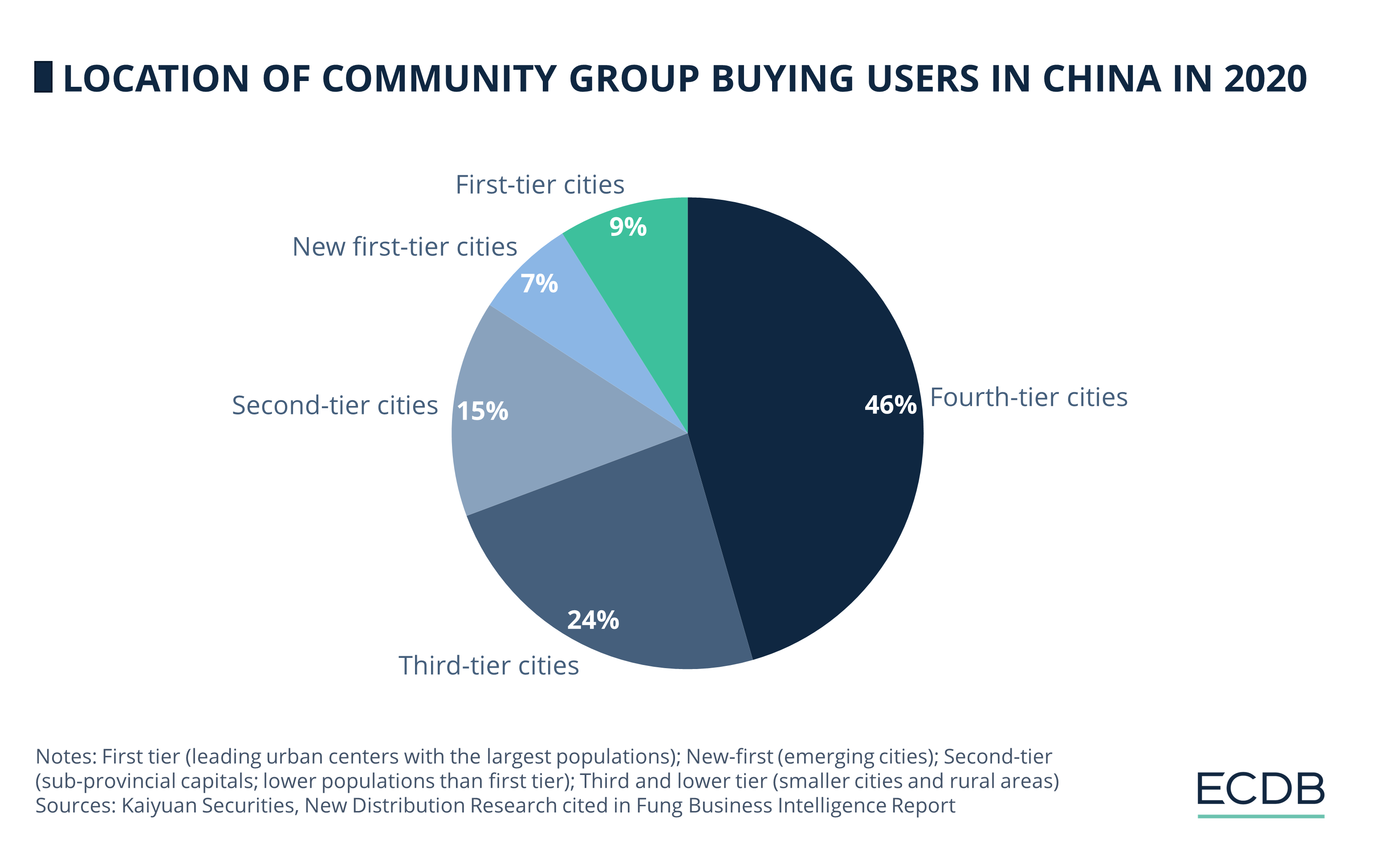 Thus, group buying has evolved to address the specific needs of price-sensitive Chinese customers residing in small cities and rural areas.
Thanks to the shrinking digital divide in China, residents of lower tier regions have smartphones and dependable internet service. They often look for bargains and want to boost their lifestyle within the budget. More connected to their neighborhoods, they also tend to experience a higher level of community interactions than those living in major city centers.
All these factors make them likely candidates for group buying.
What Are the Advantages of Community Group Buying?
Group buying offers several benefits to consumers such as:
Attractive prices: By purchasing in bulk, customers can access discount prices and incur lower delivery costs. They can also win coupons to get more deals.

Better and reviewed products: Consumers can safely rely on the recommendations of their community leaders and social circle to access a wide range of merchandise online, including products that may not be easily available to them locally.

Interactive shopping: Although conducted online, the process remains social. It particularly helps senior citizens who may find it difficult to navigate complicated purchasing apps by themselves.
The perks of group buying are not confined to consumers alone. Retailers also get benefits like:
Reduced costs: Group buying reduces the number of intermediaries. It ends up decreasing supply-chain challenges and logistics expenses.

Expanded buyer base: Through community leaders, merchants acquire customers relatively quickly. Incentivizing sharing links with friends and family further improves their visibility among potential buyers in a neighborhood.

Enhanced brand recognition: The model promotes social buying, which often leads to frequent and repeat purchases. It boosts brand recognition and strengthens loyalty.
Who are the Big Players in Group Buying?
The top four group buying service providers collectively generated a gross merchandise value of US$43.3 billion in 2021.
Meituan Select, operated by the shopping platform Meituan, topped the list by a big margin, generating US$19.2 billion in 2021.
Duo Duo Grocery, run by Pinduoduo, stood second, earning US$12.8 billion.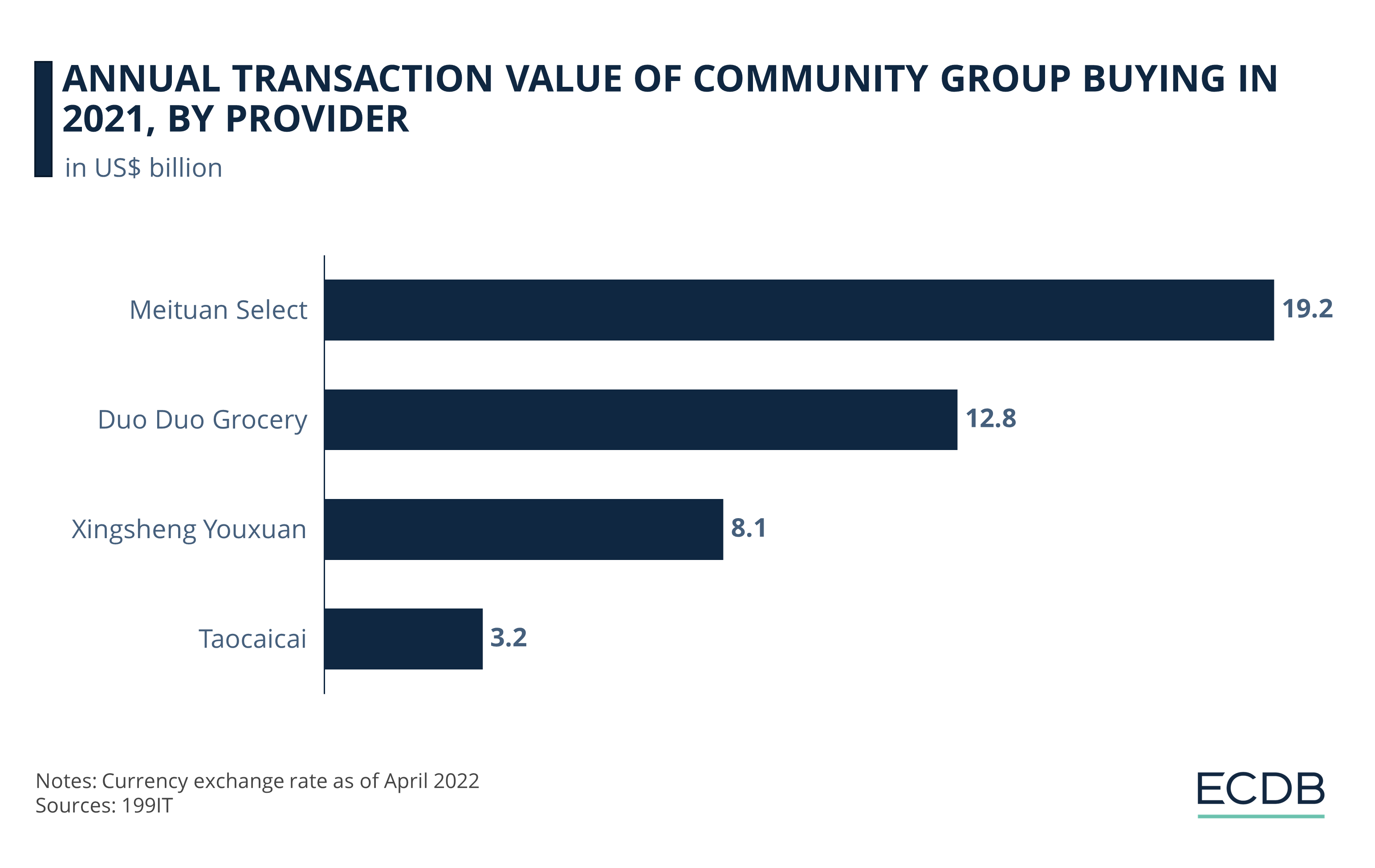 Xingsheng Youxan came in third with US$8.1 billion. Taocaicai, owned by Alibaba Group, ranked fourth with US$3.2 billion.
A closer look at the top two contenders – Meituan Select and Duo Duo Grocery – highlights their impressive growth trajectory at the height of the group buying rage in China.
Meituan Select
This online service was launched in 2020 by Meituan, a leading quick commerce player which used a couponing strategy to gain market share in China. The company leveraged its delivery platform – which remains the largest in China – to penetrate the country's rural areas. It reportedly covers 90% of the cities and counties in the country as of 2021. The company Meituan's total annual revenue rose to US$26.9 billion in 2021, from US$14.6 billion in 2019 (currency exchange rate as of April 2023).
Duo Duo Grocery
This platform was launched in 2020 by the online retailer Pinduoduo, which became active in China in 2015. The company led to a so-called retail revolution, battling giants like Alibaba and JD.com. It used a social commerce strategy to rapidly capture an audience in smaller cities and rural areas. Its platform connects consumers to local farmers and distributors directly, offering next-day grocery pickups at low prices. The company Pindudoduo's total annual revenue soared to nearly US$13.1 billion in 2021, from just US$4.2 billion in 2019 (currency exchange rate as of July 2023).
The large-scale platforms that came to dominate the group buying landscape followed in the lead of original community buying apps. Often, they were backed by tech money; for instance, internet giant Tencent Holdings is an investor in both Meituan and Pinduoduo.
Nonetheless, by the end of 2021, many players were forced out of the market and even the dominant companies had to slow down their operations and deal with losses.
The Future of Group Buying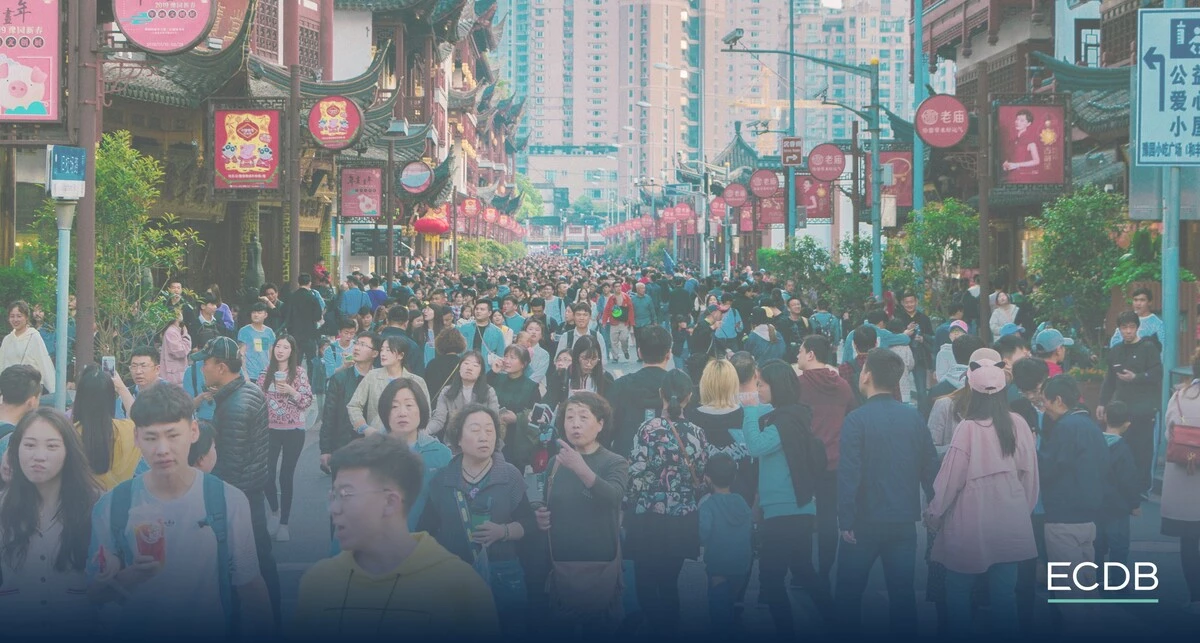 Despite its phenomenal success, group buying has faced several challenges over the years. They range from quality control to fierce competition in the form of price wars to government scrutiny.
The arrival of tech companies in the group buying landscape edged out several small and medium-sized platforms, which either had to scale down their operations or declare bankruptcy.
Companies operating in the group buying segment often spend huge sums of money while suffering losses as they rush to meet customer demand for subsidies. This has compelled even resource-rich players to either shut down or scale back their operations in less profitable parts of the country. This includes Alibaba's Nice Tuan, JD.com's Jingxi Pinpin, and Didi's Chengxin Youxuan.
The Chinese government intervened in 2021, imposing regulations on community group buying to stop the mounting price wars. Some platforms were fined for setting too-low prices, pricing fraud, and false advertising.
The group buying industry is expected to continue developing amidst the changing eCommerce climate in China. The players that survive may have to reformulate their strategies to focus on specific regions and segments, whether in mega cities or smaller regions. Since customer needs also keep transforming, the model and the key players will have to adapt to see future growth.
Community Group Buying in China: Key Takeaways
A hyper-local retail model, group buying transformed the way Chinese consumers – particularly those in smaller cities and rural communities – came online to shop. Launching their own group buying service catapulted companies like Pinduoduo to remarkable success. However, it also instigated cutthroat competition that has now forced many players to reorganize their operations.
Here are the key takeaways from the article:
Group buying grew tremendously during the pandemic in China. At this time, it reached a larger audience that benefited from the discount prices that the model offers.
Primary group buying customers reside in smaller cities and rural areas. Increased buying power, a reliable internet connection, a desire to improve their lifestyle affordably, and social cohesion make them frequent group buyers.
Community leaders are a central component of community group buying in China. The model's success hinges on them acting as a link between retailers and local buyers.
As the government doubles down on group buying through tightened regulations, it may put an end to the flash sale era but promote fair market competition.
The competition and losses faced by group buying ventures regularly reshuffle the market. This prevents domination by a single player while also prompting quick strategy adjustments for survival.
---
Sources: Fung Business Intelligence, Statista, Alarice International Limited