eCommerce Report: Global Brands
Most Valuable Brands of the World 2023: Amazon Struggles, Apple Dominates
The 2023 Kantar BrandZ Report offers a fresh view of the business world, with Apple at the top, Amazon's dip, and new contenders emerging as the world's most valuable brands.
Article by Cihan Uzunoglu | November 28, 2023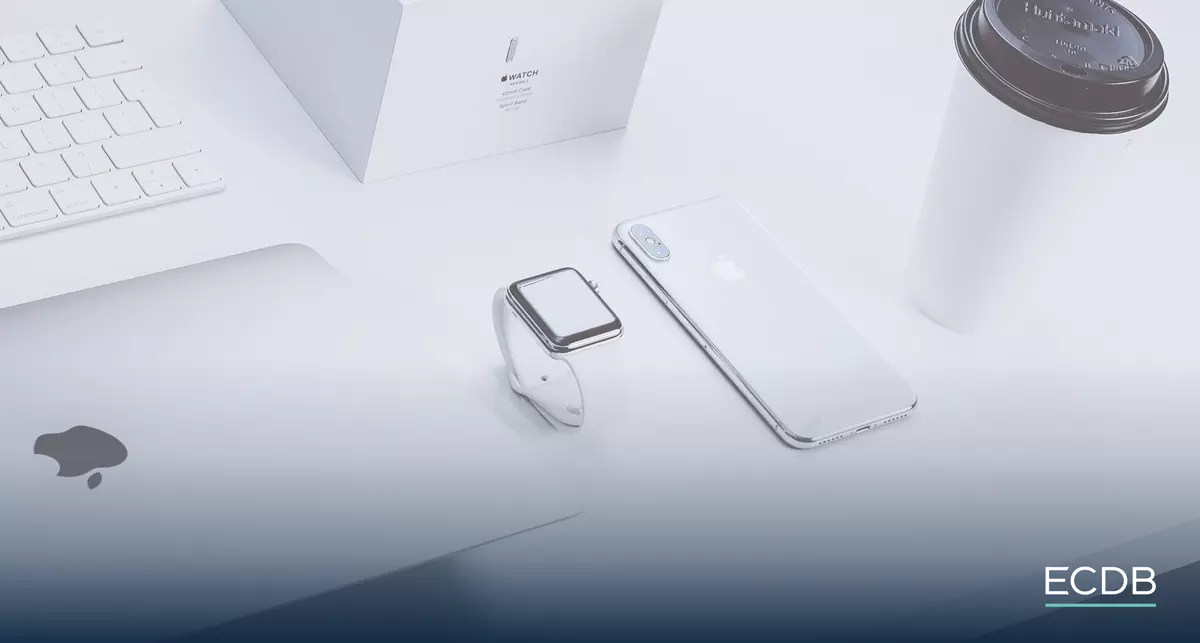 ---
Most Valuable Brands of the World 2023: Key Insights
Brand Rankings and Value Changes: Apple is the world's most valuable brand in 2023 with a brand value of US$880.4 billion, holding its top position for the second year. While most companies in the Top 10 faced a decrease in value, Amazon's 33% dip was particularly significant. Luxury brand Louis Vuitton is the only one of its kind in the Top 10, and newcomer Shein entered the Top 100 for the first time.

Sustainability and Growth: Only 2% of the world's most valuable brands are seen as sustainability leaders, representing a major opportunity for brands, especially in the realm of eCommerce. Additionally, even though there was a 20% decline in the overall brand value index from 2022, the collective value of the Top 100 brands in 2023 exhibited a notable 47% growth compared to 2019 levels.

Consumer Connections and Brand Resilience: Establishing and nurturing strong emotional connections with consumers is pivotal for brand resilience, especially in volatile market conditions. Brands that consistently invest in these connections are better prepared to weather challenging conditions and provide value to their shareholders. The emphasis is on brand-building, product innovation, and diversifying markets for sustainable growth.
---
The Kantar BrandZ Most Valuable Global Brands Report 2023 doesn't just focus on numbers; it also highlights bigger trends like sustainability and how much customers like a brand. Explore the details of this year's brand rankings and what they show us.
What are the World's Most Valuable Brands in 2023?
Apple maintains its position as the world's most valuable brand for the second consecutive year, according to Kantar's report. With a brand value of US$880.5 billion, Apple has shown resilience in challenging market conditions, justifying premium prices through positive perceptions. While Google and Microsoft are in the respective 2nd and 3rd spots, Amazon takes the 4th place with a 33% decrease in value compared to 2022.
Although almost all of the companies in the Top 10 lost value compared to last year, Amazon's loss stands out as one of the largest. Going down the list, we see the likes of McDonald's, Visa, Tencent, MasterCard, Coca-Cola, while Louis Vuitton appears to be the only luxury brand in the global Top 10, climbing two spots to secure the 8th position with a brand value of US$124.8 billion. This goes to show that luxury brands continue to captivate consumers despite gradual price increases. Check out our detailed analysis of the brand for more information, based on our Luxury eCommerce Market report.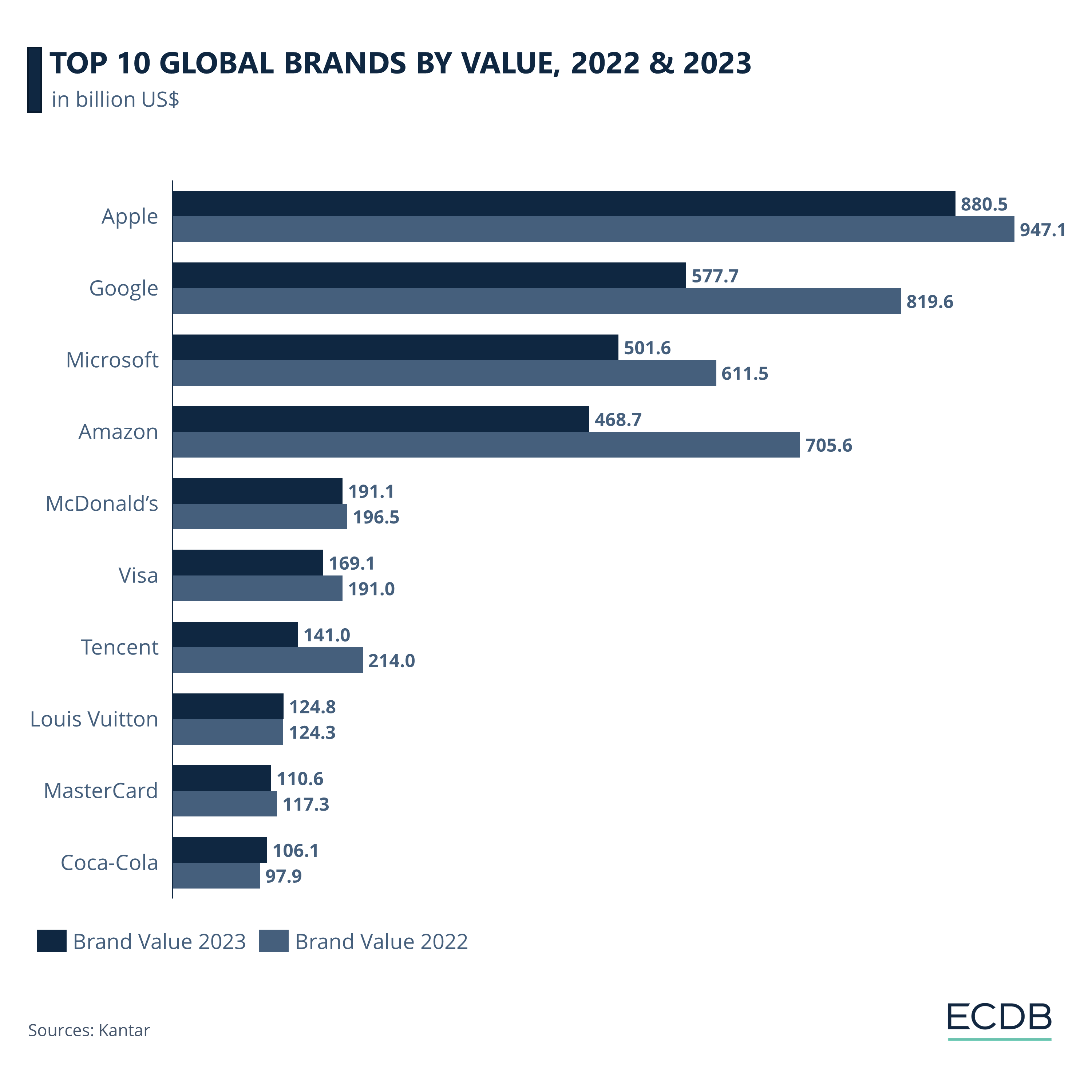 Looking at the full list, we see that Alibaba, which was in the 9th spot last year, ranks 14th this year. While Walmart is placed 28th, Shein, the Chinese online fast fashion retailer whose business model influences newcomers such as Temu, joins the Top 100 ranking for the first time at No. 70. Furthermore, the world's largest furniture retailer IKEA finds itself in the 86th spot, while Sony returns to the ranking at No. 99.
Apart from company rankings, it is worth noting that only 2% of the most valuable global brands are perceived as "leading" in the area of sustainability, which remains an untapped opportunity for brands as it comes with many perks for eCommerce businesses.
Total Brand Value of the World's Top 100 Brands Achieves 47% Growth
The most recent ranking reveals that the collective brand value of the world's top 100 brands has reached US$6.9 trillion in 2023. Despite a 20% decline in the overall index compared to 2022, the Top 100 maintains its long-term growth trajectory, exhibiting a remarkable 47% growth compared to pre-COVID levels in 2019.
This year's results, despite the decrease in aggregate brand value, reflect the continuation of a consistent growth trend that emerged after the global financial crisis in 2008 and persisted until the onset of the pandemic in 2020. While market conditions have proven to be volatile and influenced by global macroeconomics, consumers' perception of brands has remained remarkably stable, with the world's most valuable brands retaining their esteemed status.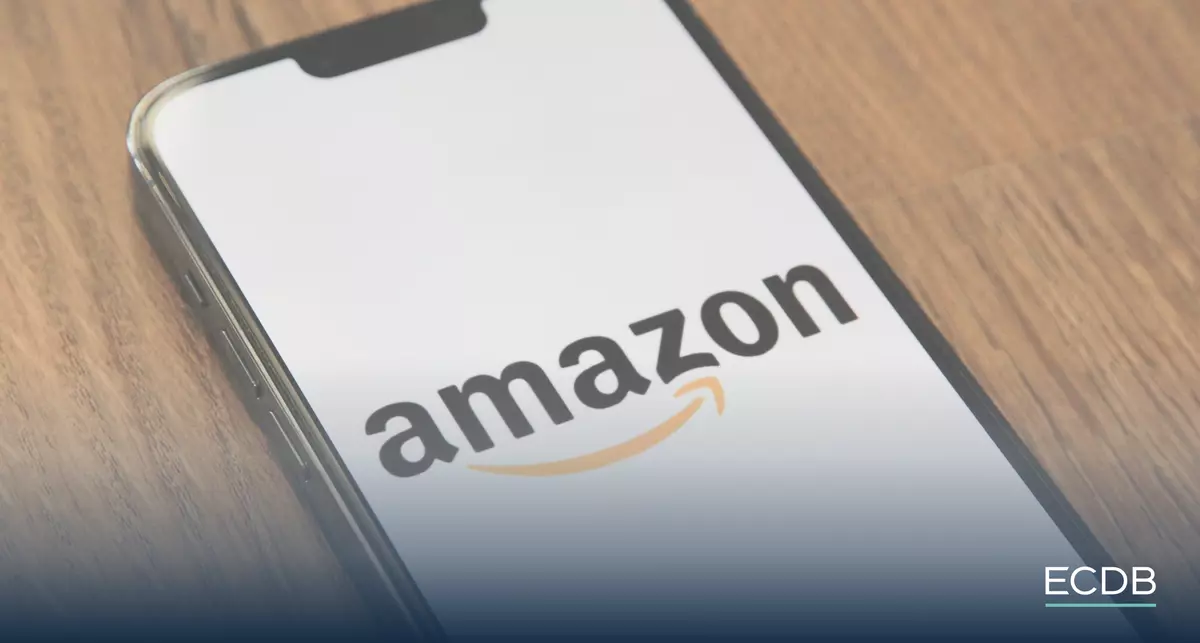 Strong Connections with Consumers Define Brand Resilience
The findings from the ranking clearly demonstrate that, even in the current recession we are experiencing, it is possible to achieve growth in any industry and geographical region by implementing the right strategy that focuses on establishing and nurturing strong connections with consumers. The key takeaways for brand owners and marketers remain evident: effective marketing investments and long-term strategic thinking are essential for business growth.
Brands that consistently invest in establishing strong emotional connections with consumers are now better equipped to navigate the current volatile conditions and provide greater resilience for their shareholders. Therefore, it is crucial for brands to continue investing in brand-building, product innovation, and market diversification in order to foster growth.
---