Quick Commerce: Market Trends
Uber Eats Goes Quick Commerce: How This Move Is Changing the Market
In 2022, Uber Eats has introduced various partnerships with grocery retailers and quick commerce companies. And most recently, the company announced a pan-European collaboration with instant grocery delivery company Getir. Read our insight to see what this means for the quick commerce segment as a whole, and what to expect in the coming years.
Article by Nadine Koutsou-Wehling | October 24, 2023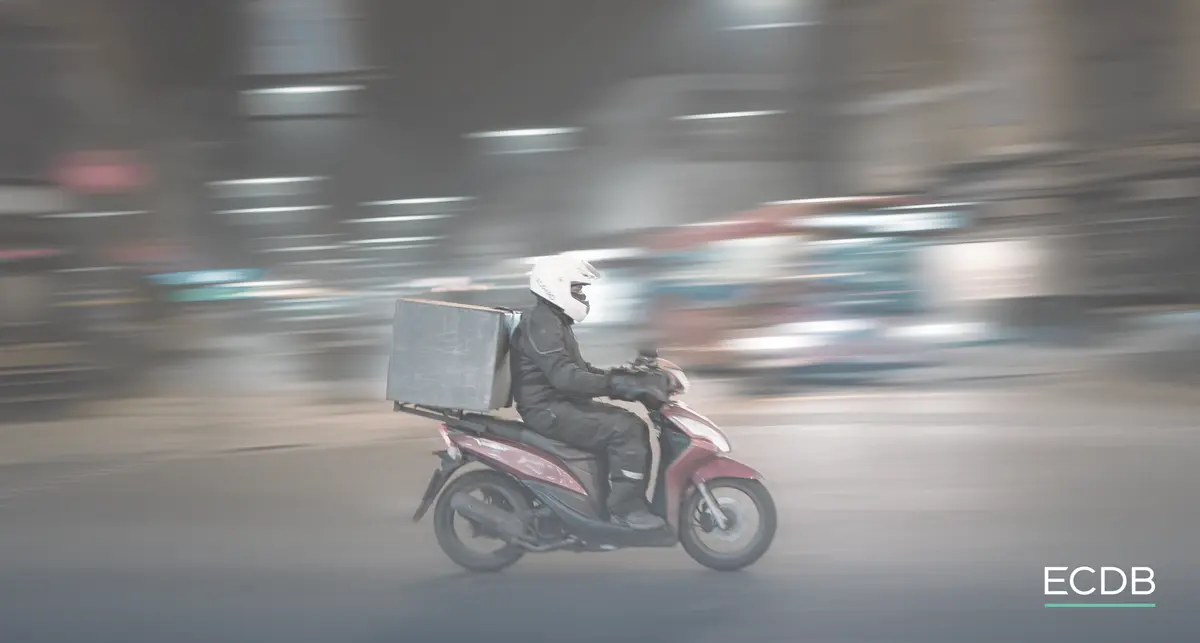 Quick commerce – the ultra-fast delivery of food and consumer goods – has undergone tremendous change since the model's inception. Based on the concept of hyper-convenience, many established players and startups jumped on the bandwagon – but few managed to stay on top of the rapidly changing market conditions.
Recently, however, the market has shifted again – allowing an established online player with a thriving food delivery division to take the lead: Uber Eats. Recognizing the potential of quick commerce, where nothing seems certain at the moment, Uber Eats strategically aligned with retailers in the U.S. and UK, as well as with Getir in Europe. This move not only diversifies its product portfolio but also places the company to capitalize on the global momentum of the online grocery sector.
Global Quick Commerce to Reach US$1.65 Trillion in Revenues by 2027
But first a little history lesson: Before the pandemic, grocery and meal delivery services generated comparable revenues, but their penetration was significantly lower than today. Global revenues of US$190 billion for grocery delivery and US$170 billion for meal delivery by 2019 suggest a less prevalent need for these services among consumers.
While grocery and meal delivery existed and were known to certain consumer segments, it was the pandemic that sparked the widespread surge of quick commerce as we know it today: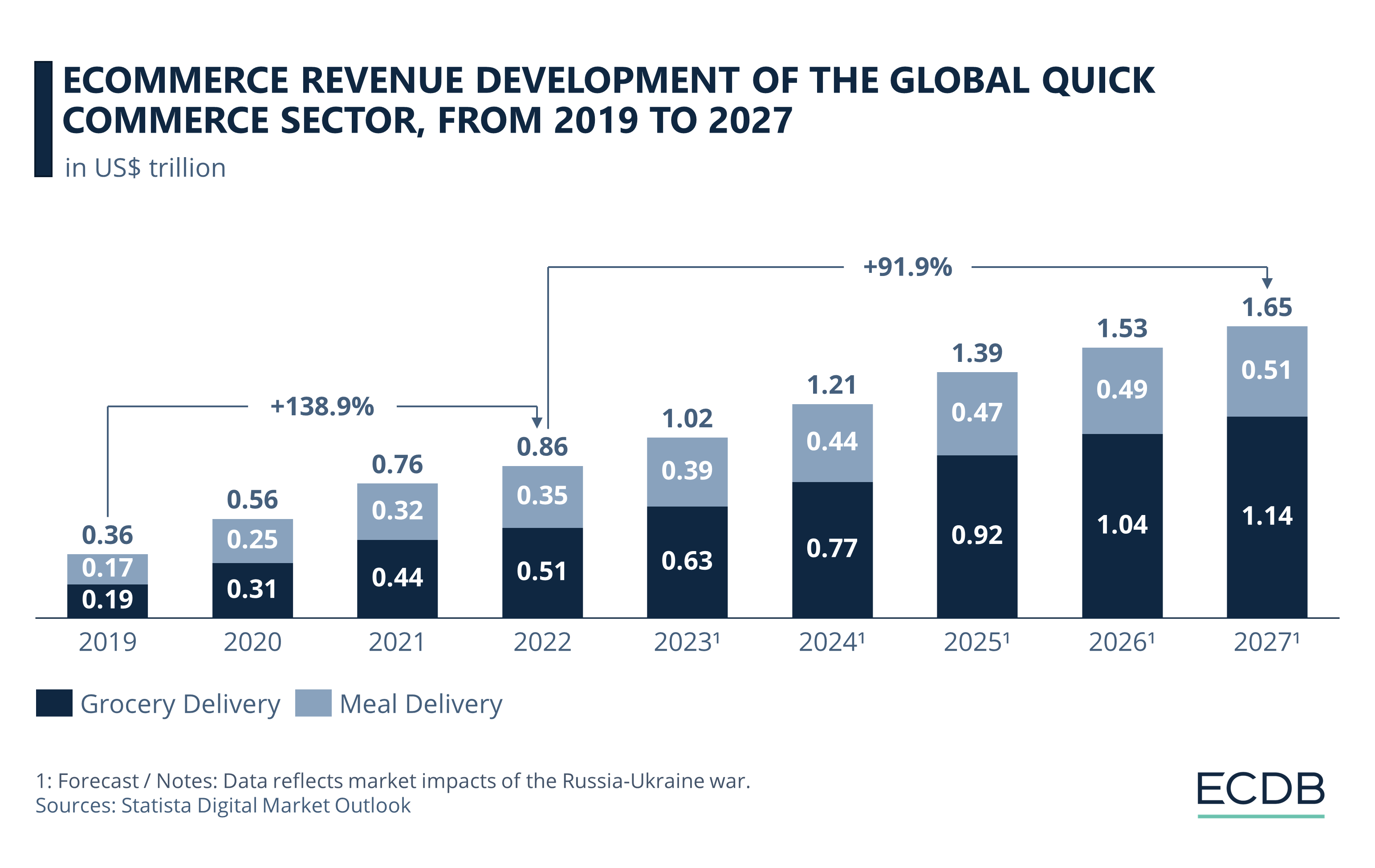 Replacing grocery delivery that took days or weeks to deliver the products, instant delivery came to the fore and with it the suppliers who offered increasingly convenient options to consumers.
The data reflects this shift. From US$360 billion in revenues for both meal and delivery services in 2019, revenues increased by about 139% over the next three years, resulting in total net sales of US$860 billion by 2022. Over the same period, grocery delivery sales outpaced meal delivery services, resulting in global revenues of US$510 billion compared to US$350 billion for meal delivery.
Grocery Delivery: Services Have More Growth Potential
Predictions for the coming years indicate that grocery delivery revenues will experience a more significant increase compared to meal delivery, which is anticipated to see more modest growth. While overall post-pandemic revenue growth is projected to be lower than from 2019 to 2022, it is still expected to nearly double since 2022, reaching US$1.7 trillion by 2027.
Of the 2027 forecast, 69% is expected to come from grocery delivery sales, while meal delivery is projected to reach a total of US$510 billion. These projections show us that the grocery delivery sector has immense growth potential, especially when combined with instant delivery and product assortments tailored to consumer preferences.
Average Consumer Spending for QCommerce
Focusing on the spending of the average qcommerce consumer, we can further elaborate on these findings:
Given the above projected market development of qcommerce, average consumer spending is in line with these expectations. More specifically, while qcommerce users are expected to increase their spending on online groceries over the years, there is a lower propensity to spend more on meal delivery.
Online Grocery Services to Trigger Higher Spending
The pandemic has led to an uptick in annual spending on both online groceries and meals. However, only the grocery services are projected to expand their market share substantially in the coming years.
One likely reason for these projected figures is market saturation. The grocery delivery sector has witnessed significant innovation in recent years, in contrast to the meal delivery sector, which has remained relatively stable and thus has limited potential for drastic transformation.
Given the room for innovation that is still prevalent in the grocery sector, the typical qcommerce consumer is expected to increase consumption in the coming years, while more users are likely to enter the sector and try these services. With a parallel increase in supply and convenience, i.e. faster delivery times, greater accessibility and a suitable product range, the average consumer could spend up to US$572 a year on online groceries. For meals, however, the average annual spend hovers around an estimated US$205.
Turning to Uber Eats, we explore consumer demographics and the company's move to integrate grocery delivery into its service. In doing so, the next sections elaborate on the market difficulties that qcommerce has experienced and the viable solutions that an established online player like Uber can provide in fostering partnerships and catering to consumer preferences.
Nearly One-Third of Uber Eats Users Are Between the Ages of 25 and 34
Based on data from Similarweb, the chart below illustrates the age distribution of global Uber Eats consumers.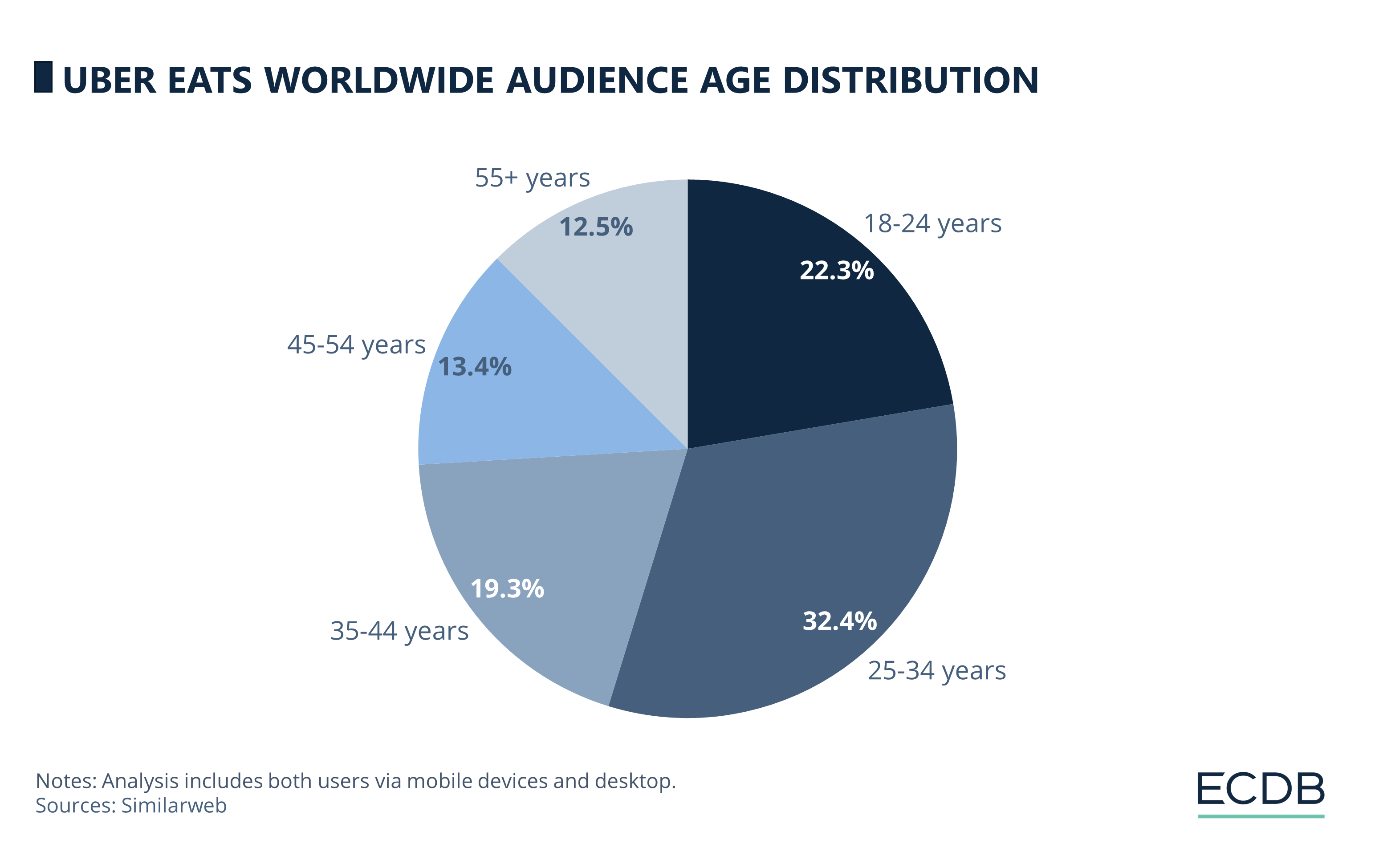 According to the data, most Uber Eats users (74%) are between the ages of 18 and 44. The largest segment is 25–34-year-olds, with 32.4% of global Uber Eats users in this age group.
The second largest segment is the youngest, 18– to 24-year-old users, at 22.3%. After that, older users are less likely to use the service, starting with users between the ages of 35 and 44 (19.3%) and moving to older cohorts, which together comprise about 26%.
Younger Users Drive Innovation
Given the general assumption that younger demographics are driving the trend of quick commerce adoption, which is based on the familiarity with electronic devices and a preference for immediacy, younger users are expected to have significant potential for qcommerce growth. Their propensity to use such services, combined with the continued influx of younger individuals turning 18 and joining the consumer market, suggests a likely expansion of the qcommerce business model. What's more, as public awareness of these services increases, the integration of new technologies and food delivery services into daily routines could further boost sales.
Shifting the focus to the company's strategic moves, Uber Eats has been actively forging partnerships in line with innovations in quick commerce. The following section dives into the specifics of these endeavors.
Passing the Initial Gold Rush of QCommerce
The quick commerce sector entered with high hopes, as evidenced by the initial venture capital investments in major players such as Getir. Over time, however, the qcommerce landscape concentrated on a few large players who bought out the less profitable ones that could not sustain themselves in the long run.
Because of the high operating costs, at least in the first five years, many smaller players found it difficult to finance their business in the long term. In a highly competitive landscape such as the emerging qcommerce sector, companies are vying for consumer attention and (recurring) orders, while at the same time having to cover the costs of dark stores, drivers, and marketing campaigns.
Consumer Expectations: More Speed for Less Cost
Consumers, on the other hand, have expectations when it comes to ordering groceries online, as seen in the example of U.S. users below.
According to the McKinsey data, high delivery fees, product prices and minimum order values are among the most prominent problems consumers have with qcommerce. Therefore, incumbents with an existing network that can offer faster delivery of cheaper items with no to very low delivery costs have a clear advantage over newer competitors trying to gain a financially viable foothold in the market.
Uber Eats: A Blueprint for the Future of Quick Commerce?
This is where Uber Eats comes in. It is common for meal delivery services to partner with restaurants to offer customers a wider variety of cheaper meal options. But Uber Eats is going a step further. Launching in the U.S. for the first time in fall 2022, additional partnerships with retailers and supermarket chains like Costco allow Uber Eats to offer a greater product range outside of meal delivery, thereby eliminating the dark store concept and the costs associated with it.
While Uber Eats is pursuing the same retail partnership strategy in the UK, the story is a bit different in the rest of Europe. To be sure, customers ordering food through Uber Eats can add products to their cart from locations on the driver's route without additional delivery surcharges, which increases convenience for customers who want to add snacks and other consumables like alcohol, cigarettes, or household items to their order. But so far, the U.S. and UK are the only two markets where Uber Eats has fostered extensive partnerships with retailers to provide consumers with items other than food.
In the rest of Europe, Uber Eats announced its partnership with Getir in September 2023, leveraging Getir's network of dark stores while the two providers combine incoming orders. At the same time, this means that products ordered from Getir through Uber Eats will be more expensive than those ordered directly from Uber Eats and their exclusive partnerships with retailers.
And most likely, this is what the long-term vision of quick commerce will look like: A sophisticated network of partnerships, with qcommerce companies providing the ordering platform and delivery drivers, while affiliated restaurants and retailers supply the products.
With other innovations that companies like Uber Eats and Grubhub are testing in the U.S., such as robot delivery and a diversified offering that includes prescription drugs, the focus on customer convenience combined with automated delivery and extended delivery times has room to transform quick commerce as we know it today.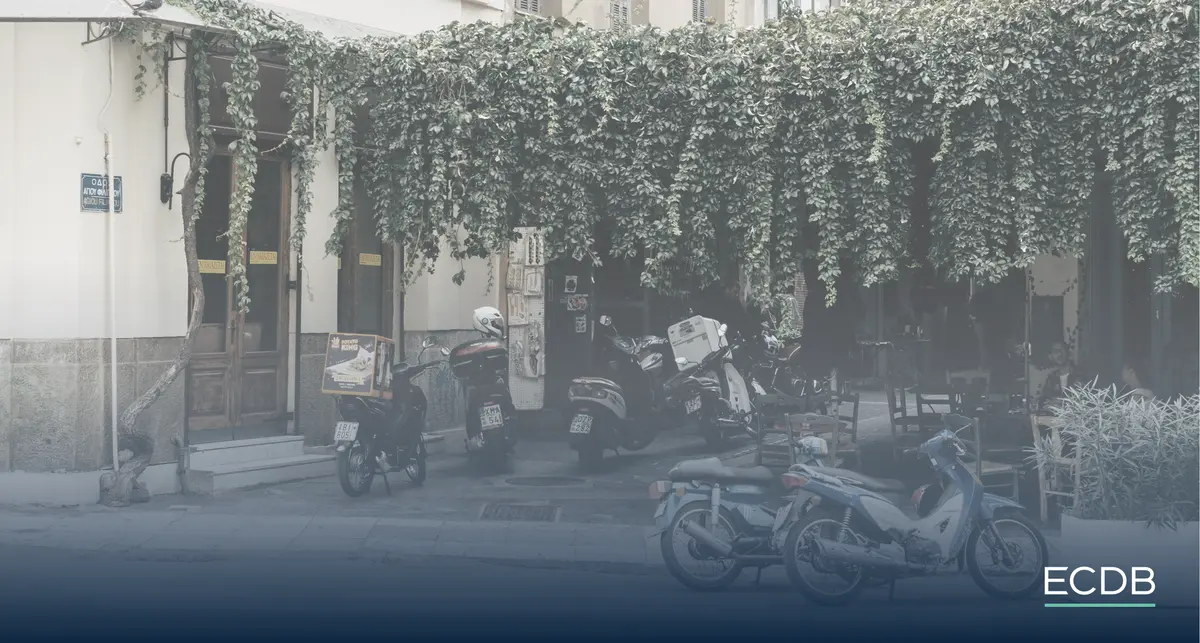 Uber Eats Goes Quick Commerce: Key Takeaways
Quick commerce has experienced notable changes since its inception and the sector is constantly adapting to market conditions and consumer preferences. Uber Eats, recognizing these trends, has cemented its position through strategic partnerships and a focus on consumer convenience.
Demographic Influence on QCommerce: The data reveals a strong inclination towards quick commerce services among the younger demographic, specifically those aged 18 to 44. Their comfort with technology, combined with a desire for speed and convenience, positions them as a driving force behind the rapid adoption and growth of this sector. As more individuals come of age and join the consumer market, the potential for qcommerce expansion prevails.
Strategic Partnerships Elevate Uber Eats: Uber Eats has strategically aligned itself with various players in the qcommerce landscape, from grocery retailers in the U.S. and UK to instant delivery companies like Getir in Europe. These partnerships not only expand their service offerings but also position them favorably to tap into different regional markets. By leveraging existing networks and infrastructure, Uber Eats can deliver a wider range of products, enhancing consumer convenience and choice.
Consumer Expectations and Market Response: With the onset of the pandemic, there was a marked increase in consumer spending on online groceries and meals. The expectations are clear: consumers want faster deliveries at competitive prices. Incumbents like Uber Eats are able to meet these demands by continuously partnering with retailers and startups that drive innovation to improve the customer experience and keep costs down.
---
Sources: Grocer - Paypers - Retailbrew – Roland Berger - RTIH – Second Measure - Supermarktblog