India's Top Online Stores and the Factors Behind Their Success
May 16, 2023
India is the 8th largest eCommerce market in the world, with a projected revenue of US$ 71.3 billion by 2023. Data published in our Markets section shows that the Food & Personal Care category is the most relevant in India with a 31.4% share of online sales, followed by Fashion with around 28% and Electronics & Media in the third place with 18.6%. The top five online stores in India correspond to the most popular product groups in Indian eCommerce.
This article discusses the top five online stores in India in 2022, and what factors helped them expand their growth to reach the top ranks of the country's eCommerce market.
India's Top Five Online Stores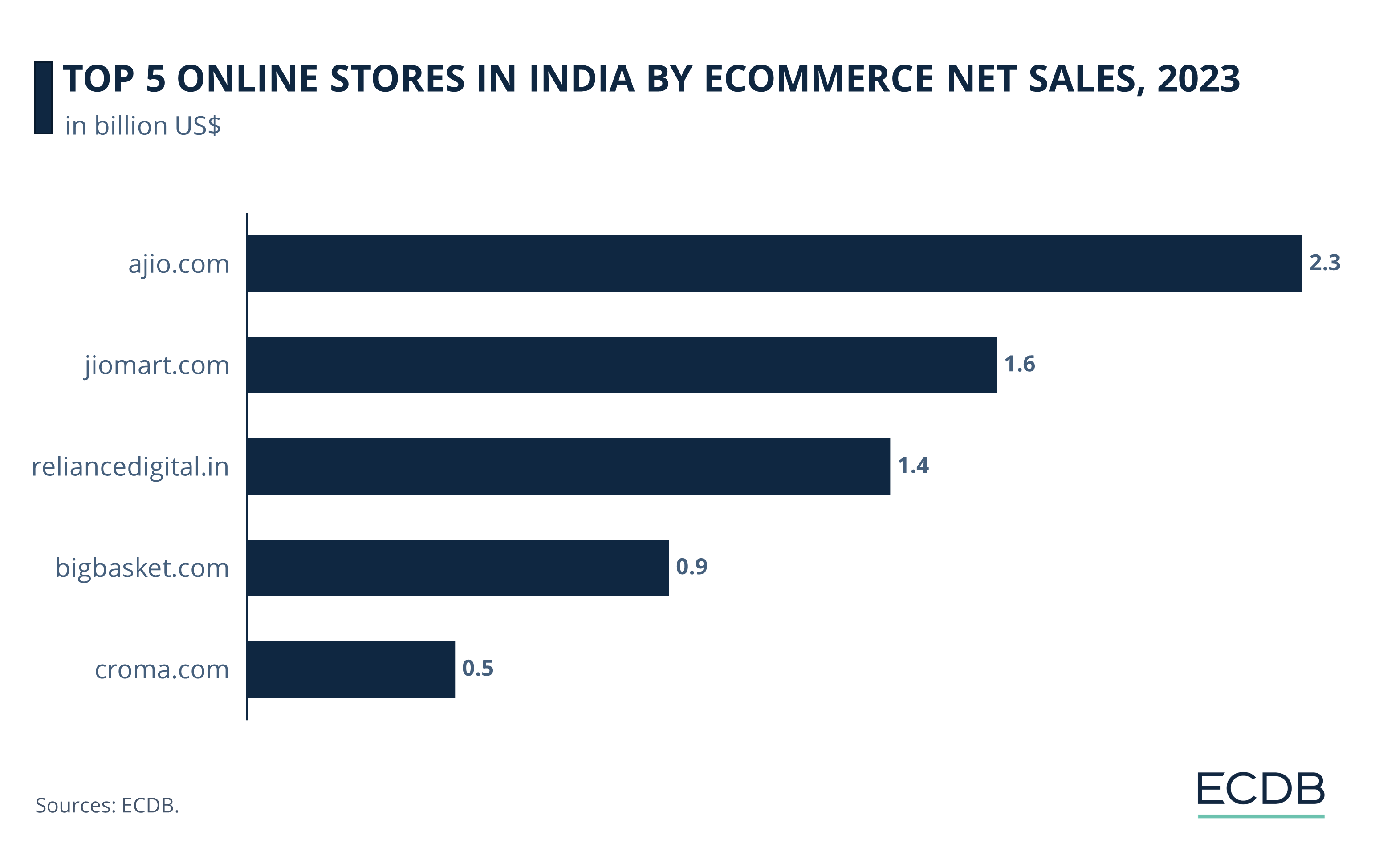 The list of top sellers includes five India-based online stores, which generate most of their sales within the country. At number one is AJIO, a fashion store launched by Reliance Industries in 2016. In the second place, Reliance Digital is another subsidiary of Reliance Retail that sells Electronics & Media and Household Appliances. BigBasket offers delivery of groceries and household essentials, reaching the third highest net sales in 2022. Following this, Jiomart.com is another subdivision of Reliance Retail. Jiomart, coming in the fourth spot, offers a diverse portfolio of products and operates with the stated aim of ensuring convenient delivery to customers in remote areas of India. Finally, at number five is Tatacliq, a store that offers a variety of products with a focus on fashion and high-end products.
Drivers of Store Growth
Key factors driving the growth of top sellers in India range from changes in consumer habits to shifts in international trade.
Covid-19 Regulations Led to Changes in Consumer Habits and Needs
Efforts to mitigate the effects of the pandemic in India led to changes in consumer habits that emphasized the need for quick delivery of essential goods such as food and household supplies, which were largely purchased in stores prior to Covid. To avoid crowds and supply shortages, there has been a general increase in the online demand for these items, directly benefiting online grocer BigBasket, but also increasing the demand for fashion products by AJIO.
Bringing Rural India into the eCommerce Infrastructure
Online sellers have been able to expand their customer base across the country as a larger proportion of India's rural population has begun to shop online. As a result, a more diverse group of users in India are ordering a variety of products online and taking advantage of direct home delivery options. Jiomart's business strategy is to reach these new customers, who are benefiting from India's efforts to financially include these segments, which in turn is driving economic inclusion and eCommerce growth.
Multichannel Service Options
As consumer expectations have changed, so had the demand for more flexible delivery options for items ordered online. AJIO, Reliance Digital, Jiomart, and Tatacliq not only offer express home delivery to their customers, but are also known for their hybrid delivery and pickup strategies that allow users to fit their online shopping habits into their personal schedules. The chart below shows which multichannel services consumers in India are most interested in.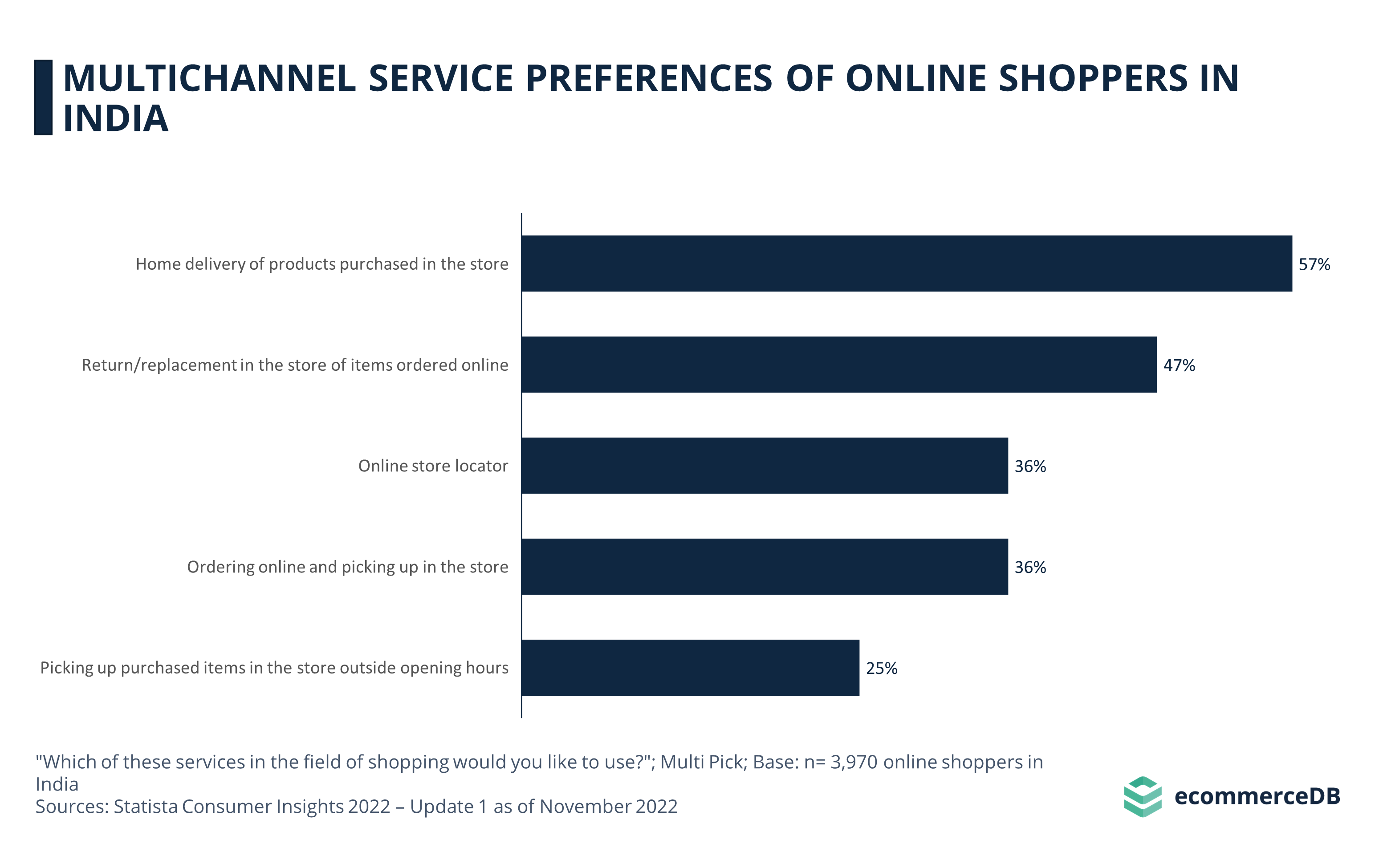 Premiumization Trend
Online shoppers in India are inclined to spend money on premium branded products. This has particularly benefited Tatacliq, which uses mobile software to engage customers personally across multiple channels and drive interest in high-end products, especially fashion items. Using a curated marketplace model, Tatacliq exclusively selects the brands it partners with to create a sense of uniqueness and privilege for customers looking for quality products.
As can be seen, apart from technology, Clothing and Shoes are of most interest to consumers in India looking for luxury products. By offering easily accessible brand offers to online shoppers in India, Tatacliq derives a large part of its revenue from this fact.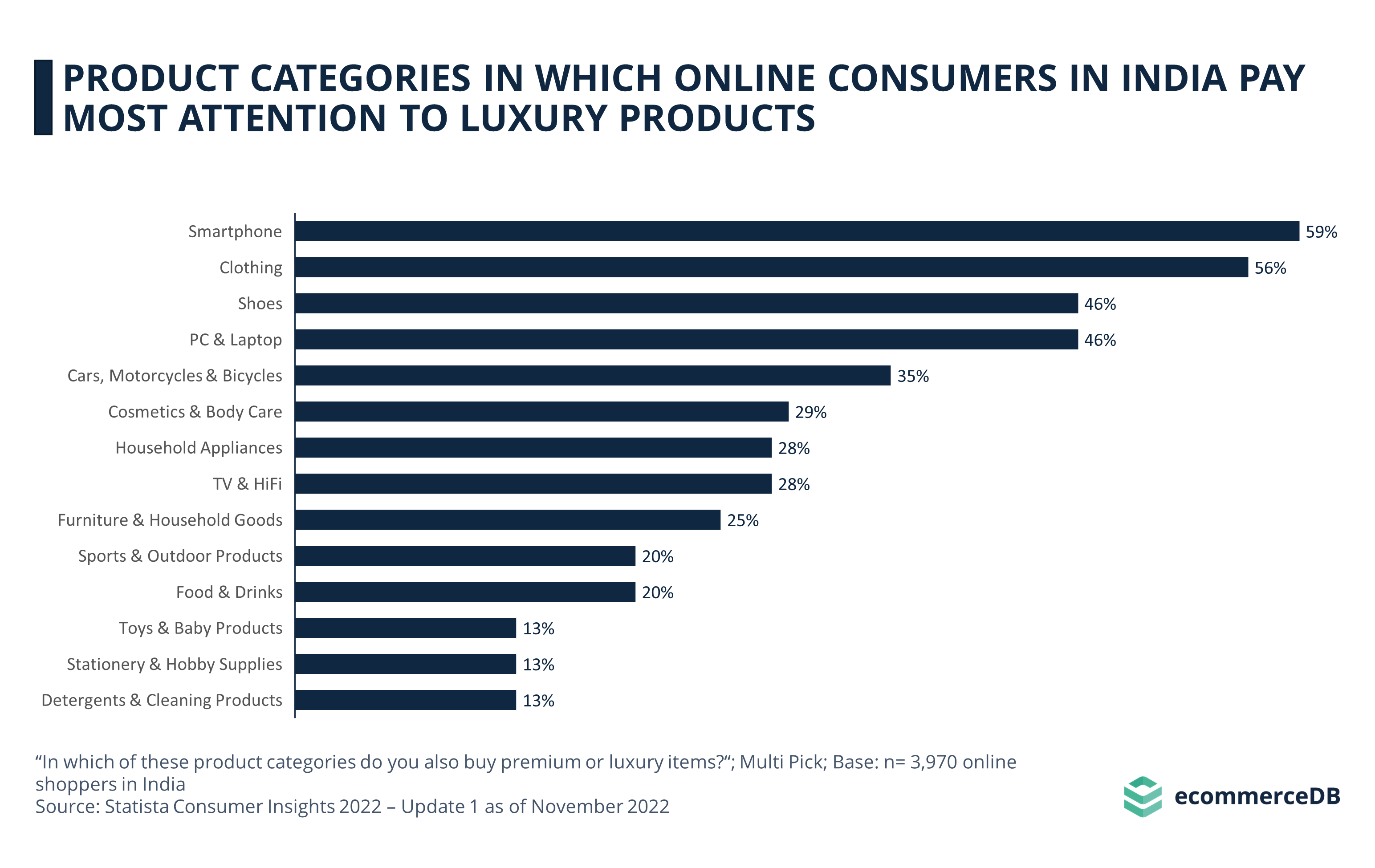 The strategy of offering discounts and sales on luxury items has also been successful for Clothing retailer AJIO, which is backed by its parent company Reliance, allowing for AJIO to offer bargains and achieve total net sales of more than US$ 2 billion by 2022.
Shifting Away from Chinese Supply Sovereignty
In line with government efforts to reduce India's dependence on Chinese electronics supplies, domestic and international distributors are turning to manufacturing facilities in India and neighboring regions to counter China's monopoly in electronics manufacturing. The goal is to establish India as a manufacturer as well as a distributor of goods and services domestically and internationally. This could benefit not only India's economy, but also regional retailers and consumers, who could benefit from lower costs, as regionally produced goods eliminate import fees and prevent shortages due to global developments.
Classification Reveals Broader Trends
Companies with the highest net sales in Indian eCommerce in 2022 achieved their high ranks by responding to consumer demand and adapting to external circumstances, as well as government and business efforts for national development.
The pandemic accelerated existing trends towards a preference for home delivery solutions for high-demand products, which benefited online grocer Blinkit and Fashion retailer AIJO. Efforts to bring financial and economic inclusion to rural India are not only a stated goal of the country's government, but also part of Jiomart's business vision.
Accordingly, an omnichannel service approach became a competitive advantage, as leveraged by AJIO, Reliance Digital, Jiomart, and Tatacliq. Tatacliq became a household name by catering to shoppers' preference for luxury branded products.
On a larger scale, the effort to establish India as a global and domestic electronics manufacturer and retailer combines government, business, and consumer interests. This ultimately explains why India's eCommerce market is dominated by India-based online stores and points to India's continued upward trajectory in the days ahead.
---
Sources: