eCommerce Trends
Employee Growth Trends: Alibaba, Amazon, eBay
Amazon, Alibaba, and eBay are among the oldest and most successful eCommerce players in the world. Their success stories show similarities and significant differences at the same time – also in terms of workforce development. Find out how employee numbers of Amazon, Alibaba, and eBay evolved over the years.
Article by Antonia Tönnies | October 02, 2023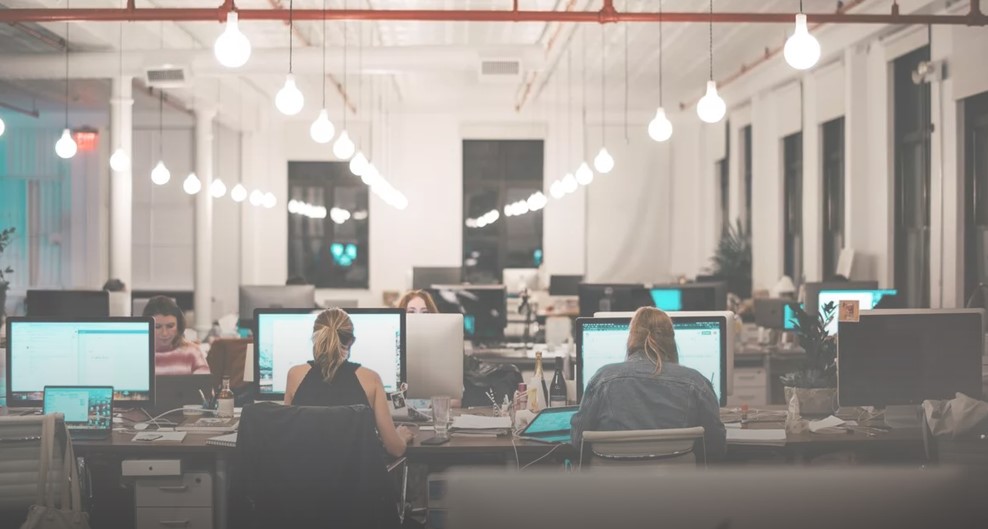 The eCommerce landscape has witnessed unprecedented growth over the past decade, with global revenues from eCommerce sales more than doubling in just five years from US$1.45 trillion in 2018 to an impressive US$3.32 trillion in 2022, according to Statista Market Insights. The 5-trillion-dollar threshold of global eCommerce revenues is expected to be passed by 2026. This surge in digital commerce and the importance that online shopping has gained in people's lifestyles have propelled industry leaders like Amazon, Alibaba, and eBay into the global spotlight. As these giants continue to dominate the eCommerce landscape, one aspect that often goes overlooked is their evolving workforce. eCommerceDB has taken a look at the three companies' employee development over the past years to shed light on those who process and fulfill this trillion-dollar heavyweight industry of eCommerce: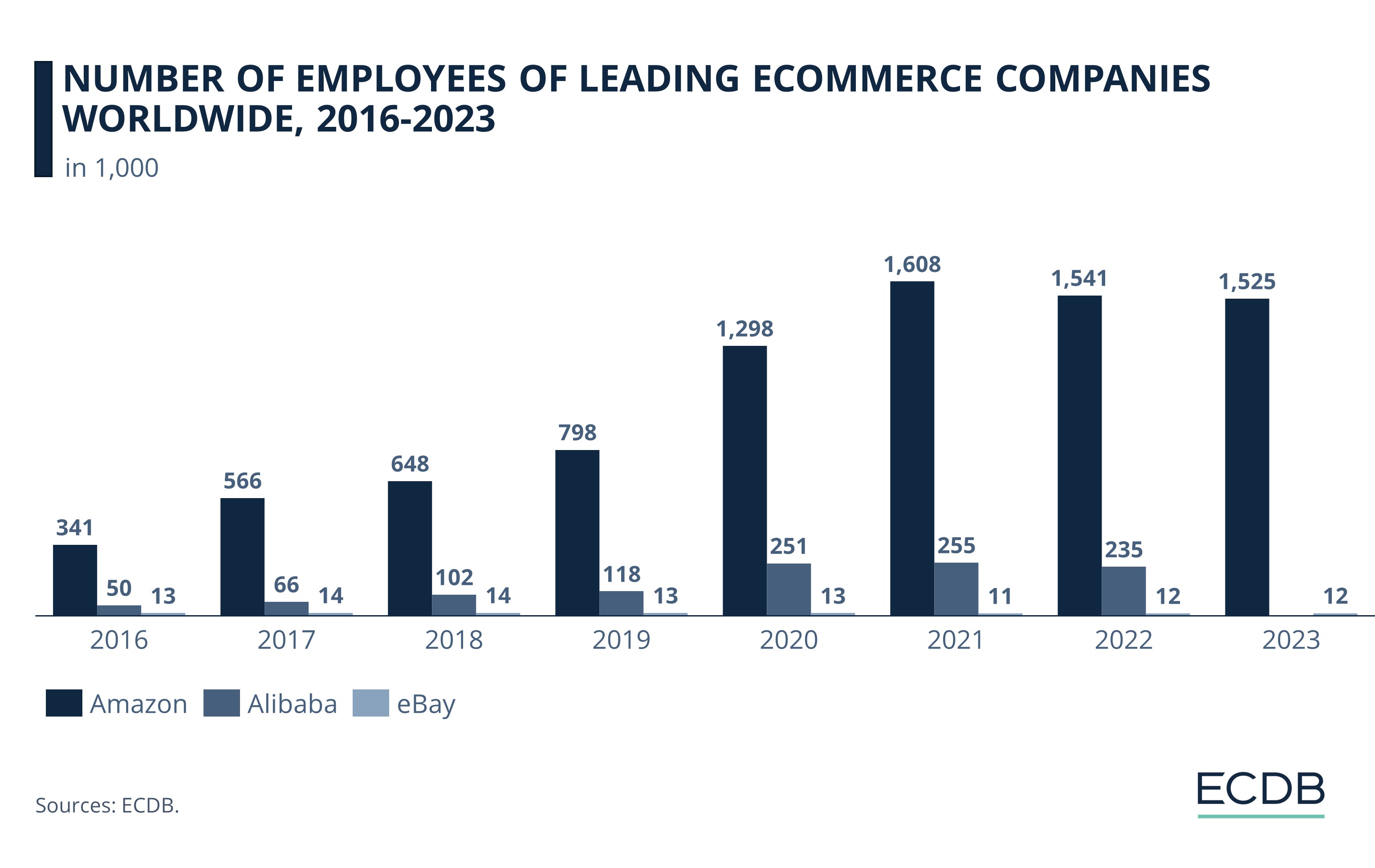 Amazon: A Phenomenal Growth Trajectory
Amazon is one of the pioneers of online retail, founded in 1994 as an online bookstore. Today, it can undoubtedly be considered the most successful western eCommerce company, with total global company revenues of US$514 billion in 2022. The company's employee numbers have mirrored its phenomenal growth. In 2015, Amazon had 230,800 employees. Fast forward to 2021, and that number had skyrocketed to 1,608,000. Even though 2022 saw a slight drop in employee numbers of -4%, Amazon increased its workforce by an astonishing 568% growth over the seven-year period.
Amazon's relentless expansion into various industries, including cloud computing (Amazon Web Services) and streaming services (Amazon Prime), has fueled this remarkable employee growth. Amazon's ability to adapt and diversify its offerings has not only boosted its workforce but also solidified its position as a global eCommerce powerhouse.
Alibaba: China's eCommerce Giant Sees Surging Workforce
Alibaba, often referred to as the "Amazon of China," does not have to hide in terms of employee growth, either. In 2015, it employed a workforce of 36,500, and by 2022, that number reached 235,200. Although this is only a fraction of Amazon's workforce in total terms, the development is remarkably similar. Alibaba's growth of 545% over these seven years between 2015 and 2022 is just as indicative of its expanding influence on the global eCommerce stage.
Alibaba's success can be attributed to its innovative approach to eCommerce, strong presence in the Chinese market, and strategic investments in various sectors, including logistics and digital payments. The company's ability to navigate a rapidly evolving Chinese market has played a pivotal role in its impressive employee growth.
eBay's Employee Numbers Stagnate
In contrast to the explosive growth of employee numbers at Amazon and Alibaba, eBay has maintained relatively stable employee numbers over the years, but with constant fluctuations. When comparing 2015 and 2022, eBay's employee count remained flat, but there were ups and downs between those years. However, eBay is also the only company in this comparison which saw a noteworthy positive development in 2022 – there was a plus in eBay's employee numbers of 7.4%.
eBay: A Tale of Stability or a Tragic Failure?
Fluctuations and stagnation are nothing new in eBay's history. The eCommerce world is used to finding them in many of eBay's KPIs. Total global revenues of eBay, Inc., for example, show a similar development to eBay's employee number trends. After ups and downs over the years, eBay's global revenues were at US$9.8 billion in 2022 – which is about the same amount as in 2017. As the eCommerce landscape continues to evolve, eBay's unique trajectory reminds us that different strategies can lead to success in this ever-changing industry. Whether through rapid expansion like Amazon, strategic innovation like Alibaba, or stability amidst fluctuations like eBay, these eCommerce giants collectively shape the future of online retail on a global scale.
Employee Growth Trends: Key Takeaways
Global eCommerce sales more than doubled from 2018 to 2022, with major players like Amazon, Alibaba, and eBay at the forefront.
Amazon and Alibaba have witnessed explosive employee growth, with increases of 568% and 545% respectively from 2015 to 2022, while eBay's workforce remained relatively stable.
Each giant has adopted a unique strategy: Amazon's rapid expansion, Alibaba's innovative approach, and eBay's consistent stability, showcasing diverse pathways to success in the eCommerce landscape.