Getir's Pursuit of Sustainable Growth: Market Exits & Funding Efforts
Article by Cihan Uzunoglu | August 08, 2023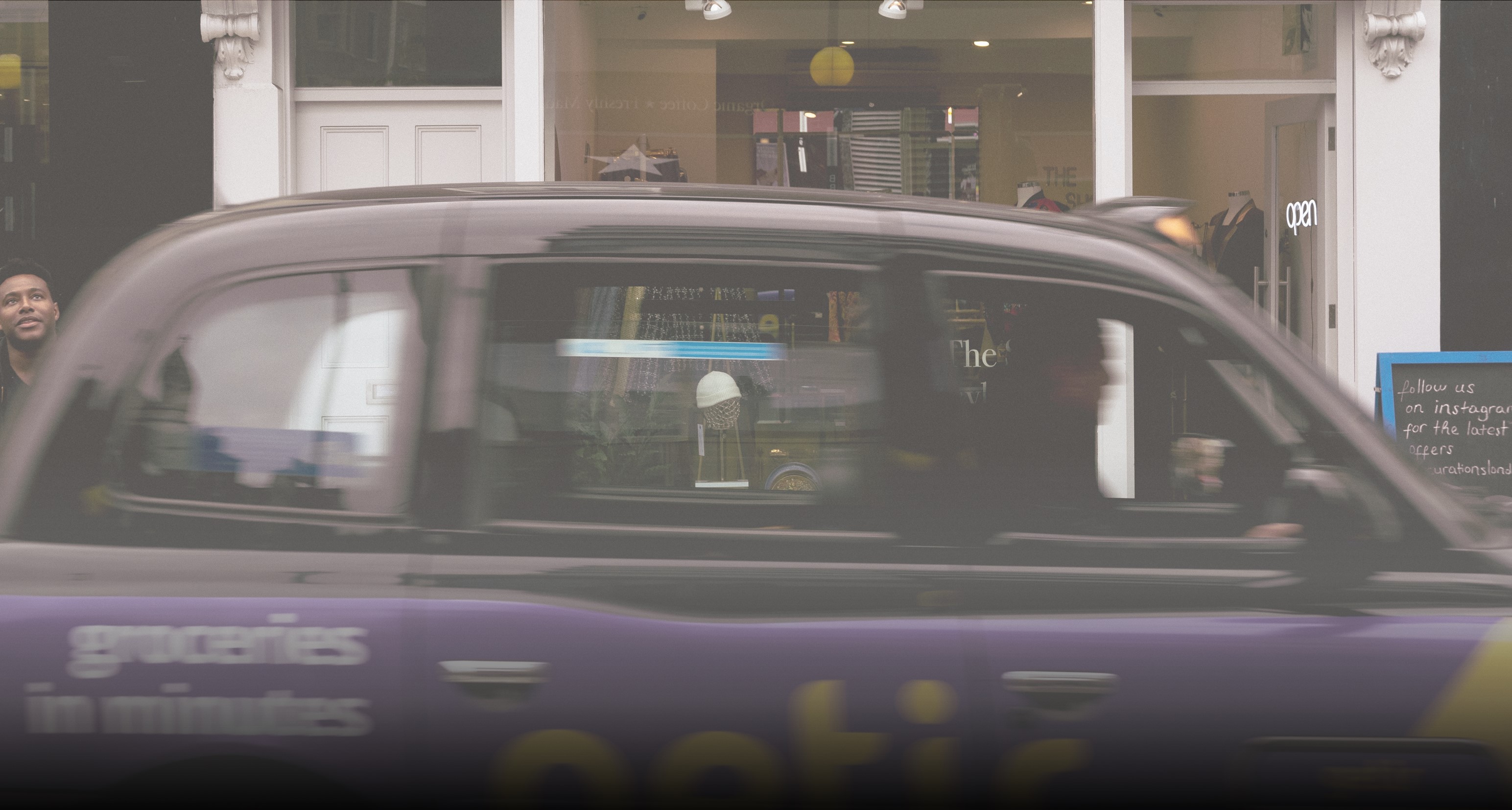 As a prominent figure in the ultra-fast grocery delivery industry, Getir has rapidly expanded its operations across multiple international markets. Now, amid the ever-changing industry dynamics and intense competition, the company is at a critical juncture, needing to strategically realign amidst cash flow difficulties and a fluctuating market.
Getir's shift in strategy is the result of a confluence of both internal and external factors.
On one hand, it is grappling with an aggressive competitive environment and a financial crunch; on the other, it continues to pursue opportunities for streamlining its operations and enhancing its service offerings.
As we delve deeper into this story, we will unpack the recent developments within Getir's ecosystem, elucidating key aspects including market withdrawals, capital raising initiatives, strategic mergers and acquisitions, and potent partnerships.
Quick Commerce: Where is the Future of Getir Heading?
Getir's recent exit from several European markets – Italy, Spain, and Portugal – has garnered significant attention in the quick commerce world.
These markets were proving increasingly challenging for the company, both in terms of operational sustainability and financial performance.
By redirecting its resources towards more successful markets like the UK, U.S., Germany, the Netherlands, and its home market Turkey – which collectively generate 96% of the company's revenues – Getir aims to consolidate its presence in these regions and build a stronger foundation for sustainable growth.
Getir's withdrawal from certain markets is not a new phenomenon. The company previously had to exit France due to regulatory changes that reclassified "dark stores" as warehouses.
For context, dark stores are retail distribution centers or outlets designed specifically for online shopping, rather than for in-person shopping, enabling faster delivery times.
After the regulatory changes in France, Getir had to pull out from the country as its business model heavily relies on dark stores for ultra-fast delivery.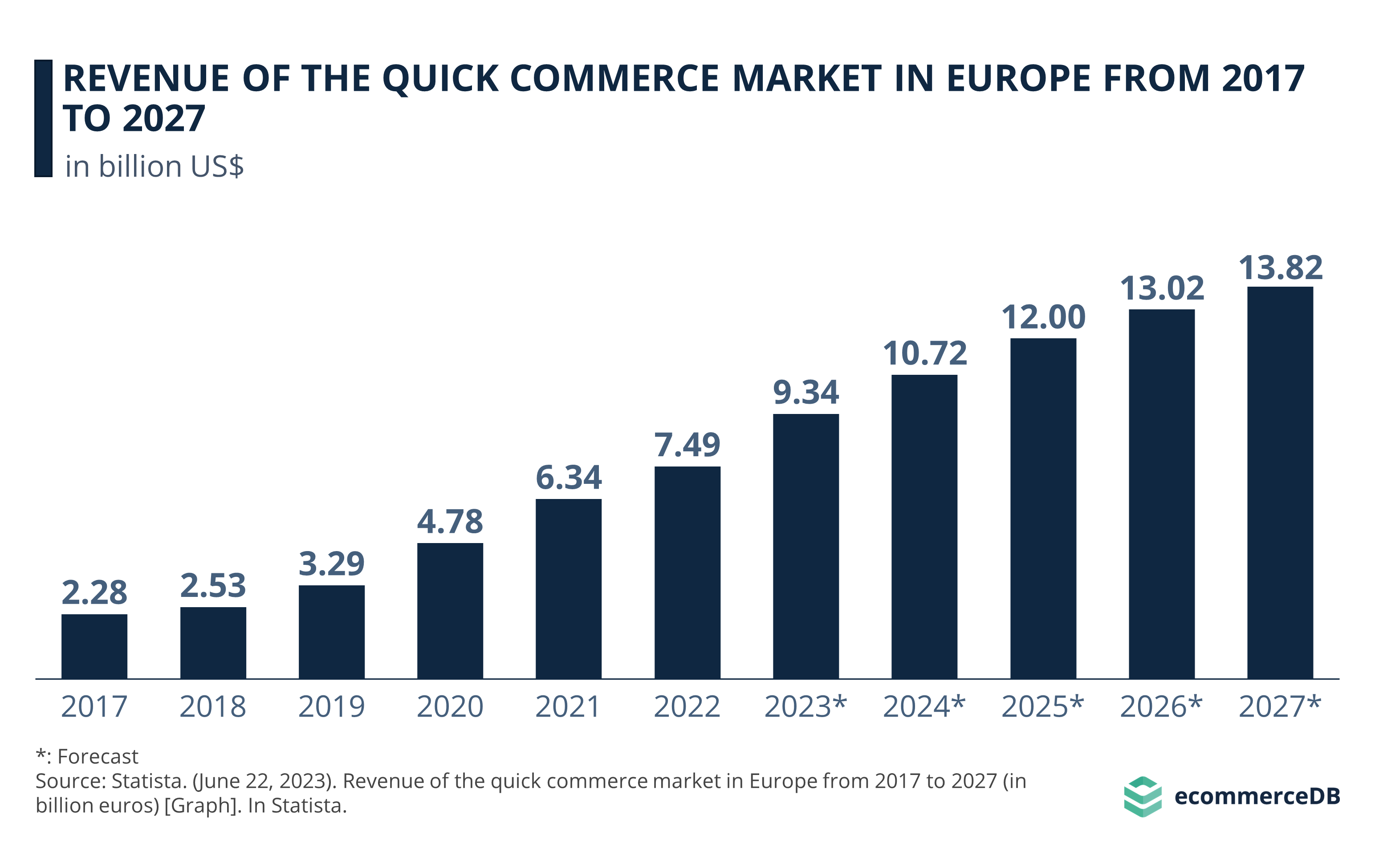 These withdrawals have led to speculation about the company's financial health and its future trajectory. However, as seen in the chart above, quick commerce is a growing sector that promises high rewards for businesses with the right strategy.
On Getir's part, the latest moves by the company signify a conscious decision to focus on markets that provide better growth prospects and profitability.
Friendly Exit? Stakeholders Have Concerns
While the market exits may cause discomfort among stakeholders, the company has reassured everyone about its commitment to an orderly transition and gratitude for the efforts of its employees in the affected regions.
Other than the questions around Getir's future, these developments have also reignited discussions around the sustainability of ultra-fast home delivery models.
Though not a new topic, the visible struggles of a prominent player like Getir have brought these concerns to the forefront. Expert opinion suggests the high operational costs may render this model unprofitable in the long run.
Getir: Funding is Key
Since its foundation in 2015, Getir has accrued an impressive US$1.8 billion in venture funding from heavyweights such as Tiger Global, Sequoia, and Mubadala.
However, recent events have spotlighted the challenging path of reconciling a robust investment portfolio with a sustainable business model.
One of the primary stakeholders shaping Getir's financial landscape is Mubadala, an investment firm based in Abu Dhabi. Mubadala's association with Getir dates back to 2021 and has since then been a cornerstone of Getir's growth strategy. Mubadala has not only backed Getir's forays into the competitive market but has also played an instrumental role in its recent funding ventures.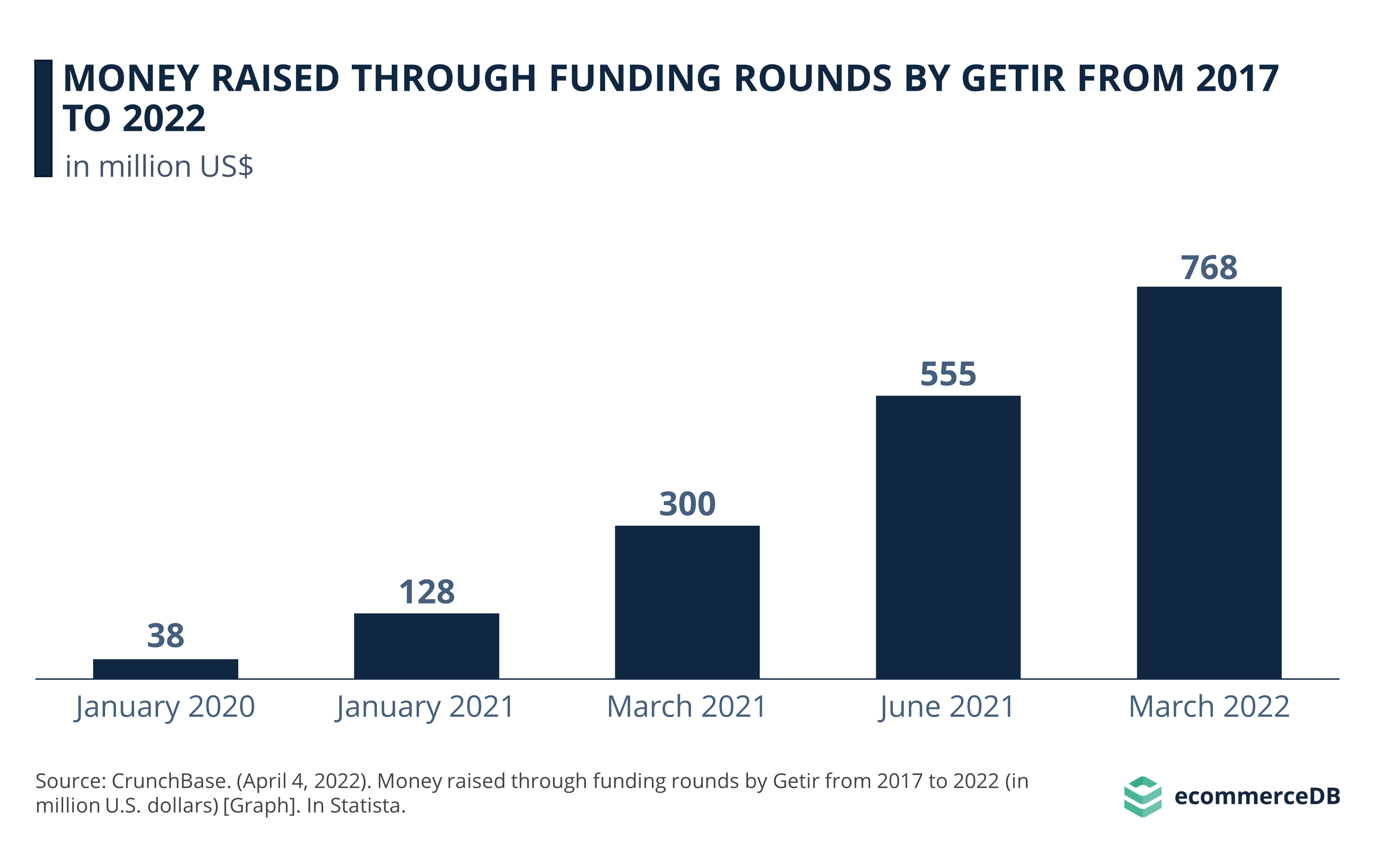 Getir and Mubadala: Bold Moves
Currently, the two entities are in advanced discussions for Mubadala to lead Getir's latest funding round. This negotiation reaffirms Mubadala's commitment to fostering Getir's growth in the upcoming years.
The unique aspect of this potential funding round is the conversion of a prior US$150 million loan from Mubadala into equity. Initially, this loan was structured with the stipulation that it would be converted into equity if Getir could attract matching investments.
More specifically, in the event of Getir's failure to secure additional funds, Mubadala's loan of US$150 million will be turned into an ownership share (equity) in Getir worth US$300 million. This conditional agreement puts substantial pressure on Getir to close the deal on additional funds successfully.
Now, with a closer look at Getir's funding prospects and maneuvers, it is clear that the company is not just facing challenges but also making bold strategic moves in an attempt to solidify its market position.
Armed with a history of significant funding and the backing of heavyweight investors, Getir has made its ambitions clear through certain market tactics, some of which are discussed below.
Mergers & Acquisitions
Getir's funding strategy involves not just investments, but also strategic acquisitions like Berlin-based Gorillas, to strengthen its hold in the ultra-fast delivery sector.
The company also eyed major players like Doordash and Flink, while the latter opted for independent fundraising and partnered with the German supermarket chain REWE to boost profitability.
Despite facing significant challenges and market withdrawals, Getir, through strategic maneuvers and robust funding efforts, is resiliently navigating the competitive grocery delivery sector, focusing on optimizing its core markets and expanding its innovative services.
The forthcoming funding round, spearheaded by Mubadala, may serve as a pivotal point in Getir's journey, potentially shaping its trajectory for the years ahead.
Whether Getir will manage to secure additional investment to satisfy the conditions of Mubadala's loan conversion remains to be seen.
Optimization Through Partnerships
Another facet of the company's larger strategic framework for weathering the storm and positioning itself for success is strategic partnerships.
Bolstering its operational efficiency and supply chain resilience, Getir has initiated a pivotal partnership that could greatly assist its approach to customer satisfaction and sustainability.
The Turkish company recently announced a strategic partnership with RELEX Solutions, a leading supply chain optimization and planning firm.
This alliance represents a critical step towards honing operational efficiency and fortifying supply chain resilience. Leveraging RELEX's suite of forecasting, replenishment, allocation, new inventory optimization, clearance optimization, and promotion forecasting tools, Getir aims to amplify its operational capability across stores and distribution centers worldwide.
The goal is to improve product availability and freshness, significantly reduce food waste, and enhance customer satisfaction – critical ingredients in the recipe for increased profitability and environmental sustainability.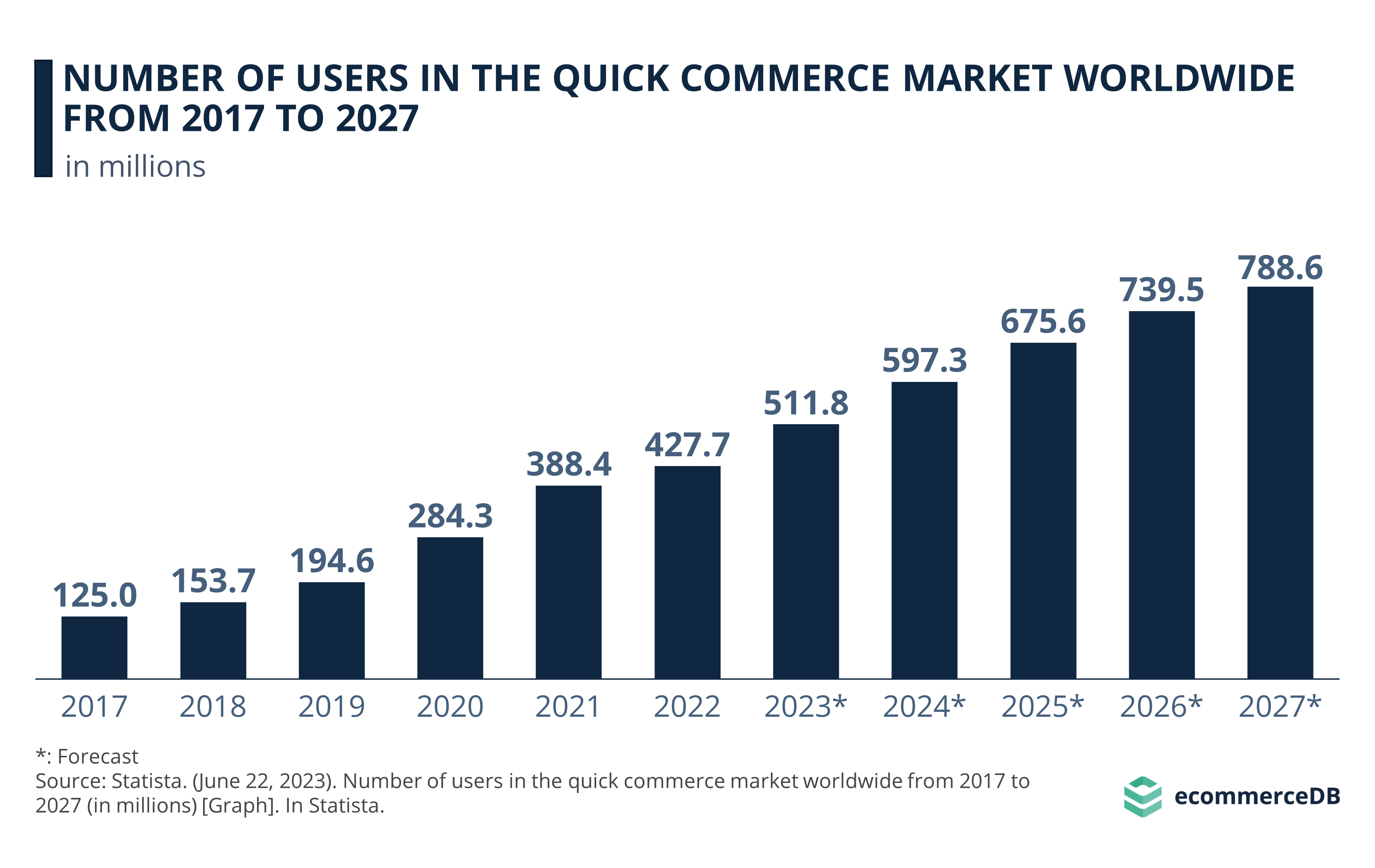 With the global quick commerce market seeing a surge in user numbers, as illustrated in the accompanying chart, these partnerships underscore Getir's dedication to effectively serve a rapidly growing customer base.
Moreover, this partnership will extend to Getir's delivery associate, DemandTex, an international consulting group offering comprehensive analytics and implementation services. This multi-tier partnership is a testament to Getir's commitment to improving its delivery infrastructure and providing a seamless customer experience.
Getir's Pursuit of Sustainable Growth: Key Takeaways
Navigating the multifaceted world of Getir provides a lens into the intricate balance businesses today must strike between ambition and sustainability. As we've traced Getir's footsteps, the pivotal moments and decisions come into sharper focus. Before we conclude, let's crystallize these observations into a few essential takeaways:
Getir's exit from several European markets reflects its strategic shift to focus on more profitable regions, amid challenges to its business model and broader concerns about the sustainability of ultra-fast home delivery models.
Despite amassing significant venture funding, Getir faces the challenge of aligning investment with a sustainable business model, as underscored by its intricate dealings with major investor Mubadala, which might result in the conversion of a substantial loan into equity.
Amidst market challenges, Getir is bolstering its position in the grocery delivery sector through acquisitions and strategic partnerships, while its impending funding round with Mubadala looms as a decisive moment for the company's future.
Getir's strategic partnership with RELEX Solutions seeks to enhance operational efficiency and supply chain resilience, aiming for improved customer satisfaction, reduced food waste, and greater profitability, further augmented by their collaboration with DemandTex to streamline delivery infrastructure.
---
Sources: Reuters, TechCrunch, Better Retailing, Sifted, Retail Technology Innovation Hub, Statista, ecommerceDB