eCommerce: Who Are Amazon's Main Competitors?
Top Amazon Competitors: eCommerce Marketplaces Are Growing
Amazon leads the industry, but it's not the only big player in online retail. Curious about who's challenging Amazon? Dive into our analysis on its competitors.
Article by Patrick Nowak | September 28, 2023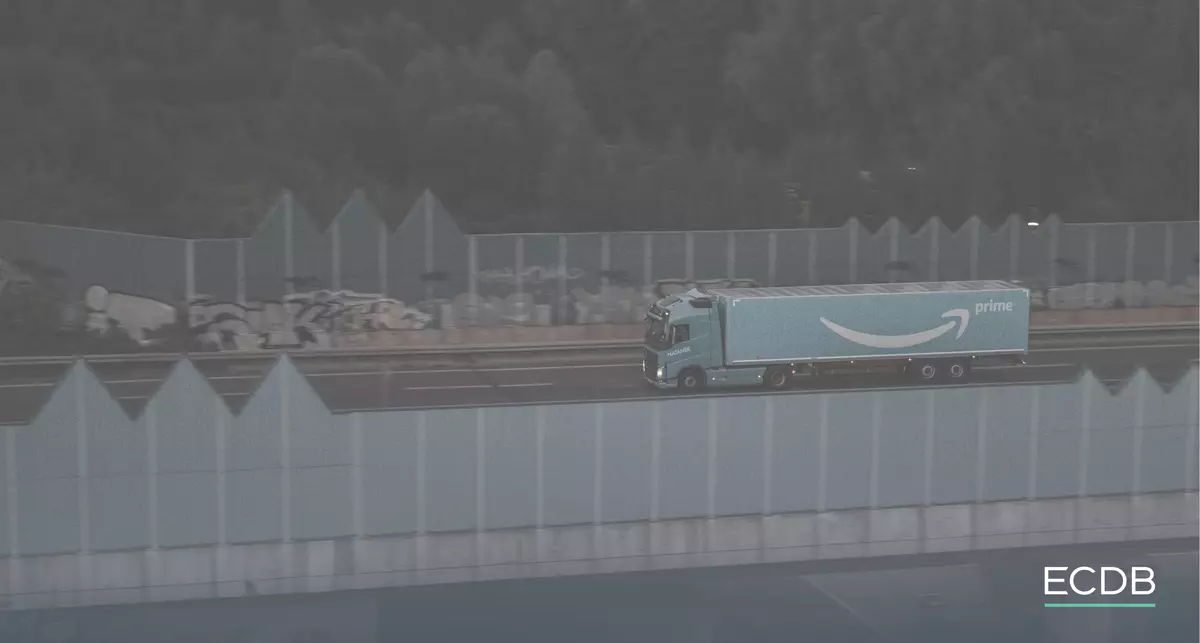 Amazon has long been a frontrunner in this industry. However, the online retail market trends are not limited to Amazon alone. That being said, a lingering question persists: which player is reaping the highest profits? Read about this in our Amazon competition analysis.
Amazon dominates the global ecommerce market with the highest GMV of US$696 billion in 2022. Taobao and Tmall closely follow, generating US$617 billion and US$597 billion respectively.
GMV encompasses all sales, including taxes, shipping fees, and additional charges, before accounting for discounts or returns. This competitor analysis is based on GMV for the top marketplace brands in 2022 by ECDB, where data can be narrowed down according to different types of research questions.
Amazon Competitor Analysis:
Who's in The Global Ring?
Amazon, Taobao, Tmall, JD.com, Pinduoduo, Kwai Shop, Walmart, Shopee, eBay, and Coupang are some of the top marketplaces in the world. They operate in various sectors such as electronics, fashion, and more. With their significant market presence and global reach, they continue to dominate the industry.
Amazon's Direct Competitors: The Alibaba Group Takes an Upfront Position
In the United States and Europe, Amazon has established dominance in the ecommerce market. However, in China, the Alibaba Group is the leading player.
Alibaba operates three major retail subsidiaries: AliExpress, Taobao, and Tmall.
Each of these subsidiaries competes in its own unique way. For example, Tmall, a B2C company, offers lower prices on clothing accessories and computers than Amazon.
Taobao Marketplace, a C2C ecommerce platform, enables small businesses and individual entrepreneurs to open online stores that cater to consumers in Chinese-speaking regions and abroad.
Sellers on Taobao can offer a wide variety of products, from clothing and electronics to home goods and food. Payments are made through online accounts.
Taobao is one of the most popular ecommerce platforms in the world, with over 1 billion product listings. It is a major driver of economic growth in China, and it has also helped to create millions of jobs.
Alibaba is Amazon's biggest competitor in the global ecommerce market.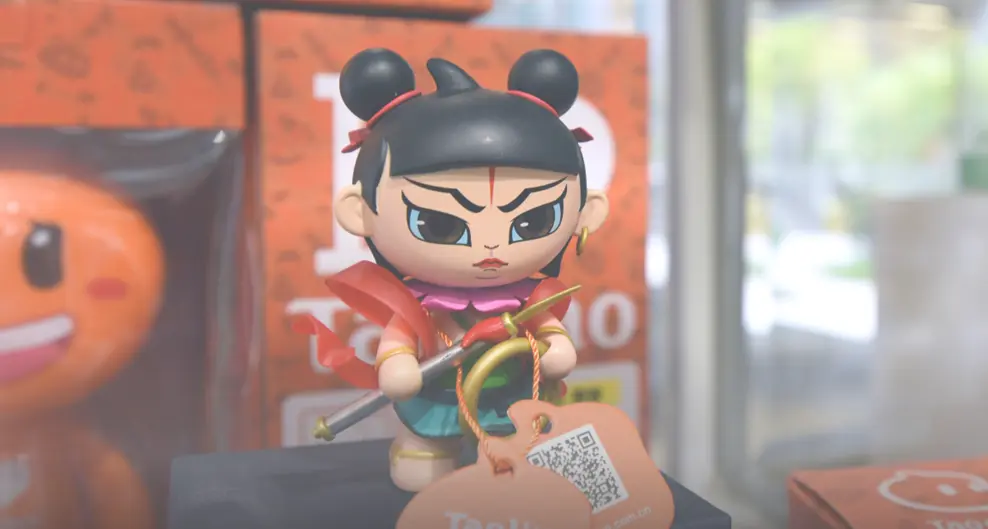 Competitor Analysis for Amazon by GMV
There are numerous competitors who have taken up the challenge of competing with Amazon in this area. Taobao, Tmall and JD.com are just some of the major players that have joined the battle.
These companies possess distinctive selling propositions and advantages that differentiate them from Amazon.
Taobao, which is a subsidiary of Alibaba Group Holding, holds the title of being China's biggest marketplace on a global scale. It has an impressive Gross Merchandise Value (GMV) of US$616 billion. However, this figure is not solely from China; 9,6 percent of Taobao's share, or about US$59 billion, comes from other countries.
In recent years, Taobao has expanded its reach beyond China. It now has users in over 60 countries and regions, and it is increasingly becoming a global platform for ecommerce.
In China itself, Taobao's GMV is US$557 billion, placing it in third place behind JD.com and Tmall.
JD.com, with a GMV of US$567 billion, leads in China. Interestingly, only 0.5 percent of JD's income comes from other countries. Tmall, another part of Alibaba Group Holding, follows closely with a GMV of US$561 billion in China, with around 4 percent of its share coming from other countries.
The differences in GMV might be attributed to the types of products and services offered by these platforms. Tmall, for example, offers higher-end products alongside everyday items. JD.com, on the other hand, is known for its fast delivery services, supported by its own warehouse infrastructure. These factors contribute to their respective standings in the Chinese market.
In addition to these major players, there are a number of "smaller" marketplaces that are also making their presence felt in the ecommerce arena.
Marketplaces such as Flipkart (part of Walmart, Inc.), MercadoLibre, and Rakuten have all carved out a niche for themselves by offering unique services and products.
Here is a snapshot of Amazon's competitors in 2022, ranked on the basis of their global Gross Merchandise Volume (GMV), growth, main country of operation, and main product category:
Amazon Inc. (US$693 billion) holds the highest GMV, with an annual growth rate of 6.2%. Predominantly serving the United States (53.0%), their main product category is Electronics & Media (54.3%).

Taobao (US$617 billion) holds the second highest GMV, despite having a slower annual growth rate (0.3%). Serving primarily Greater China (90.4%), their main product category is Fashion (50.0%).

Tmall (US$597 billion), another Alibaba Group entity, comes in third. They have a similar annual growth rate (0.3%) to Taobao's, serving primarily Greater China (94.1%) with their main product category being Fashion (44.6%).

JD.com (US$570 billion) holds fourth position, with a robust growth rate of 11.5%. They also primarily serve Greater China (99.5%) and specialize in Electronics & Media (37.0%).

Pinduoduo (US$541 billion) holds fifth position, with a staggering annual growth rate of 43.0%. Exclusively serving the Greater China (100.0%), their main product category is Fashion (55.0%).
For more data and specific information, join ECDB.
Who is Amazon's Biggest Competitor?
In the ecommerce arena, China's Alibaba Group emerges as Amazon's biggest competitor, with prominent companies like Taobao and Tmall leading the pack. These rivals offer services and products that pose a significant challenge to Amazon's dominance.
While Amazon still maintains a larger global market share, the presence of these Chinese market places is rapidly expanding, particularly in the Greater China region. Collectively, they outpace Amazon by a considerable margin.
Who Are Amazon's Competitors in the UK?
In the UK, Amazon is facing competition from a number of marketplaces.
eBay, with a focus on toys, hobbies, and DIY products, is a significant player, generating US$10.8 billion in revenue.
In the Fashion category, eBay has a revenue of approximately US$2.85 billion, while Amazon trails with a revenue of US$2.39 billion. This makes eBay stronger than Amazon in the Fashion category by a margin of around US$0.46 billion
Etsy, specializing in furniture and homeware, follows with US$1.2 billion in revenue.
Tmall, part of Alibaba Group and concentrating on fashion, is also a competitor in the UK, despite its primary market being Greater China.
Lastly, Wayfair, with its emphasis on furniture and appliances, adds to the competitive landscape with US$855.1 million in revenue. Together, these companies form a multifaceted rivalry against Amazon in the UK market.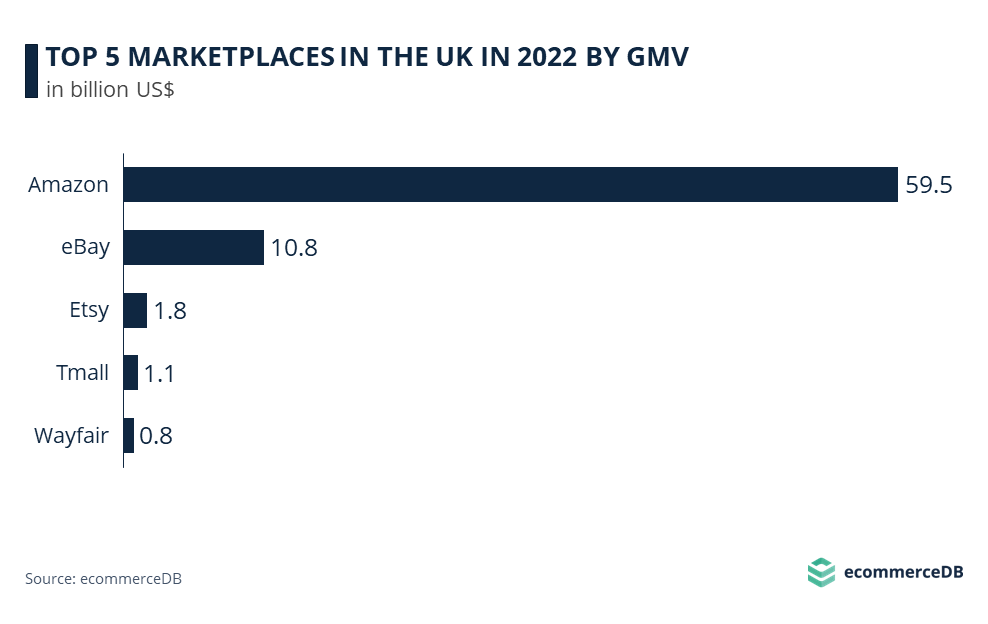 To gain access to additional information on marketplaces in the United Kingdom, consider subscribing to the ecommerce Database. It's a valuable resource that can provide you with the data you need.
Pinduoduo: A Rapidly Growing eCommerce Player in Greater China
Pinduoduo is another Chinese ecommerce giant that has seen tremendous growth in recent years, having achieved a staggering annual growth rate of 43.0% in 2022.
Exclusively serving the Greater China region, Pinduoduo's main product category is fashion items, which accounts for a large share of their overall GMV.
The company also stands out for its innovative mobile-centric approach and highly engaging shopping experience.
Walmart Marketplace is Dropping in the Ranks
Walmart is one of the few major Amazon competitors on the American continent. However, its market share has been decreasing in recent years due to competition from other companies like Amazon.
According to Statista, Amazon and Walmart have both seen a steady increase in their share of ecommerce sales in the United States from 2020 to 2022.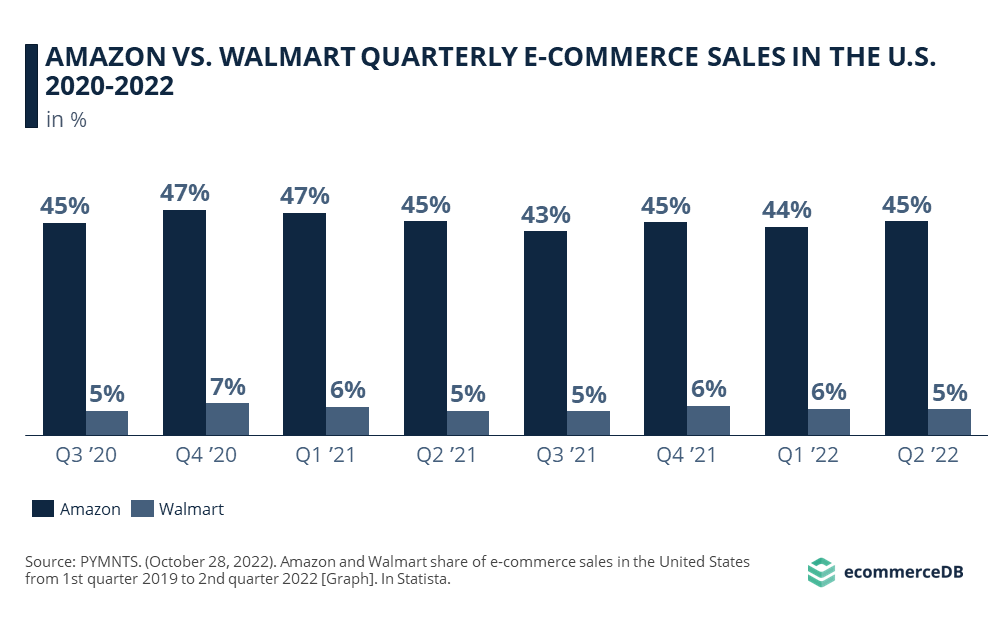 That being said, Amazon clearly dominates Walmart in this area as they were responsible for about 44,9 percent of ecommerce sales in the United States in the second quarter of 2022 where Walmart was responsible for a mere 5,4 percent.
But, according to data from Fortune 500, Walmart is still king when it comes to total company revenue.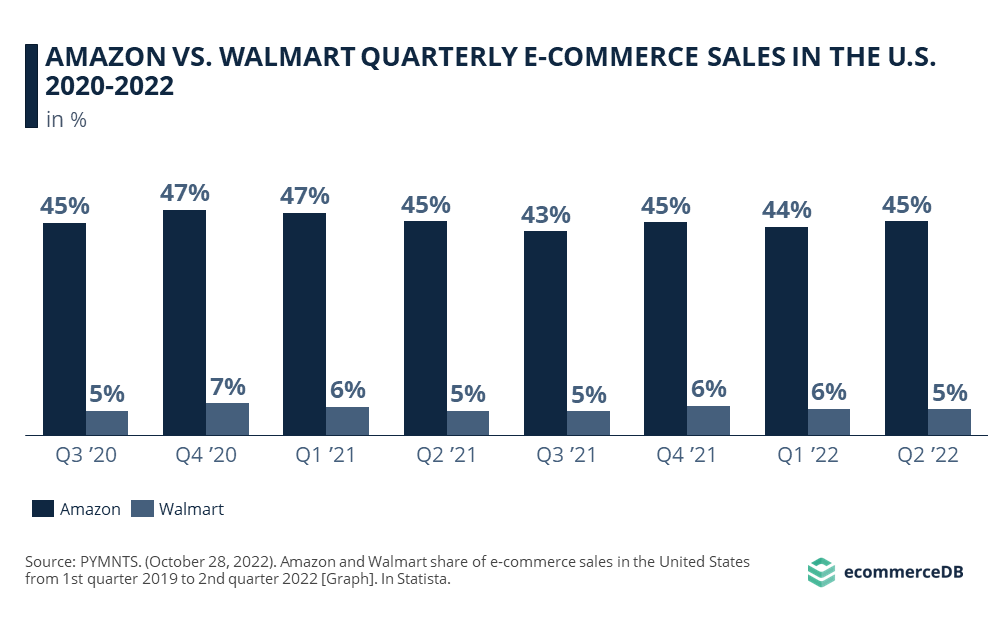 This demonstrates the enduring strength of brick-and-mortar retail on the American continent, yet the transition to ecommerce is undeniable. Hence, it is imperative for businesses to curate content that appeals to the digital consumer, ensuring a seamless and engaging experience
Marketplace Loyalty Across Different Generations
Understanding the attitudes of different generations toward online shopping in the UK is essential in deciding how to best approach them.
Remarkably, the preference for shopping on the same marketplace from different sellers is fairly consistent across generations.
Millennials showed a slightly higher agreement rate at 34%, but Baby Boomers weren't far behind at 33%.

Gen Xers and Gen Zers also exhibited similar attitudes with 32% and 31% agreement rates respectively.
These figures suggest that regardless of their age group, consumers show a strong sense of loyalty towards their preferred marketplaces.
This trend is of utmost importance for online retailers from different regions who are attempting to enter the UK online retail market. Although gaining dominance over Amazon through low pricing is challenging, it remains a significant objective.
Europe's Top Digital Retail Media Networks: Dominating Advertising Revenue
Amazon is aware of the strong loyalty that consumers in the UK have for their preferred marketplaces. The company is capitalizing on this by spending heavily on advertising to reach a wider audience and increase its presence in Europe.
Amazon's annual ad spend in Europe is estimated to be around US$20 billion. This makes it one of the leading digital advertising networks in the region.
Company ads are often displayed on product pages and in search results. They are designed to encourage consumers to buy products from Amazon, even if they are not already familiar with the company.
This advertising strategy is paying off. The company's market share in Europe is growing, and it is now the leading online retailer in several countries.
This suggests that Amazon is well-positioned to continue to grow its presence in Europe in the years to come. The company's strong advertising strategy and its understanding of consumer preferences will give it a significant advantage over its competitors.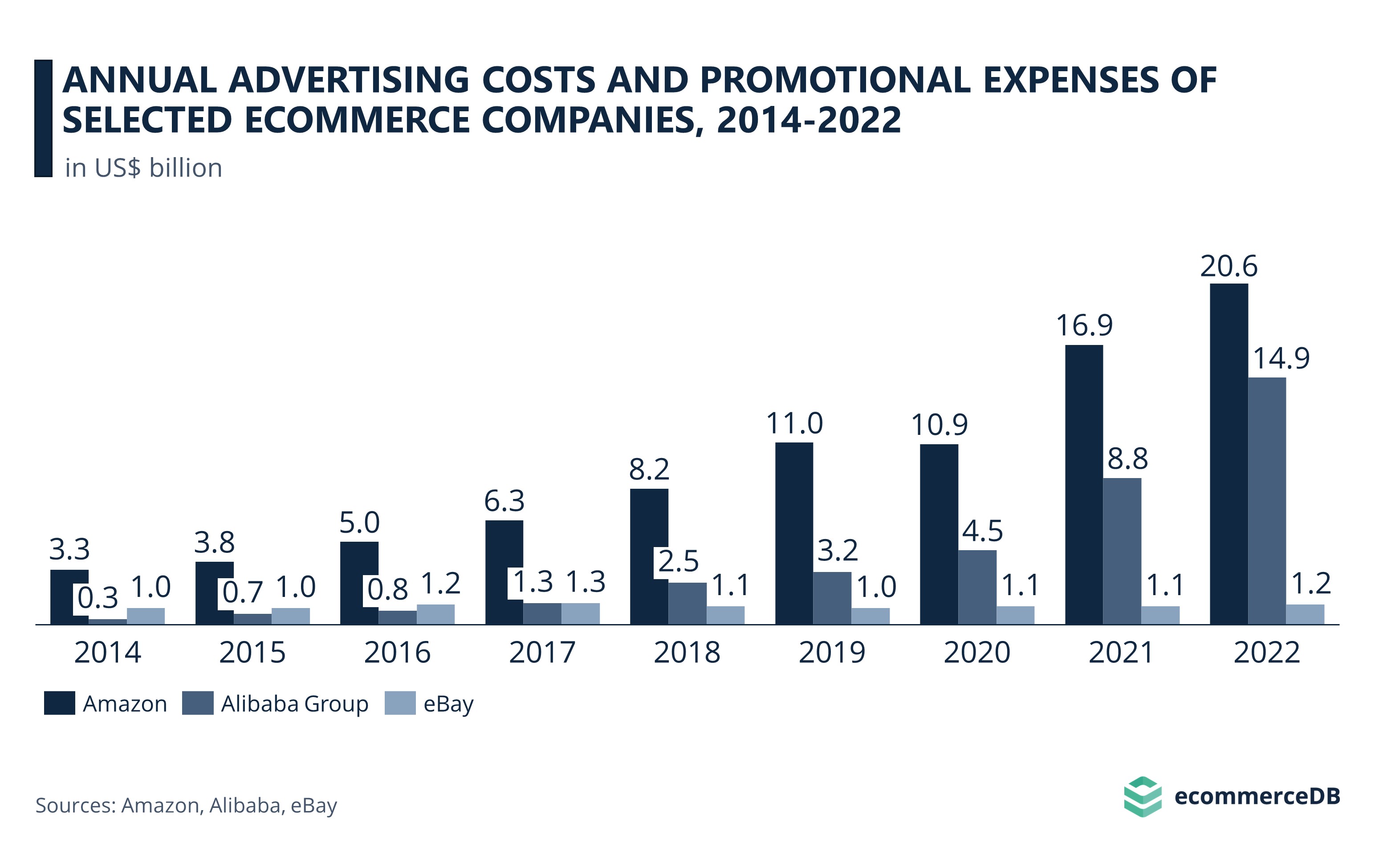 Amazon has been particularly successful at leveraging native ads on its platform to entice customers.
Native ads are those that blend in with the natural content of a website and are used by Amazon to provide personalized product recommendations for their customers.
This strategy has proven to be quite successful, as it allows Amazon to gain greater control over digital ad revenue channels.
Secure Shopping: AliExpress' Escrow-Based Payment System Fosters Trust and Confidence
The AliExpress platform enables customers to receive payments securely using escrow. This system stores money after the purchase confirmation to the buyer and enables secure transactions.
Especially attractive is the feature for international buyers who are reluctant to buy at a store in another country or region.
As these platforms develop and adapt to diverse consumer needs, the competition will intensify. Amazon has to adapt.
Amazon Competitor Analysis: Key Takeaways
Amazon is a powerhouse in the ecommerce industry, but it is not without competition. Our analysis of Amazon's competitors reveals a competitive landscape that consists of numerous players:
Global Leadership and Competition: Amazon maintains a leadership position in the global ecommerce market but faces significant competition from China's Alibaba Group, including platforms such as Taobao and Tmall.
China's Market Dynamics: In China, JD.com leads with unique selling propositions like fast delivery, and Taobao has expanded its global reach to over 60 countries, making it a major player in the ecommerce landscape.
UK and U.S. Competitive Landscape: In the UK, Amazon contends with competitors like eBay, Etsy, Tmall, and Wayfair. In the U.S., Walmart remains a significant competitor, although its market share has been decreasing.
Advertising Strategy and Consumer Loyalty: Amazon's advertising strategy, including the use of native ads, has been instrumental in expanding its market share in Europe. Additionally, strong loyalty towards preferred marketplaces is observed across different generations of consumers.
Security Features and the Challenge of Adaptation: AliExpress fosters customer trust with an escrow-based payment system, a feature that appeals to international buyers. As competition intensifies and consumer needs diversify, Amazon faces the challenge of adapting to these evolving market dynamics.
Amazon: Highest Growth Rates
In recent years, Amazon has entered several new markets, including Saudi Arabia in 2020 (amazon.sa), Poland (amazon.pl) and Egypt (amazon.eg) in 2021, and Belgium (amazon.com.be) in 2022. Accordingly, the new domains of 2020 and 2021 are among the top 5 domains with the highest GMV growth rates from 2021 to 2022.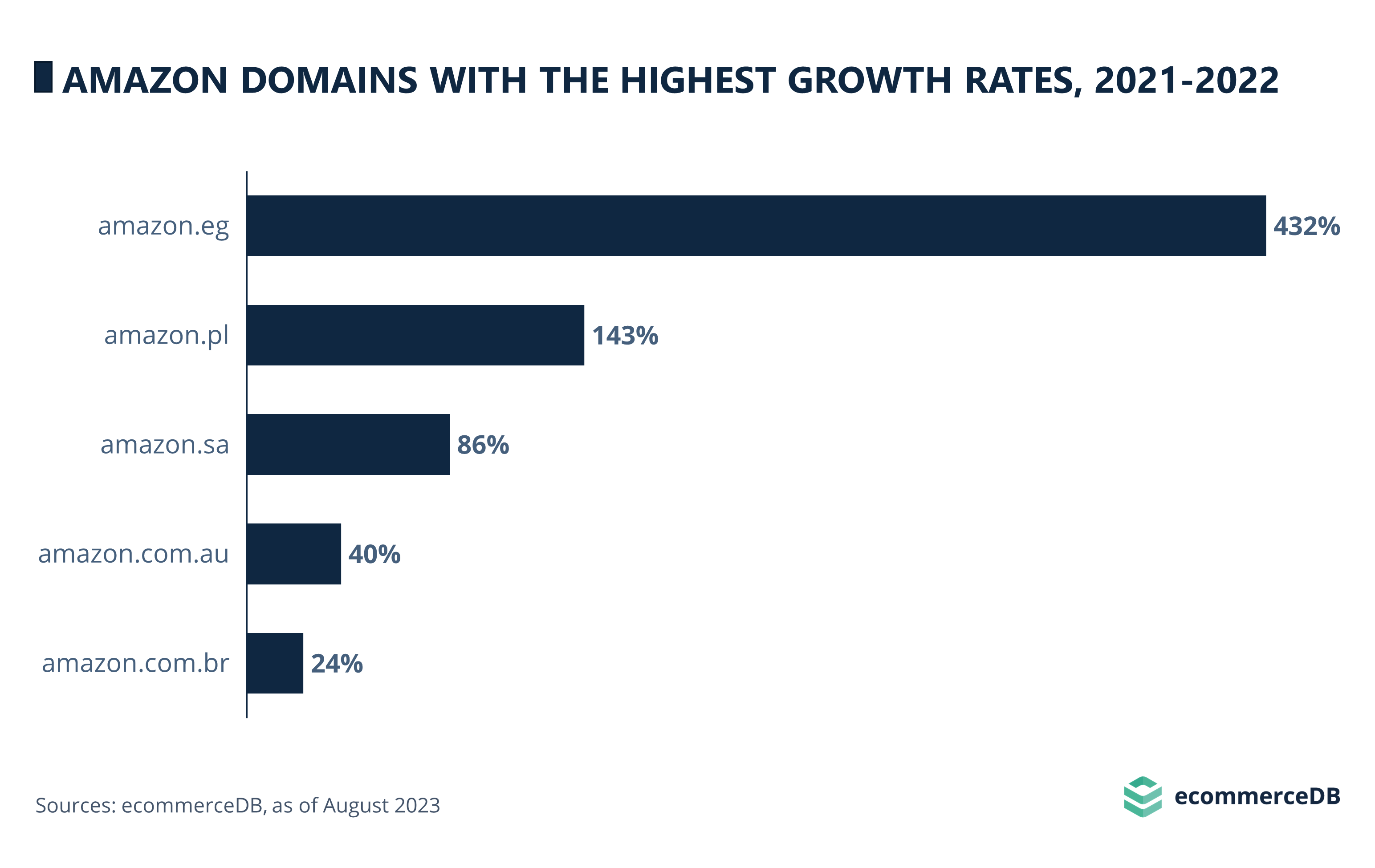 Who Are Amazon's Indirect Competitors?
Indirect competitors are companies with a similar offering but do not compete directly. These could be companies operating in the same industry, but they may have different business models and target different customers.
Examples of indirect competitors to Amazon include other online retailers such as eBay and Wayfair, and even technology giants such as Google and Apple. While they may not sell the same products or services, Amazon competes with them for customers' attention and money.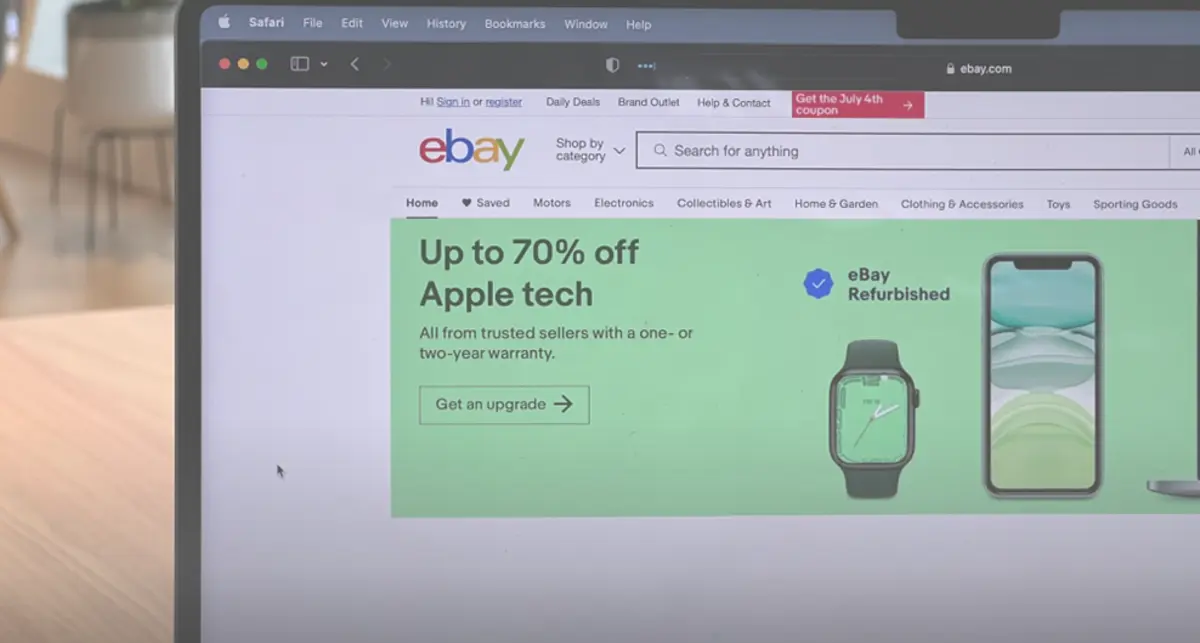 Online Stores: What is the Amazon Marketplace?
Amazon marketplace allows third party sellers' product listings in Amazon's online marketplace to be displayed. However, it is integrated into the Amazon shopping experience but the majority of sales go to the retailer rather than Amazon. Sellers have the option to sell new items in the Market.
Online Sales: How Amazon Stands Out in the eCommerce Landscape
One of Amazon's greatest strengths is its vast online sales network. The company offers a wide range of services and products, from books to apparel and electronics. Customers can also benefit from Amazon Prime, which offers free delivery of products.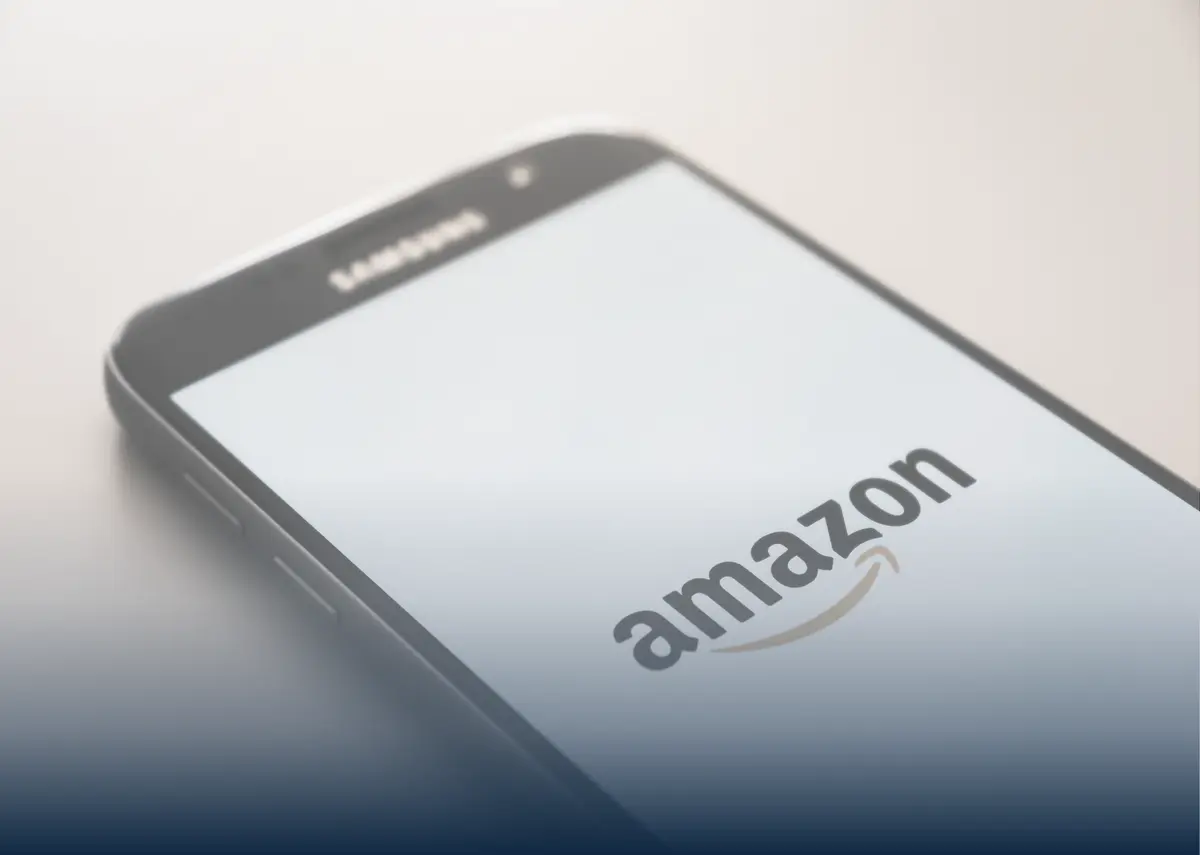 They also offer competitive prices and a convenient shopping experience, making it one of the most comprehensive ecommerce marketplaces.
This convenience allows customers to purchase items from a variety of retailers, eliminating the need for separate shopping trips. Additionally, Amazon Prime's two-day shipping and same-day delivery options make purchasing online even more attractive and efficient.
Amazon Prime: Subscriptions and Benefits
Amazon Prime is the company's subscription-based premium program which offers exclusive benefits to its members.
These include access to free two-day shipping on Amazon purchases, as well as streaming video services such as Amazon Prime Video and Twitch Prime. The program also offers exclusive discounts on certain items, early access to deals, and more.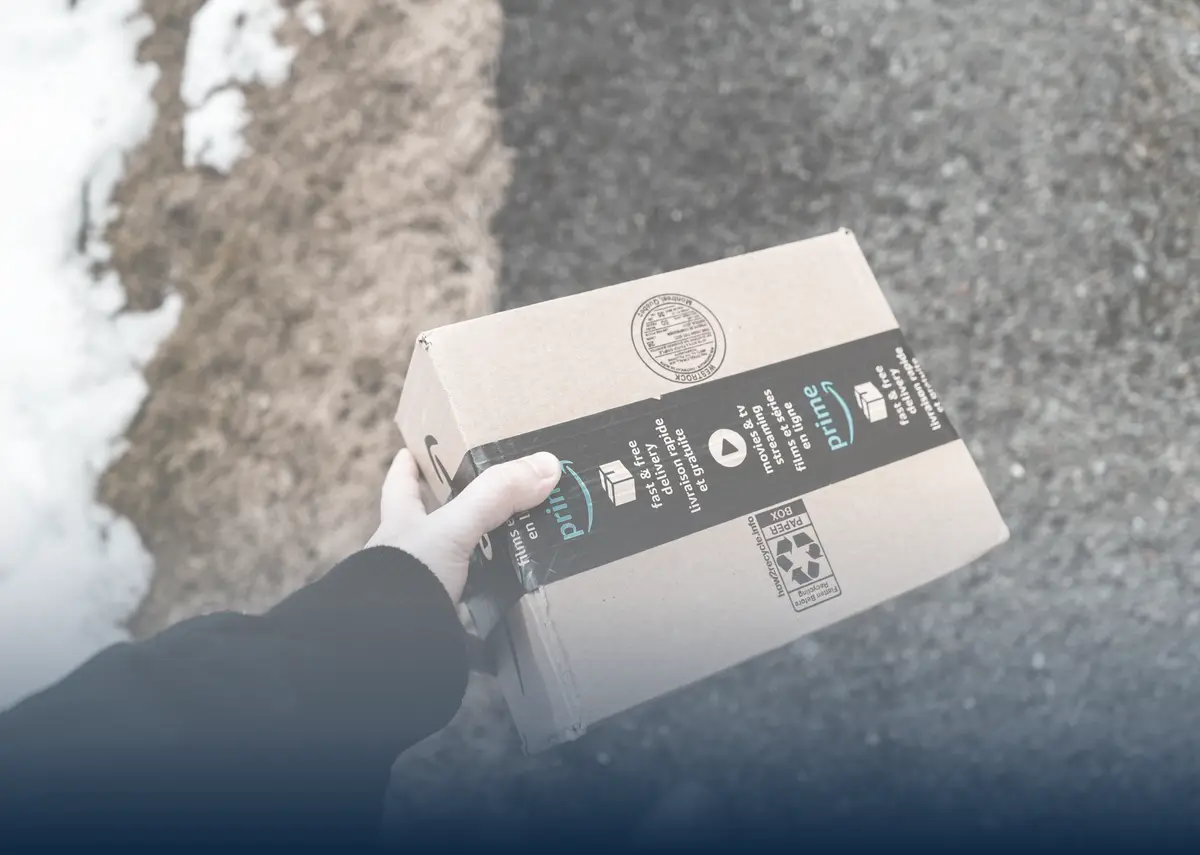 Amazon Prime has been a major success for Amazon, as it encourages customers to make more frequent purchases and increases loyalty. The subscription fee is low compared to the potential benefits of the program.
Additionally, Amazon Prime can be used to purchase physical products or digital content from the company and its partners. This allows customers to access a wide range of services which would otherwise cost more money.
Binding Costumers with Shopping Events Like Prime Day
Prime Day is an annual two-day shopping event hosted by Amazon. It is exclusive to Prime members, who can access a wide variety of deals and discounts on a variety of products. Prime Day typically takes place in July, and it is one of the biggest shopping events of the year.
Amazon Prime Day 2023 was a huge success, with over US$20 billion in sales worldwide. This represents a 6.1% nominal increase over the previous year. If the U.S. share of sales remains the same as in previous years, we can expect global sales to be approximately US$20.5 billion in 2023.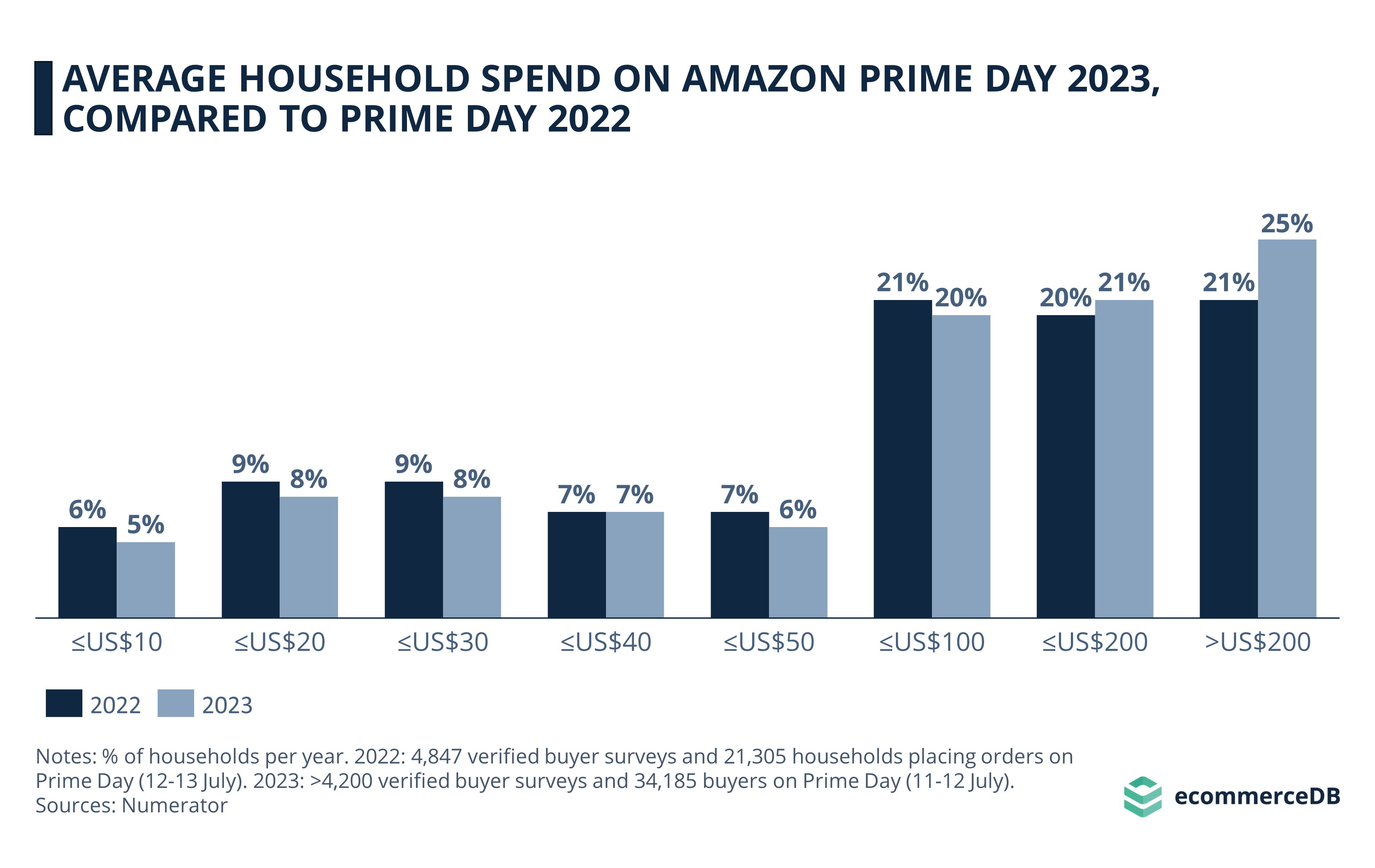 This is a notable success for Amazon, considering that this year's economic climate is still characterized by challenges related to inflationary pressures.
However, even with inflation taken into account, real growth in Prime Day sales was still approximately less than 1%. Overall, Amazon Prime Day 2023 was a successful event for Amazon and its customers.
The event helped to boost sales and traffic to Amazon's website, and it also gave consumers a chance to save money on a wide variety of products.
In the grand scheme of things, keeping up with events such as Prime Day or Black Friday is an imperative aspect that demands attention. It is a critical component that should never be underestimated or disregarded.
China's Singles' Day: Biggest Online Discount Event?
China counters Black Friday, Prime Day, and Cyber Monday with its own approach to online retail events: Singles' Day. As the world's largest online discount event, Singles' Day has seen significant sales growth for major retailers like Alibaba and JD.com.
The event, which even surpasses U.S. Cyber Monday, was extended to eleven days in 2021 and made 74.1 billion dollars. Last year the company reported earnings of 84.5 billion U.S. dollars.
Amazon and Rivian: Revolutionizing Delivery with Thousands of Custom Electric Vehicles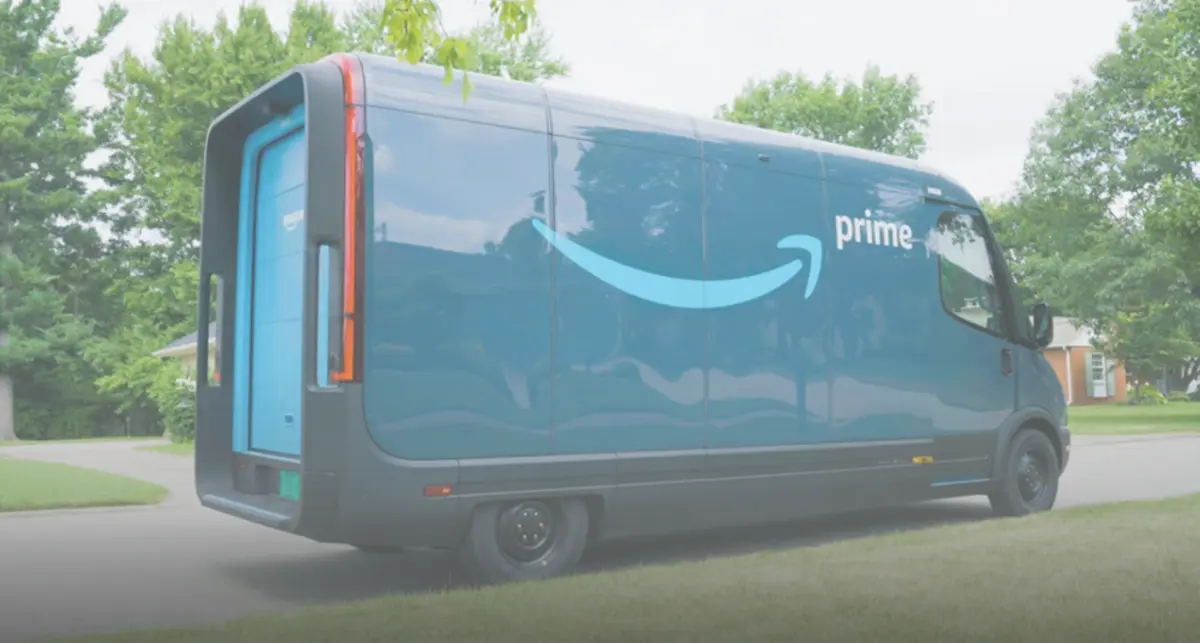 Amazon and Rivian are teaming up to introduce custom electric delivery vehicles in the U.S. Customers in select cities will soon see these vehicles delivering their Amazon packages.
This is part of Amazon's plan to have thousands of electric vehicles in over 100 cities by the end of the year and 100,000 by 2030.
The vehicles are designed with safety, sustainability, and comfort in mind, and are a significant step towards reducing carbon emissions and fighting climate change.
This collaboration between Amazon and Rivian is driving innovation in last-mile logistics and paving the way for a more sustainable future in the delivery industry.